What You Need to Read Now: Food Wars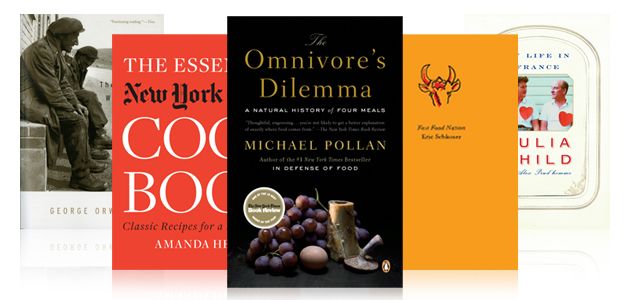 The Road to Wigan Pier | by George Orwell
Orwell spent a year with miners in the impoverished north of England. Much of this gripping book is devoted to their diet, and the way their economic situation influences their health.
My Life in France | by Julia Child
It was only when she moved to France that Child began analyzing the American appetite, turning a critical eye on cookbooks that called for canned and frozen foods and blanching when her own editors requested she make her recipes faster, simpler, and blander.
Fast Food Nation | by Eric Schlosser
Schlosser was one of the first to take a cold, hard look at the global fast-food industry and the toll our appetite for salt and grease is taking on our health and economy.
The Omnivore's Dilemma | by Michael Pollan
Pollan investigates where our food comes from and how we've gotten so distanced from what's on our plates.
The Essential New York Times Cookbook | by Amanda Hesser
A compendium of more than 1,000 recipes from 150 years of the Times, this book shows how American appetites have changed, and how old recipes shape current ideas about what should be for dinner.