What You Need to Read Now: Man-Made Disasters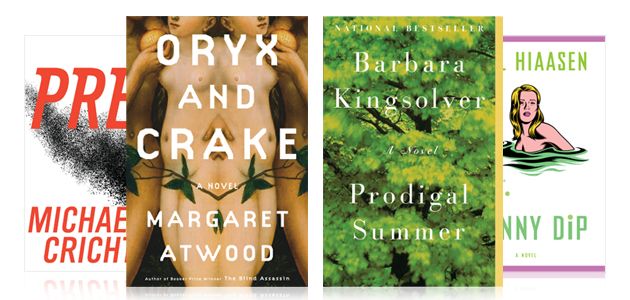 Oryx and Crake | by Margaret Atwood
A searing portrait of our own wasteful and wanton world cunningly exaggerated and presented as a dystopia—like an update of Aldous Huxley's Brave New World.
Prey | by Michael Crichton
A cautionary tale about technology and ambition run amok, laced with enough elements of horror so you get the message that humans are very bad at considering the consequences of their actions.
Prodigal Summer | by Barbara Kingsolver
It's not easy to find a novel about Appalachia (Kentucky to be exact) that has the substance of a biology textbook but is also a nuanced and layered examination of love.
Skinny Dip | by Carl Hiaasen
Hiaasen is a master of the stealth environmental novel. You're too busy laughing your butt off at his outrageous portraits of Floridians to realize you're being spoon-fed details about our continued destruction of the Florida Keys.