What You Need to Read Now: The Pope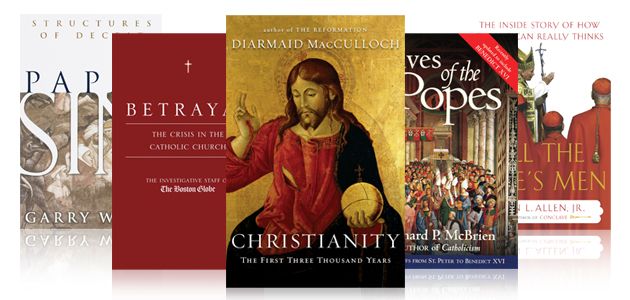 Christianity: The First Three Thousand Years | by Diarmaid MacCulloch
The first half of this readable, 1,184-page tome is devoted to the formation of the Roman Catholic Church in all its bril-liance and absurdity. Example: celibacy was not a requirement for clergy until 1139, which MacCulloch argues was as much a pragmatic edict as a theological one. Without sons, popes and bishops have to pass their property on to the church.
Papal Sin | by Garry Wills
This impassioned screed by a Pulitzer-winning historian was published in 2001, just as the sex-abuse scandal in Boston was heating up. It is a scathing critique of papal hypocrisy and self-interest. Read it together with Why I Am a Catholic, Wills's 2003 attempt to reconcile the sins of the church with his personal devotion.
All the Pope's Men | by John L. Allen Jr.
As the senior correspondent of the National Catholic Reporter, Allen is widely acknowledged as America's most in-formed and unbiased journalist on the Catholic Church. This 2005 account of the Vatican's inner workings is an excel-lent primer.
Lives of the Popes | by Richard P. McBrien
Want to know which popes have resigned? Escaped in disgrace to hermitages? Fathered children? Achieved sainthood? This short encyclopedia, arranged chronologically and published in 2000, is an indispensable refer-ence.
Betrayal | by the Investigative Staff of The Boston Globe
The Globe won a Pulitzer for its coverage of the sex scandal in its hometown, which created ripple effects throughout the nation and, now, the world. It starts with accusations against one priest, John Geoghan, who abused dozens of children throughout the 1960s and 1970s, and ends with successful legislation against scores of priests and the removal of Cardinal Bernard Law from his posts.