Whatever Happens in Glasgow, We Can Take Climate Action in Community | Opinion
The protests, panels and politics in Glasgow, Scotland, seem like another world from the small college in western North Carolina where I teach environmental education. After the first week of the U.N. Climate Change Conference, known as COP26, I showed my class images of thousands of youth marching in the streets during the Global Day of Action, calling for climate justice and accountability from the world's leaders.
I read them the words of Vanessa Nakate, a youth activist from Uganda, who asked: "How many more of these should they hold until they realize that their inactions are destroying the planet?"
In more than 20 years of teaching, I've learned from my students not to rely entirely on negotiations between global leaders who may or may not prioritize people over profits. To be clear, I'm grateful for any concrete outcomes that come from the summit—such as pledges to cut methane emissions by 30 percent in less than two years—and for the sustained work by so many. Yet the young people I know aren't banking on systemic change from the top.
While only 100 companies are responsible for 71 percent of global greenhouse gas emissions, that doesn't mean we as individuals can't affect the climate emergency. But it's hard to do so alone. We make the greatest difference, and find the most hope, in community with others.
The first step is to speak up. Three-quarters of people in the U.S. don't hear someone talk about the climate more than once or twice a year. Climate scientist Dr. Katharine Hayhoe says one of the most important things we can do to confront the climate crisis is to talk about it—with our neighbors, our friends, our children. My students aren't afraid to talk; some have shared their decision not to have children in the future due to fears about the climate crisis. Others focus on communicating the results from their research projects like investigating carbon sequestration on our campus farm. In years past, they've pushed administrators to divest from fossil fuels. They're worried, but they are not silent.
Communication—between likely as well as unlikely partners—can reveal common concerns, from our own health to green jobs. I've watched students engage in community-based projects to discover shared values, such as food access and justice, by collaborating with local schools. While one partnership won't change the world, mutual values provide a starting point for action, especially when politics appear to divide us in too many ways.
Next, find your people. After Donald Trump was elected, I watched two of my advisees sink into real depression, overwhelmed by the lack of leadership, especially on climate. Yet after they started volunteering with the Sunrise Movement, a youth climate organization, they found traction in advocacy that incorporated music and art. Several joined the local Sunrise chapter to push the city of Asheville, NC, to call for a climate emergency. Their work reminds me of Bill McKibben's new venture, Third Act, which mobilizes people over 60 to support youth in climate action, push for voting rights, and pressure banks to stop lending to oil companies. (One of their signs at a recent protest read: "Fossils against fossil fuels.")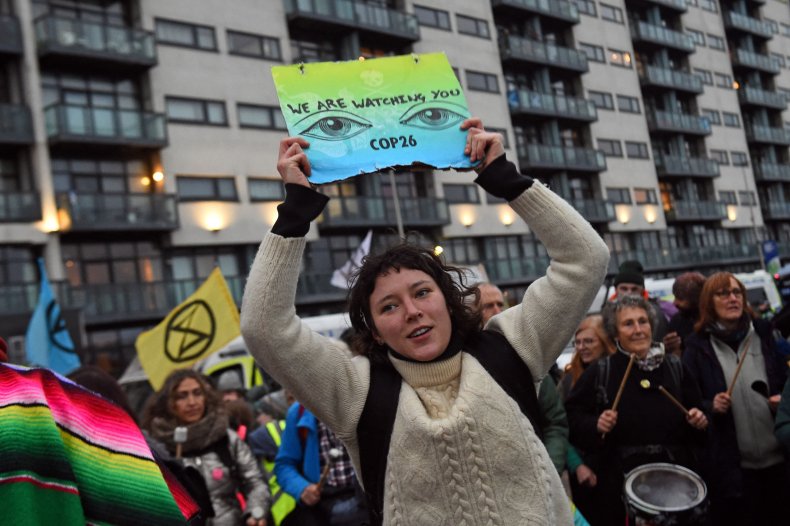 With other people, the question can shift: What can we do together?
The answers are often surprising. After the sudden deaths of my parents and their decision to have green burials, I decided to take a one-year journey to revise my own final wishes with climate in mind. As it turns out, end-of-life decisions can be very impactful. I spent that year doing research into climate-friendly alternatives to cremation, which I learned can release 250 to 350 pounds of carbon dioxide, the equivalent of a thousand-mile car trip.
This research impacts climate in a very small but meaningful way in my community. When I took one of my classes to visit a nearby conservation cemetery, which protects the land in perpetuity, a student said: "I never realized death had anything to do with conservation. This brings new life from something that might otherwise be sad." On a much larger scale, one of my former students is the lead plaintiff in the case asserting the U.S. government violated the constitutional rights of youth through its actions causing climate change. I've marveled at the delight on the faces of the 21 young plaintiffs when they are together, even after their case encountered setback after setback. Creating meaning and joy, even on the smallest scales, can make a difference over time, even when we don't have much time left.
In community, we can weave a vision of the world we want from our diverse, but united, stories.
My students can describe a view of their future, in which justice touches every person; where leaders reflect women, Indigenous cultures and BIPOC communities; where fossil fuel companies don't spend billions convincing us that minute lifestyle changes—rather than any change on their own part—can overturn the climate crisis. As Greta Thunberg said at the Youth4Climate Conference before COP26, "Climate change is not only a threat. It is above all an opportunity to create a healthier, green and cleaner planet which will benefit all of us." Telling our stories and listening to the stories of others—visions of what we yearn to see—becomes an act of empowered love.
My students have to confront the generational injustice of climate change, but as a teacher and a mother, I can face it with them.
"You are a part of something bigger than yourself," I tell students, even as many of them are still reeling from the pandemic's effects on their mental health or from the deaths of family members from COVID-19. So on social media, I've obsessively followed the activists and scientists at COP26, yet I'm drawing strength from the young people I see every day. The long haul is their future, and I'm walking with them, even when we don't know how this climate story will end.
Mallory McDuff teaches at Warren Wilson College in Asheville, NC. She is the author of four books including Our Last Best Act: Planning for the End of Our Lives to Protect the People and Places We Love.
The views expressed in this article are the writer's own.