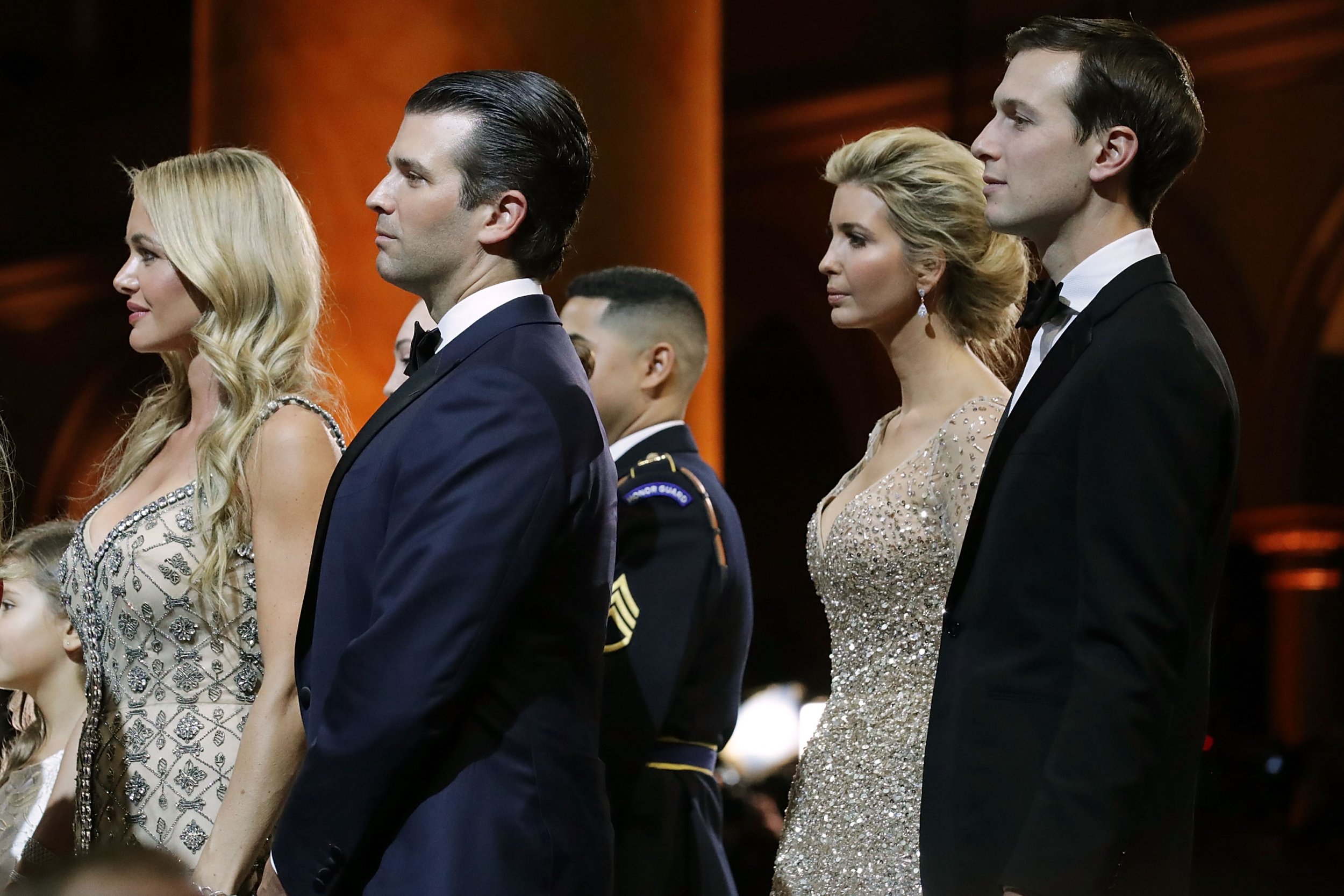 President Donald Trump keeps his family extremely close to him as he works as the nation's commander-in-chief. Some of his children worked on his election campaign and now serve as his advisers. As the president enters the second year of his controversial presidency, here are what his family members might face and take on:
Donald Trump Jr.
The president's eldest son Donald Trump Jr. could be the next target in special counsel Robert Mueller's widening probe into possible collusion between Trump's campaign and Russian officials in the 2016 election, with ex-campaign member and former national security adviser Michael Flynn now cooperating in the investigation.
Trump Jr. was heavily involved in Trump's election campaign, the transition, and a 2016 meeting at Trump Tower with a Russian lawyer linked with the Kremlin who promised damaging information on his father's opponent Hillary Clinton. During a closed session with the Senate Judiciary Committee in September, Trump Jr. also admitted to exchanging messages with WikiLeaks, which is reportedly tied to Russia.
If what Trump Jr. told congressional investigators earlier this year conflicts with information from Flynn, the president's son could be in danger.
Jared Kushner
The president's son-in-law and senior White House adviser was also present in the infamous Trump Tower meeting with Trump Jr. and the Russian lawyer. Kushner may have been the "very senior member" of the president's transition team who told Flynn to contact Russian officials in an attempt to block a United Nations resolution condemning Israeli settlement activity before Trump was inaugurated, various news outlets reported in December.
Kushner deserves scrutiny from Mueller "because he was involved in the transition and involved in meetings that call into question his role," New Jersey Governor Chris Christie said in mid-December.
Separately, Kushner and his wife Ivanka Trump have been sued for alleged omissions on their public financial disclosure forms. Kushner, who revised his forms three times, is reportedly working at the White House under an interim security clearance as investigators evaluate his network of foreign investments.
Ivanka Trump
The first daughter earlier this week tweeted that her New Year's resolution is to "sleep more," citing an article on why sleep deprivation is detrimental to health, but as a White House adviser, she's unlikely to take a backseat in pushing her father's initiatives.
One of Ivanka Trump's biggest roles in the political realm in 2017 was garnering support for the GOP tax plan that Congress passed before Christmas to the president's delight. Donald Trump even canceled his daughter's part in his 12-day Asia trip in the fall so she could advocate for tax reform at home.
On the morning of New Year's Eve, Ivanka Trump tweeted a "Great video highlighting how tax reform will help families all across America," along with the hashtags #HappyNewYear #2018
Melania Trump
It took a while for the first lady in 2017 to ease into her new role—she didn't move into the White House until nearly five months after her husband was sworn in as president—but it appears Melania Trump may step up her involvement in involvement in 2018, particularly in politics.
Melania Trump pitched a 2018 Republican Party calendar to top supporters for a donation.
"This year's calendar features photos I have hand-selected, and I hope you will display your calendar throughout the year as a reminder of how important the 2018 elections are to the future of our country," the first lady wrote in an email, the Washington Examiner reported in early December.
"Only with a Congress led by conservative patriots can my husband move forward with his vision to unleash our nation's full potential," Melania Trump said in the email. "This calendar is a small token of appreciation for your consistent support, and I hope you will take this opportunity to contribute $15 today."