What's Airing on Freeform's '31 Nights of Halloween'? See the Full 2020 Lineup
There's plenty to be excited about in the month of October, like the changing colors of the leaves, pumpkin spice lattes and weather that's cool enough to give you an excuse to break out your favorite cozy sweater. Oh, and then there's Halloween.
As Freeform does every year to recognize the spooky season, the network is airing its annual 31 Nights of Halloween programming block to help viewers get into... the spirit. (Pun very much intended.)
That means all things ghosts, ghouls and monsters will be on full display starting on the first day of the month, Thursday, and ending on the Halloween holiday. The 1993 cult favorite Hocus Pocus, starring Bette Midler, Sarah Jessica Parker and Kathy Naaijmy as three witch sisters, will kick off the movie marathon with plenty more classics scheduled throughout the rest of the month, including Tim Burton's Corpse Bride, The Goonies and Ghostbusters.
There's no need to worry if you miss a movie on a certain night. A number of them will air multiple times throughout the season.
See the full lineup of Freeform's 31 Nights of Halloween fest below. All show times are in eastern standard time.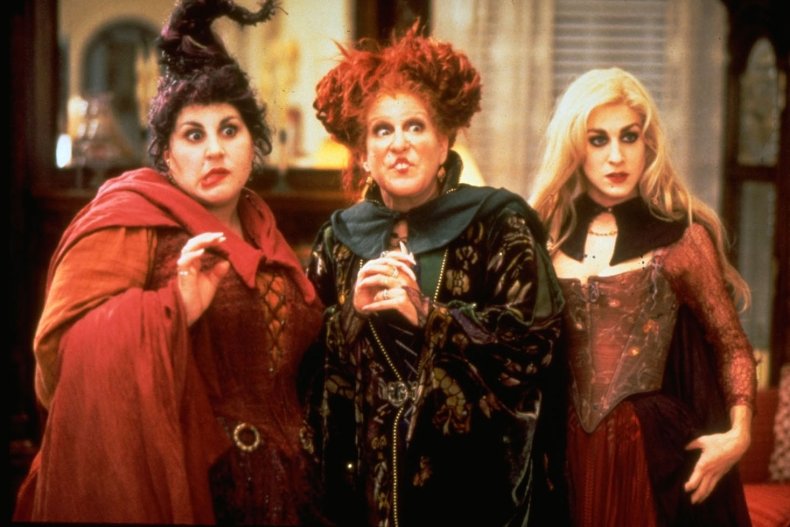 October 1
12:30 p.m.: Willy Wonka and the Chocolate Factory
3 p.m.: Tim Burton's Corpse Bride
5 p.m.: Casper (1995)
7 p.m.: Hotel Transylvania
9 p.m.: Hocus Pocus
12 a.m.: Willy Wonka and the Chocolate Factory
October 2
11 a.m.: The Goonies
1:30 p.m.: Tim Burton's Corpse Bride
3:05 p.m.: Casper (1995)
5:10 p.m.: Hotel Transylvania
7:15 p.m.: Tim Burton's The Nightmare Before Christmas
8:55 p.m.: Beetlejuice
12 a.m.: The Simpsons "Treehouse of Horror" marathon
October 3
7 a.m.: Monsters vs. Aliens: Mutant Pumpkins
7:30 a.m.: The Goonies
10 a.m.: Ghostbusters (1984)
12:30 p.m.: Ghostbusters II
3:05 p.m.: Beetlejuice
5:10 p.m.: Hocus Pocus
7:20 p.m.: The Addams Family (1991)
9:25 p.m.: Addams Family Values
11:30 p.m.: The Craft
October 4
7 a.m.: Ghostbusters (1984)
9:30 a.m.: Ghostbusters II
12 p.m.: Willy Wonka and the Chocolate Factory
2:05 p.m.: Decorating Disney: Halloween Magic
3:05 p.m.: Casper (1995)
5:10 p.m.: The Addams Family (1991)
7:15 p.m.: Addams Family Values
9:20 p.m.: Hocus Pocus
11:30 p.m.: Sleepy Hollow (1999)
October 5
11:30 a.m.: Casper (1995)
1:30 p.m.: Sleepy Hollow (1999)
4 p.m.: Ghostbusters (1984)
6:30 p.m.: Ghostbusters II
9:00 p.m.: Beetlejuice
12 a.m.: Boxtrolls
October 6
11 a.m.: Charlie and the Chocolate Factory
1:30 p.m.: Ghostbusters (1984)
4 p.m.: Ghostbusters II
6:30 p.m.: Beetlejuice
8:30 p.m.: Hotel Transylvania
12 a.m.: Tim Burton's Corpse Bride
October 7
11 a.m.: Decorating Disney: Halloween Magic
12 p.m.: Tim Burton's Corpse Bride
2 p.m.: Matilda
4 p.m.: Hotel Transylvania
6 p.m.: The Simpsons "Treehouse of Horror" marathon
12 a.m.: Jumanji (1995)
October 8
12 p.m.: Matilda
2 p.m.: Jumanji (1995)
4:30 p.m.: Goosebumps (2015)
7 p.m.: The Addams Family (1991)
9 p.m.: Addams Family Values
12 a.m.: Warm Bodies
October 9
11:30 a.m.: The Mummy (1999)
2:20 p.m.: Goosebumps (2015)
4:45 p.m.: The Addams Family (1991)
6:50 p.m.: Addams Family Values
8:55 p.m.: Hocus Pocus
12 a.m.: The Simpsons "Treehouse of Horror" marathon
October 10
7 a..:m The Mummy (1999)
10 a.m.: The Mummy Returns
1:05 p.m.: The Simpsons "Treehouse of Horror" marathon
3:35 p.m.: Casper (1995)
5:40 p.m.: Hotel Transylvania
7:45 p.m.: Hotel Transylvania 2 (Freeform premiere)
9:50 p.m.: Hotel Transylvania 3: Summer Vacation (Freeform premiere)
12 a.m.: Tim Burton's Corpse Bride
October 11
7 a.m.: The Mummy Returns
10:05 a.m.: Casper (1995)
12:10 p..:m Tim Burton's Corpse Bride
1:50 p.m.: Tim Burton's The Nightmare Before Christmas
3:30 p.m.: Hotel Transylvania
5:35 p.m.: Hotel Transylvania 2
7:40 p.m.: Hotel Transylvania 3: Summer Vacation
9:50 p.m.: Twitches
11:55 p.m.: Twitches Too
October 12
7 a.m.: The Mummy: Tomb of the Dragon Emperor (Freeform premiere)
12:30 p.m.: Halloweentown
2:30 p.m.: Halloweentown II: Kalabar's Revenge
4:30 p.m.: Scared Shrekless
5 p.m.: Shrek
7 p.m.: The Addams Family (1991)
9 p.m.: Addams Family Values
12 a.m.: The Scorpion King (Freeform premiere)
October 13
11 a.m.: The Goonies
1:35 p.m.: Scared Shrekless
2:05 p.m.: Shrek
4:10 p.m.: The Addams Family (1991)
6:15 p.m.: Addams Family Values
8:20 p.m.: Hocus Pocus
12 a.m.: Casper (1995)
October 14
1 p.m.: Casper (1995)
3 p.m.: The Simpsons "Treehouse of Horror" marathon
9 p.m.: Beetlejuice
12 a.m.: Boxtrolls
October 15
7 a.m.: Scream 3
11 a.m.: Jumanji (1995)
1:30 p.m.: Beetlejuice
3:30 p.m.: Scream
6 p.m.: Scream 2
8:30 p.m.: The Craft
12 a.m.: Jumanji (1995)
October 16
11:30 a.m.: The Craft
2 p.m.: Matilda
4 p.m.: Tim Burton's Corpse Bride
6 p.m.: Toy Story of TERROR!
6:30 p.m.: Monsters, Inc.
8:30 p.m.: Monsters University
12 a.m.: Toy Story of TERROR!
12:30 a.m.: The Simpsons "Treehouse of Horror" marathon
October 17
7 a.m.: Tim Burton's Corpse Bride
8:55 a.m.: Matilda
10:55 a.m.: Tim Burton's The Nightmare Before Christmas
12:35 p.m.: Ghostbusters (1984)
3:05 p.m.: Ghostbusters II
5:40 p.m.: Beetlejuice
7:45 p.m.: Hocus Pocus
9:55 p.m.: Halloweentown
12 a.m.: Halloweentown II: Kalabar's Revenge
October 18
7 a.m.: Willy Wonka and the Chocolate Factory
9:30 a.m.: The Simpsons "Treehouse of Horror" marathon
11 a.m.: Twitches
1:05 p.m.: Twitches Too
3:05 p.m.: Beetlejuice
5:10 p.m.: Hocus Pocus
7:20 p.m.: The Addams Family (1991)
9:25 p.m.: Addams Family Values
11:30 p.m.: Gremlins
October 19
11 a.m.: Matilda
1 p.m.: Gremlins
3:30 p.m.: Casper (1995)
5:30 p.m.: The Addams Family (1991)
7:30 p.m.: Addams Family Values
9:30 p.m.: Tim Burton's The Nightmare Before Christmas
12 a.m.: Matilda
October 20
11 a.m.: Willy Wonka and the Chocolate Factory
1 p.m.: Casper (1995)
3 p.m.: Sleepy Hollow (1999)
5:30 p.m.: Ghostbusters (1984)
8 p.m.: Ghostbusters II
12 a.m.: Willy Wonka and the Chocolate Factory
October 21
11 a.m.: Sleepy Hollow (1999)
1:30 p.m.: Ghostbusters (1984)
4 p.m.: Ghostbusters II
6:30 p.m.: The Simpsons "Treehouse of Horror" marathon
October 22
11 a.m.: Tim Burton's Corpse Bride
12:35 p.m.: Jumanji (1995)
2:35 p.m.: The Mummy (1999)
5:45 p.m.: The Mummy Returns
8:55 p.m.: Hocus Pocus
12 a.m.: Tim Burton's Corpse Bride
October 23
11 a.m.: Jumanji (1995)
1:30 p.m.: Scream
4 p.m.: Scream 2
6:30 p.m.: Beetlejuice
8:30 p.m.: Sleepy Hollow (1999)
12:00 a.m.: The Simpsons "Treehouse of Horror" marathon
October 24
7 a.m.: Decorating Disney: Halloween Magic
8 a.m.: Halloweentown
10:05 a.m.: Halloweentown II: Kalabar's Revenge
12:05 p.m.: Beetlejuice
2:10 p.m.: Sleepy Hollow (1999)
4:40 p.m.: Hocus Pocus
6:50 p.m.: The Addams Family (1991)
8:55 p.m.: Addams Family Values
11 p.m.: Ghostbusters (2016)
October 25
7 a.m.: Tim Burton's Corpse Bride
9 a.m.: Ghostbusters (1984)
11:30 a.m.: The Craft
2 p.m.: The Addams Family (1991)
4:05 p.m.: Addams Family Values
6:10 p.m.: Ghostbusters (2016)
9:20 p.m.: Hocus Pocus
11:30 p.m.: The Craft
October 26
11 a.m.: Tim Burton's Corpse Bride
1 p.m.: Casper (1995)
3 p.m.: Twitches
5 p.m.: Twitches Too
7 p.m.: Hotel Transylvania 2
9 p.m.: Hotel Transylvania 3: Summer Vacation
12 a.m.: The Simpsons "Treehouse of Horror" marathon
October 27
11 a.m.: Casper (1995)
1 p.m.: Scared Shrekless
1:30 p.m.: Jumanji (1995)
4 p.m.: Hotel Transylvania 2
6 p.m.: Hotel Transylvania 3: Summer Vacation
8 p.m.: Hocus Pocus
12 a.m.: The Simpsons "Treehouse of Horror" marathon
October 28
12 p.m.: Jumanji (1995)
2:30 p.m.: Tim Burton's Corpse Bride
4:30 p.m.: Matilda
6:30 p.m.: Monsters, Inc.
8:30 p.m.: Monsters University
12 a.m.: The Simpsons "Treehouse of Horror" marathon
October 29
12 p.m.: Ghostbusters (1984)
2:30 p.m.: Ghostbusters II
5 p.m.: Tim Burton's The Nightmare Before Christmas
6:30 p.m.: Sleepy Hollow (1999)
9 p.m.: Beetlejuice
12 a.m.: The Simpsons"Treehouse of Horror" marathon
October 30
11 a.m.: Decorating Disney: Halloween Magic
12:0.5 p.m.: Sleepy Hollow (1999)
2:35 p.m.: Beetlejuice
4:40 p.m.: Hocus Pocus
6:50 p.m.: The Addams Family (1991)
8:55 p.m.: Addams Family Values
12 a.m.: The Simpsons "Treehouse of Horror" marathon
October 31
7 a.m.: Twitches
9 a.m.: Twitches Too
11 a.m.: Halloweentown
1 p.m.: Halloweentown II: Kalabar's Revenge
3 p.m.: Hocus Pocus
5:10 p.m.: The Addams Family (1991)
7:15 p.m.: Addams Family Values
9:20 p.m.: Hocus Pocus
11:30 p.m.: Ghostbusters (1984)