What's The Future Like For Women Who Want To Play Ball?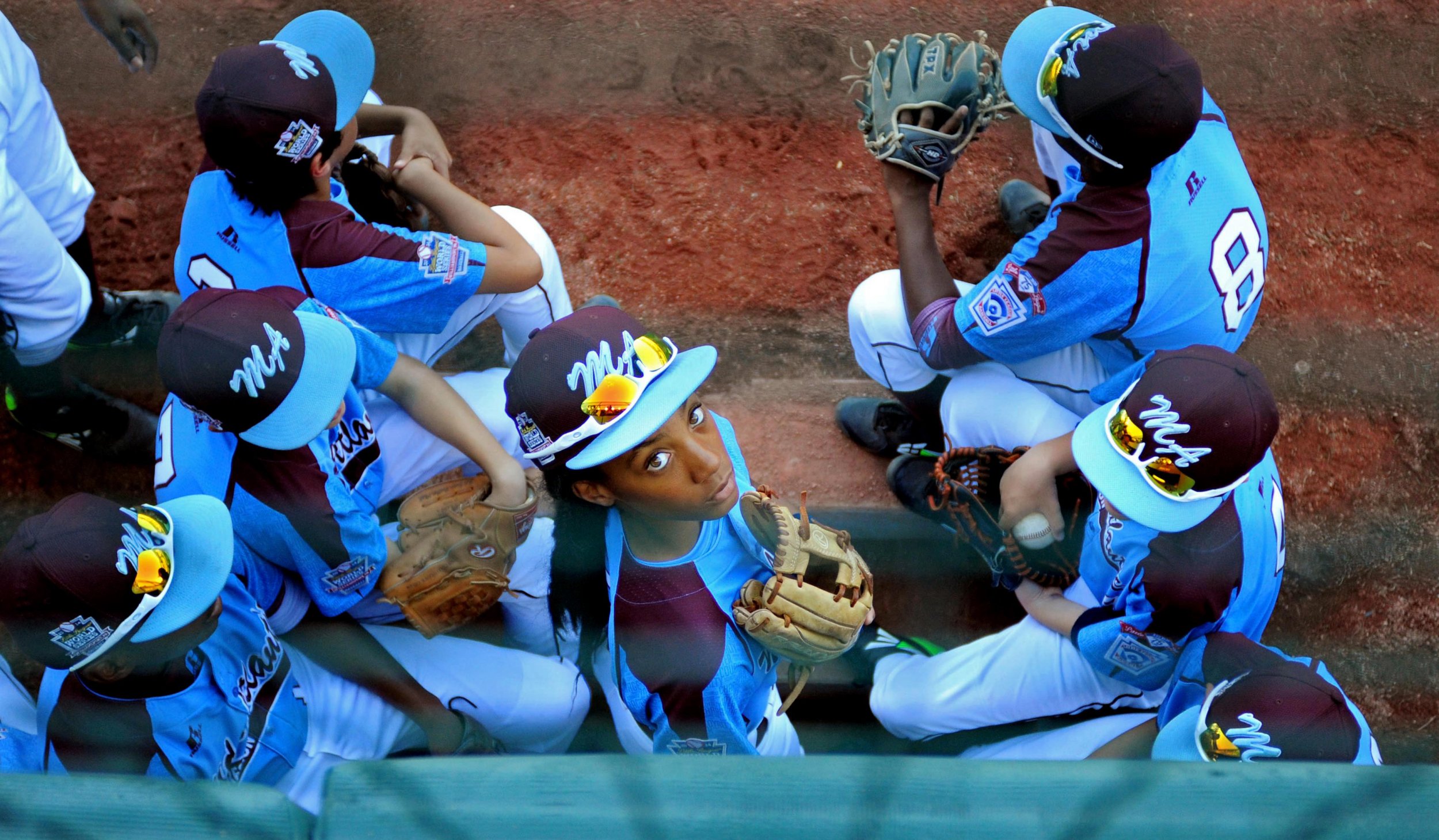 On June 21, Melissa Mayeux made Major League Baseball history when she became the first woman to be added to the league's international registration list. The repercussions of this are bigger than they appear, because as early as July 2nd, the 16-year-old shortstop could potentially be signed to a Major League team.
Mayeux has been playing for the French junior national team for the past two years, and currently plays for the U-18 squad. MLB's Director of International Game Development Mike McClellan called her a "legitimate shortstop who makes all the plays and is very smooth and fluid in the field." She can also hit with the best of them: McClellan watched her drill a lightning-fast 91-mile per hour pitch to the right of second base, off a 19-year-old Dominican pitcher at a tournament in Barcelona this past spring.
Of course, Mayeux's chances of actually being signed to the majors are slim at this point. Since most European players don't sign until they're 18, her inclusion on the list legitimizes her as a talented baseball player, regardless of her gender. If she isn't signed, she's still eligible to play for a U.S. collegiate team or with the French team at the 2017 World Baseball Classic.
But whether or not she goes to an MLB team, it's important to stop and appreciate that a high school-aged girl has come this far by playing on an all boys team while looking to continue doing just that. Most female baseball players Mayeux's age have either given up the sport or made the switch to softball: some because of bullying from other players, coaches and even parents, others because scholarships are not given to women for baseball, only for softball. Most, however, make the switch because that's just what they are expected to do. According to Baseball For All, a nonprofit dedicated to "providing meaningful instruction and opportunities in baseball, especially for girls," about 100,000 girls play youth baseball in the U.S., but of that number only 1,000 go on to play in high school.
And what about college? A Google search for "women's college baseball" returns information on NCAA softball. But as anyone who has played or merely even watched the two games knows, baseball and softball are not the same sport. So why do we (and by we, I mean most of America and pretty much all of Google's search engine results) readily assume that softball is the female equivalent of baseball?
While Title IX, passed in 1972, requires all federally funded institutions to provide equal opportunity for men and women in athletics, the programs do not have to be identical. As the NCAA puts it, they are required to have equal athletics programs to "meet the interests and abilities of each gender." Once we stop pushing girls from baseball to softball, perhaps their "interest" in the sport can have a chance to develop beyond Little League. And as people like Melissa Mayeux and Mo'ne Davis (who threw a two-hit shutout during the 2014 Little League World Series) have shown, there is no lack of ability.
Our country has had a Women's National Baseball Team since 2004, but without the existence of collegiate programs, there's no real track for women baseball players to develop on. While Melissa Mayeux plays both baseball and softball (she's also a member of the French senior national softball team), she shouldn't have to choose to do one or the other based on her gender. Regardless of whether she is signed to a MLB team next month or at any point in her future, it's hopeful that many other girls will take her lead and stick to baseball if it's what they love.