Trump's Transgender Military Ban: An Explainer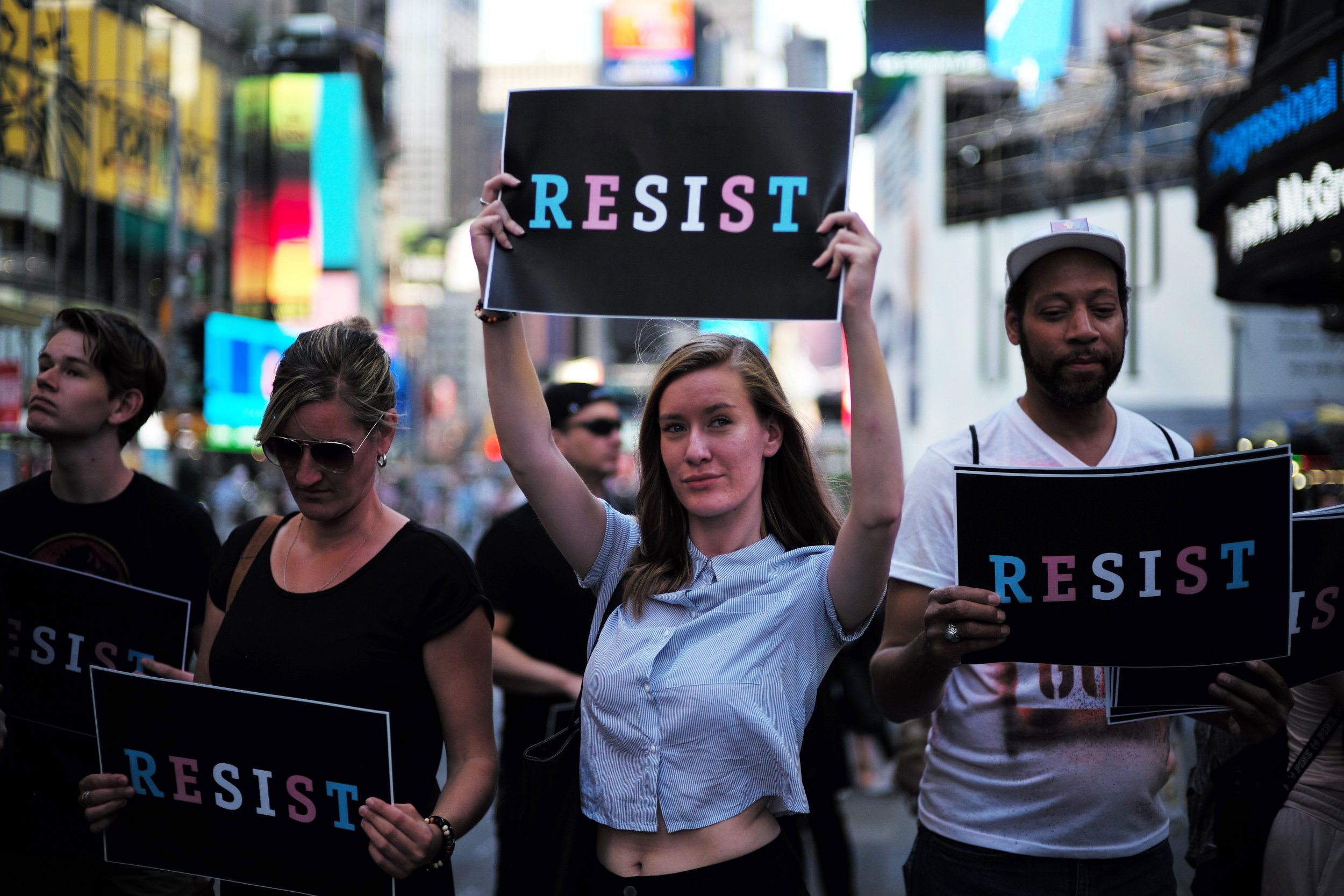 A second federal judge has blocked President Donald Trump's attempt to change the military's transgender policy.
Trump's July 2017 directive would have banned all new transgender recruits from enlisting, kicked out transgender people currently serving in the military and prohibited transition-related surgery for service members.
In a ruling on Tuesday, U.S. District Judge Marvin Garbis, the second federal judge to review the case, said transgender people serving in the military have "demonstrated that they are already suffering harmful consequences" due to Trump's policy.
Garbis said these consequences include "the cancellation and postponements of surgeries, the stigma of being set apart as inherently unfit, facing the prospect of discharge and inability to commission as an officer, the inability to move forward with long-term medical plans, and the threat to their prospects of obtaining long-term assignments."
What did Trump try to do?
In July, Trump sought to ban transgender personnel from the military. In a string of tweets, he wrote:
"After consultation with my Generals and military experts, please be advised that the United States Government will not accept or allow Transgender individuals to serve in any capacity in the U.S. Military. Our military must be focused on decisive and overwhelming victory and cannot be burdened with the tremendous medical costs and disruption that transgender in the military would entail. Thank you."
In August, he signed a presidential memo that followed through on his tweets: it prohibited transgender people from enlisting in the military, and stopped all funds going toward paying for gender transition-related surgery.
What have the courts said?
On August 9, the National Center for Lesbian Rights (NCLR) and the Gay, Lesbian, Bisexual, Transgender and Queer Legal Advocates & Defenders (GLAD) filed a motion for preliminary injunction, seeking an immediate halt to Trump's order, which would ban thousands of transgender people who are currently serving in the U.S. military. The judge approved that motion, but denied a request to block the ban on government funds for gender reassignment surgery. The effect of the court's order in the case, Jane Doe v. Donald J. Trump, was to revert to the status quo with regard to transgender people serving in the military.
"This is a complete victory for our plaintiffs and all transgender service members, who are now once again able to serve on equal terms and without the threat of being discharged," NCLR Legal Director Shannon Minter said in a statement. "We are grateful to the court for issuing such a clear, powerful decision recognizing that there is no legitimate reason for treating qualified transgender service members differently than others."
In October, a federal court blocked Trump's ruling, saying the directive could not be enforced while the case works its way through the court. The judge changed the policy back to what it was before June 2016 while it was being reviewed.
Tuesday's ruling does even more: it also prevents the Trump administration from denying funding for sex-reassignment surgeries after the order takes effect. The lawsuit was filed on behalf of the ACLU of Maryland and six transgender members of the Armed Forces: Petty Officer First Class Brock Stone, Senior Airman John Doe, Airman First Class Seven Ero George, Petty Officer First Class Teagan Gilbert, Staff Sergeant Kate Cole and Technical Sergeant Tommie Parker.
"Today is a victory for transgender service members across the country," said Joshua Block, senior staff attorney with the ACLU's LGBT & HIV Project, in a statement. "We're pleased that the courts have stepped in to ensure that trans service members are treated with the dignity and respect they deserve."
The bottom line: Transgender members of the military can still serve, can still gain access to health care and can still enlist in the military.
What's next?
Neither court injunction constitutes a final decision in the case. The plaintiffs are arranging a case-planning conference on December 15, where they will schedule further proceedings.