What's Happening in Saudi Arabia? How Crown Prince's Rise to Power Is Fueling New Violence in the Middle East
Saudi Arabia, a key U.S. ally that is one of the world's most conservative societies, has been at the center of a recent series of major events that highlight an ongoing political upheaval being staged by the kingdom's crown prince and his growing tension with rival Iran.
After his father announced an upcoming decree to allow women to drive for the first time in the country's history, Saudi Arabia's Crown Prince Mohammed bin Salman Al Saud went a step further by declaring a return to "moderate Islam" and a "tolerant society." The 32-year-old monarch's efforts to rebrand the ultraconservative kingdom and fend off accusations of human rights abuses, however, has been shadowed by an increasingly public campaign to consolidate power that has already had far-reaching, bloody consequences.
Related: The billionaire Saudi prince who badmouthed Trump has just been arrested
Over the weekend, dozens of high-ranking Saudi officials, including 11 princes, four ministers and dozens of former ministers, were suddenly detained as part of an anti-corruption purge. That was only the beginning.
"The homeland will not exist unless corruption is uprooted and the corrupt are held accountable," a royal decree read, putting Prince Mohammed bin Salman in charge of the new anti-corruption body.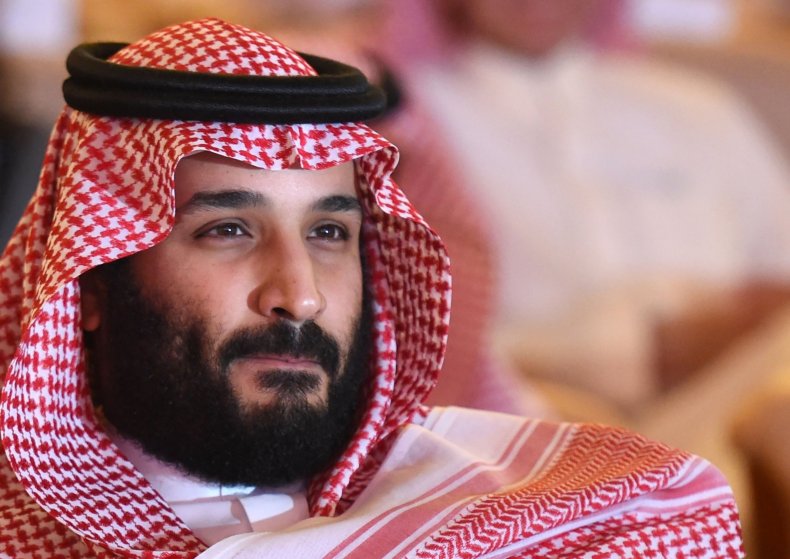 Mohammed bin Salman was unexpectedly promoted to crown prince in June after his father, reigning King Salman bin Abdulaziz Al Saud, demoted his nephew, Mohammed bin Nayef Al Saud, from his standing as next-in-line for the throne. Since last year, Mohammed bin Salman has championed his "Vision 2030" initiative to diversify the kingdom's oil-addicted economy and to fight corruption.
One of the targets of Sunday's early-hours raids in Saudi Arabia was billionaire Prince Al-Waleed Bin Talal bin Abdulaziz Al Saud. One of the richest men in the world, Al-Waleed bin Talal made headlines last year for bickering with then-presidential candidate Donald Trump on social media and has been one of Saudi Arabia's most prominent public faces, with investments in businesses around the world, including Twitter, Citigroup and Twenty-First Century Fox.
Al-Waleed Bin Talal has been accused of money laundering, bribery and extortion, according to officials cited by Reuters. Other figures swept up in the purge included Prince Miteb bin Abdallah, a former National Guard commander who was once a prospective heir to the throne; Ibrahim al-Assaf, a board member of state-run oil giant Aramco; Adel Fakieh, the reformist minister of economy and planning; Bakr bin Laden, chairman of the Saudi Binladin construction group; and many others, including key royal family figures.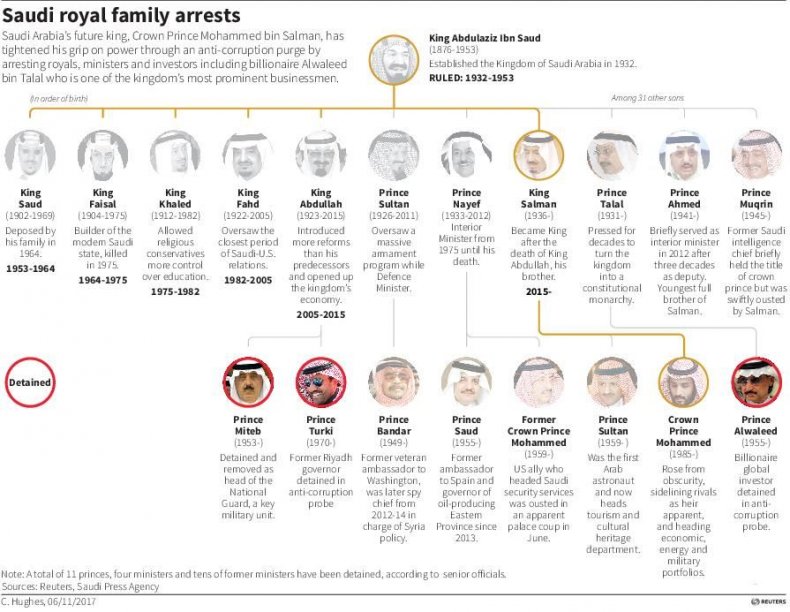 While reports remain unconfirmed, former FBI special agent Ali H. Soufan tweeted Sunday that another notable Saudi prince, Abdel Aziz bin Fahed Al Saud, was killed in a firefight with Saudi security forces as he attempted to resist arrest. Abdel Aziz bin Fahed, whose antics in Manhattan were detailed last year by the New York Post, was the youngest son of late Saudi King Fahd bin Abdulaziz Al Saud.
That same day, a helicopter carrying high-ranking Prince Mansour bin Muqrin Al Saud, son of former Saudi Crown Prince Muqrin bin Abdulaziz Al Saud, and seven other officials crashed near the country's southern border with Yemen. In Yemen, Riyadh has waged a war against Ansar Allah, also known as the Houthi movement, a rebel group that represents Yemen's Zaidi Shiite Muslim minority and has been accused by Saudi Arabia of receiving Iranian support.
Pro-Houthi media has not claimed responsibility for the crash, in which all eight on board were killed, and authorities were still investigating the cause, ABC News reported.
In a potentially linked development, Lebanese Prime Minister Saad Hariri declared his resignation from Riyadh via a taped message aired Saturday by Saudi Arabia's Al Arabiya channel, just before the kingdom's crackdown. Saad Hariri, a dual Lebanese-Saudi national whose appointment came after more than two years of political deadlock between factions allied to Saudi Arabia and Iran, said he believed himself the target of an Iran-backed assassination plot.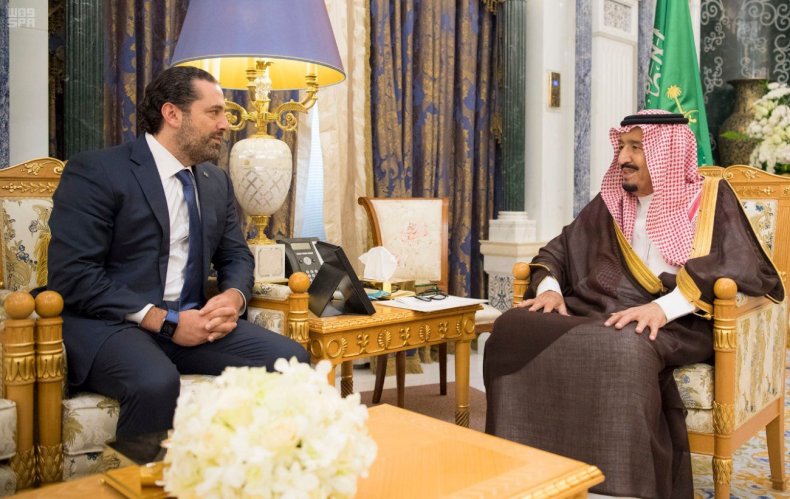 Saad Hariri's father, former Lebanese Prime Minister Rafik Hariri, was killed by a 2005 bomb blast in Beirut that his supporters have blamed on the pro-Syrian government in Lebanon at the time and its ally, Hezbollah, the Iran-backed Lebanese Shiite Muslim militant group and political party. Public outrage following Rafik Hariri's death precipitated the end of Syrian political control over Lebanon, but political deadlock has continued to plague the small, coastal Mediterranean country that mostly borders Syria.
Saad Hariri, who previously served as prime minister from 2009 to 2011, was again appointed last year after negotiations between opposing factions allowed Michel Aoun, an ally of Hezbollah, to be endorsed and later elected to the Christian-reserved presidency of Lebanon. Saad Hariri's resignation upset the delicate balance of sectarian power in Lebanon and local actors were quick to respond.
Hezbollah Secretary General Hassan Nasrallah delivered a televised speech Sunday in which he stated it was "clear that the resignation was forced upon Hariri and was a Saudi decision." Nasrallah called for calm in the country that once underwent a 15-year civil war involving various political, religious and ethnic factions, many of which received foreign backing. Lebanon's military intelligence said Sunday it had no knowledge of a plan against the prime minister's life, but Riyadh said Monday the alleged plot was a "declaration of war" by Lebanon and Hezbollah against Saudi Arabia, according to Reuters.
Another embattled regional leader, Palestinian President Mahmoud Abbas, announced a sudden visit Monday to see the Saudi king and crown prince after meeting with Egyptian President Abdel Fatah al-Sisi in Sharm El-Sheikh, Israeli daily Haaretz reported. Last month, Saudi Arabia congratulated Abbas on recently reaching a reconciliation deal between his Fatah political faction and Palestinian movement Hamas, but it has been deeply critical of Iran's support for Hamas.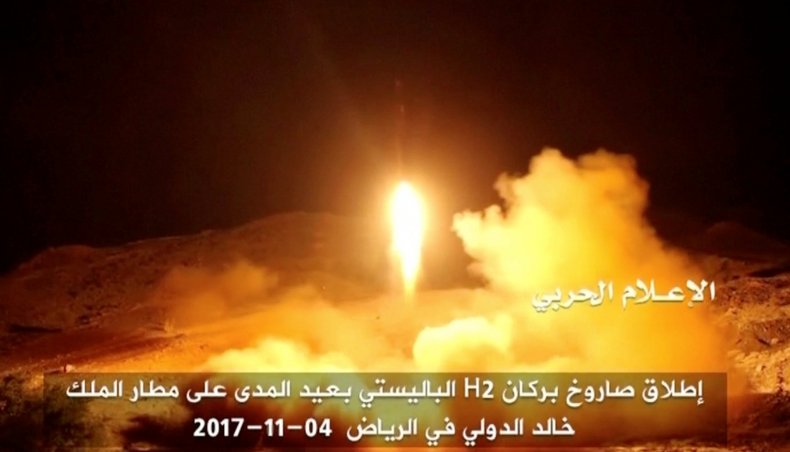 After detaining dozens of officials and receiving two foreign leaders, Saudi Arabia on Monday blamed Iran for a Houthi missile that was intercepted Saturday near Riyadh's international airport. The Saudi Arabian government said the attack could be "considered as an act of war" on Iran's part. Experts told Newsweek Monday the statement could be used to distract from internal unrest in the kingdom.
Majority-Sunni Muslim Saudi Arabia and majority-Shiite Muslim Iran have waged a battle for influence across the Middle East and accuse each other of fueling unrest through support for opposing proxy forces and political movements. President Donald Trump has increasingly aligned himself with Saudi Arabia and Israel in an attempt to isolate Iran diplomatically, but other U.S. allies have criticized the president's rhetoric and urged a return to diplomacy.