What's Happening in Syria? Everything You Need to Know About Proxy War Between U.S., Russia, Iran and Turkey
Violence has continued in all of at least four conflicts raging concurrently in Syria, inflating the death toll of a seven-year war that showed little signs of calming down anytime soon.
The state-run Syrian Arab News Agency reported Friday that military helicopters dropped leaflets with instructions on how civilians could exit the besieged Damascus suburb of eastern Ghouta, which has been under the control of rebels and jihadis opposed to the government of Syrian President Bashar al-Assad since 2013. Backed by Russia and Shiite Muslim militias supported by Iran, the Syrian troops have steadily gained on one of the few pockets of control remaining from the 2011 uprising against Assad.
Related: U.S. is losing a top Syria war ally once again, this time to Assad
"What is happening at present is biting and taking some villages from the eastern side," a Syrian military commander told Reuters.
Western powers have blamed Russia, Syria and Iran for the growing death toll in eastern Ghouta, but the three have pointed the finger at insurgents shelling nearby Damascus and refusing to leave. This standoff at the United Nations, and others before it, have left world powers at a standstill as what began in March 2011 as a series of mass, sectarian demonstrations against Assad in Syria devolved into a multinational conflict with the U.S., Russia, Iran and Turkey among the top foreign forces behind local forces vying for power.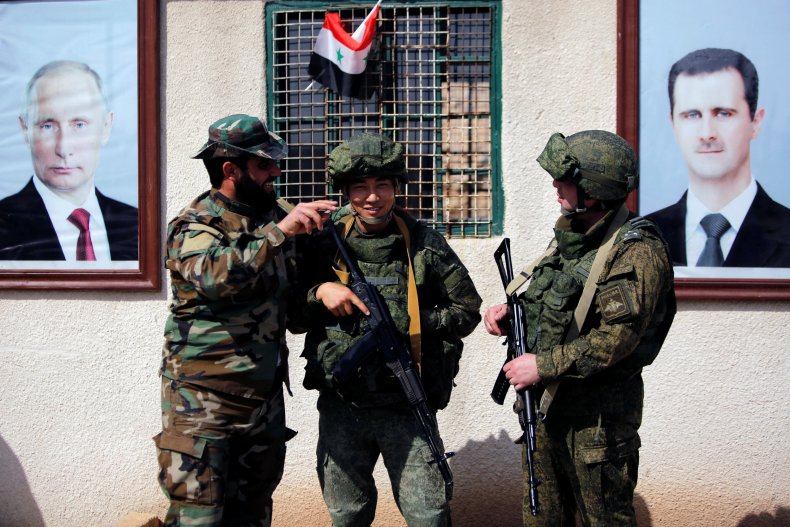 Syria
The Middle Eastern, Mediterranean country has an Arab Sunni Muslim majority with ethnic minorities that included Kurds, Armenians and Turkmen, while Shiite Muslims, Christians and Druze made up the religious minorities. Since 1972, Syria has been headed by the Assad family, members of the Alawite Shiite Muslim sect. After his father's death in 2000, Assad ascended to the head of the country's Baathist government and, for a while, appeared to court the West.
As unrest swept the region in 2011, however, Assad cracked down on protests in Syria. Clashes broke out between security forces and an opposition that took up arms. Violence worsened and the Syrian military was forced to cede large parts of the country to rebels and jihadi groups, but these gains have been largely recovered in recent years thanks to assistance from within and without.
The United States
The U.S. worked closely with Syria to end the civil war in Lebanon in 1990 and in the initial stages of the Iraq War and so-called "War on Terror," but relations have generally been poor. The U.S. and Syria have accused one another of sponsoring terrorism and, when the 2011 protests started, former President Barack Obama backed the opposition. Soon after, the CIA began training and arming rebel groups such as the Free Syrian Army. Turkey and Gulf Arab states, such as Qatar and Saudi Arabia also backed various armed groups.
As the Syrian opposition splintered and extremist groups began to dominate, U.S. support waned and recalibrated to independent Kurdish fighters battling a new foe, the Islamic State militant group (ISIS). The U.S. formed an international coalition and began bombing ISIS in 2014. The following year, the Pentagon established the Syrian Democratic Forces, a mostly Kurdish alliance that included Arabs and ethnic minorities.
The U.S.-led coalition and Syrian Democratic Forces swept through ISIS territory and claimed victory in October over the jihadi's de facto capital of Raqqa. The U.S.-Kurd relationship has become strained, however, as U.S. NATO ally Turkey invaded the northwestern, Kurd-held Syrian district of Afrin, and the U.S. has not moved to stop it.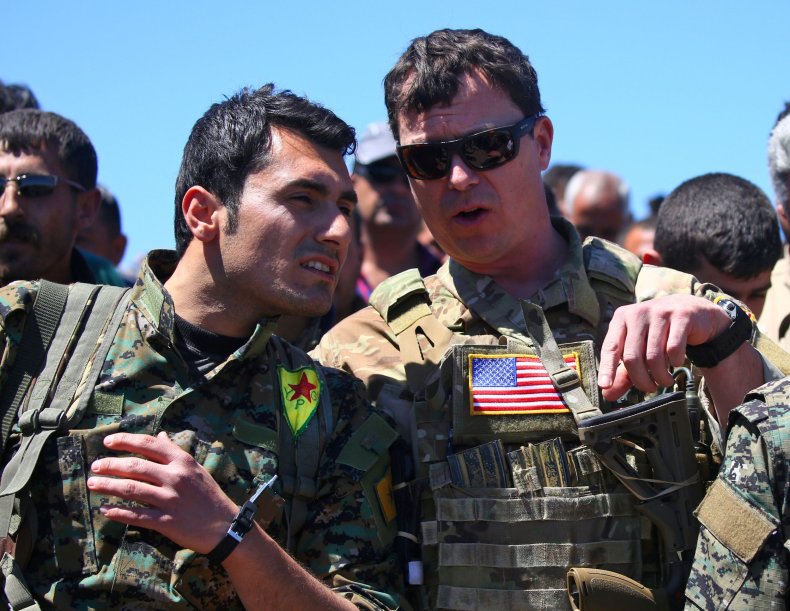 Russia
Syria was a Cold War ally of the Soviet Union, buying Russian arms and giving Moscow a warm water port in the Mediterranean. In 2015, Russia staged a military intervention at Assad's request, ultimately shifting the momentum in the Syrian leader's favor. As the U.S.-led coalition battled ISIS in the north, Russian warplanes helped Syrian troops and pro-Syrian government militias retake key cities from insurgents, including the former commercial capital of Aleppo in late 2016, a development that compelled pro-opposition Turkey to join Russia and Iran's peace efforts the following year.
The Russian military also helped Syria reclaim huge chunks of desert from ISIS. The separate offensives of the Russia-backed Syrian military and U.S.-backed Syrian Democratic Forces battling ISIS met in the eastern province of Deir Ezzor. The tense boundaries of control erupted into violence last month when U.S. airstrikes killed up to 100 pro-Syrian government forces, including Russian fighters, in an incident that both sides blamed on one another.
Iran
Syria and Iran have been close allies since Damascus backed Tehran in the Iran-Iraq War of the 1980s. Fellow enemies of both Iraqi President Saddam Hussein and Israel, they continued to forge ties into the new millennium and the Syrian government became particularly close to Iran-backed Lebanese Shiite Muslim movement Hezbollah.
Hezbollah mobilized in support of Assad shortly after violence broke out in Syria and Iran has summoned a number of other Shiite Muslim militias from local fighters as well as foreigners from Afghanistan and Iraq. These irregular forces have been on the frontlines against ISIS and rebels, including in eastern Ghouta, but the U.S. has also accused them of being proxies of Iran's growing footprint in the region.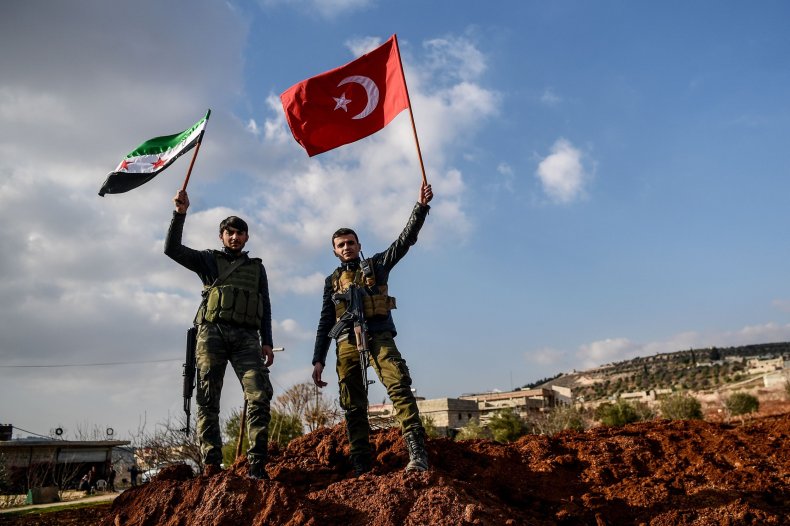 Turkey
Syria sought to improve its relationship with northern neighbor Turkey in 1998 when it arrested and extradited Kurdistan Workers' Party (PKK) leader Abdullah Öcallan, whose group has waged a decades-long separatist insurgency against Turkey. These ties soon fell out as war erupted in 2011 and Turkey sided with opposition forces. It continued to do so as the U.S. switched support to Kurdish groups such as the People's Protection Units (YPG), which Turkey considered to be a PKK-linked terrorist organization.
Turkey has supported the once U.S.-sponsored Free Syrian Army in clashes with the Pentagon-backed Syrian Democratic Forces, of which the YPG was the dominant faction. In January, Turkey launched its so-called "Operation Olive Branch" sending troops and allied Free Syrian Army forces to oust the YPG from the northwestern Syrian border district of Afrin.
As the U.S. and Russia chose not to allow mutual partner Turkey to attack, Kurdish forces requested Assad's help in defending Syrian territory and convoys of pro-Syrian government fighters arrived in Afrin last month, forming an unlikely, perhaps temporary alliance of Syrian forces and complicating both the U.S. and Russia's interests in the war-torn country.