What's in Joe Biden's Mask Executive Orders for U.S. Travel, Federal Property?
President Joe Biden is launching a national COVID-19 strategy as his first order of business in the White House.
As the nation's death toll continues to rise and new variants of the virus stir new panic, Biden is hoping newly installed mask requirements on federal property and for travel will help contain the raging coronavirus pandemic.
One of the first executive orders he signed on Wednesday included mandating wearing face masks on all federal property and by all federal employees and contractors, which applies to "on-duty or on-site Federal employees, on-site Federal contractors, and other individuals in Federal buildings and on Federal lands."
"This executive action will direct the agencies to take action to require compliance with CDC guidance on mask wearing and physical distancing in federal buildings, on federal lands, and by federal employees and contractors," Biden's COVID-19 response coordinator Jeff Zients told reporters.
"This is not a political statement. This is about the health of our families, and economic recovery of our country," he added.
Masks quickly became political after Trump repeatedly refused to wear a mask in public during the early months of the pandemic. His administration had also been discouraged to use masks and the White House hosted a number of mask-free events last year.
Federal property will extend beyond the nation's capital and apply to federal buildings across the country, including federal courthouses and state Capitols.
While a president has no authority over what state and local officials mandate, he has urged them to enact their own mandates. Most states have already issued mask requirements, however, governors in Alaska, Arizona, Florida, Georgia, Idaho, Mississippi, Missouri, Nebraska, North Dakota, Oklahoma, South Carolina, South Dakota and Tennessee have chosen not to issue a statewide order.
Biden is expected to continue encouraging COVID-19 safety measures as he signs 10 pandemic-related executive orders on Thursday, which will mark one year since the first case of COVID-19 was reported in the U.S.
One of these will include a mask requirement for Americans traveling in airports, planes, ships, intercity buses, trains and public transportation, although it is unclear when the travel order will go into effect.
Although airlines already require passengers to wear masks and have been banning those that do not comply, masks have been difficult to enforce without a federal mandate. Without an order from the president, passengers have attempted to argue about their rights with the cabin crew.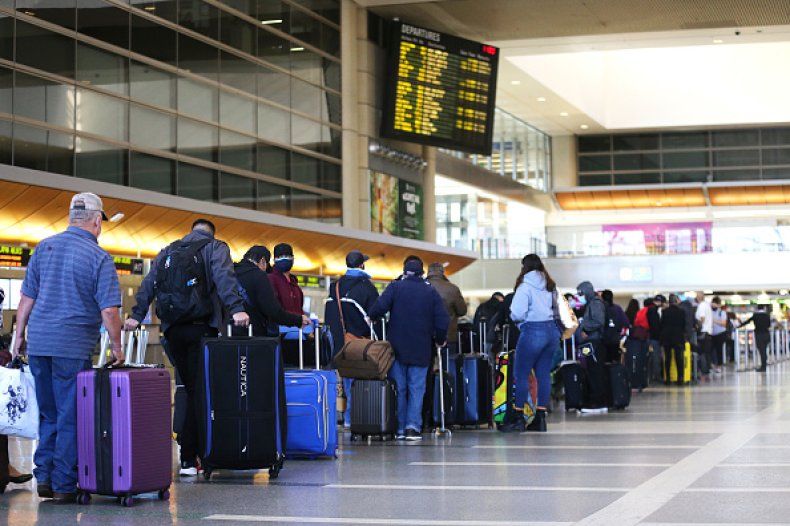 Airlines and unions have been calling for an executive order since the beginning of the pandemic, but found little help from the Trump administration.
Biden officials have told the Associated Press that their efforts to combat the virus have also been hampered by a lack of cooperation from the former administration during the transition of power.
"Almost a year in, we still do not have basic federal safety requirements such as a mask mandate," the Association of Flight Attendants-CWA said in a statement issued last week. "We're eager to work with the Biden administration to protect aviation workers and passengers."
As travelers began flying again in early May, U.S. airlines began adopting mask policies to help prevent the spread of COVID-19 and provide safer traveling experiences for worried passengers.
Just a few months later, they clamped down on their rules and restricted the types of face coverings allowed on planes. Passengers were warned that non-compliance could result in being banned by the airline from flying during the pandemic.
According to USA Today, nearly 3,000 passengers have been banned across eight airlines: Delta, United, Spirit, JetBlue, Frontier, Alaska, Hawaiian and Allegiant. However, because the country's largest airlines, American and Southwest, do not provide these figures, the total number is expected to be much higher.
Newsweek reached out to the White House for further comment but did not hear back before publication.