What's In A Name: Macedonia Set to change its name, bringing a 27-year dispute with Greece to an end
Greece and Macedonia look set to put a 27-year-old dispute to rest after signing an agreement that would see the latter country's name change its name to the Republic of Northern Macedonia.
Since Macedonia first declared independence in 1991, the small Balkan country's name has been a point of contention with Greece, which has long argued that the title suggests the nation has a claim on the northern Greek province of the same name.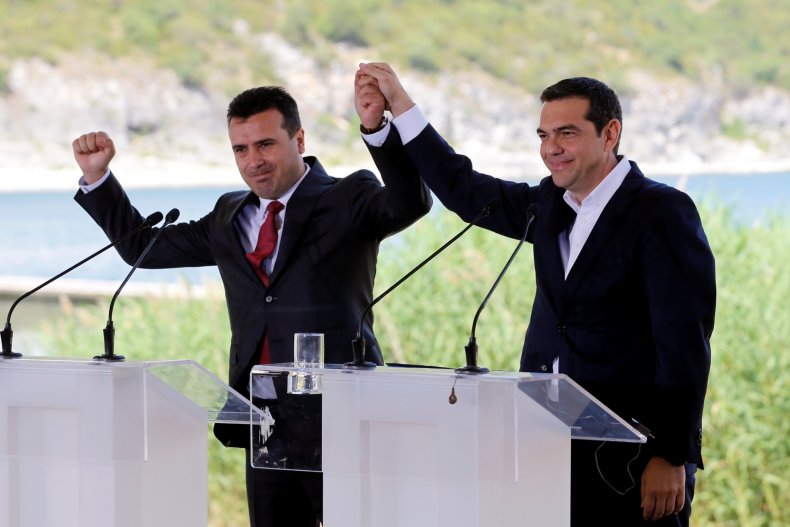 "Our two countries should step out of the past and look to the future," Macedonia Prime Minister Zoran Zaev said, as the deal was signed, according to Agence-France Presse.
"Our peoples want peace... we will be partners and allies," he said.
Greek Prime Minister Alexis Tsipras said the agreement was a "brave, historic and necessary step for our peoples."
"We are here to heal the wounds of time, to open a path for peace, fraternization and growth for our countries, the Balkans and Europe," he said.
Greek Foreign Minister Nikos Kotzias and his Macedonian counterpart Nikola Dimitrov signed the deal with Tsipras and Zaev present in Psarades, a small fishing village in Greece, just a day after the Greek prime minister survived a no-confidence vote over his handling of the longstanding disagreement.
Opposition MPs accused Tsipras of being too compromising on the issue, an argument that as many as 70 percent of Greeks agreed with in an opinion poll published by the Proto Thema newspaper on Saturday.
The opposition failed to pass their no-confidence motion, however, by 153 votes to 127 on Saturday, Reuters reported.
Under the deal, Greece is expected to lift its objections to Macedonia joining the European Union and NATO.
While the EU and the United Nations welcomed the agreement, thousands of Greek protesters rallied outside Greece's Parliament building, accusing the prime minister of being a "traitor," according to Reuters.
Veteran UN mediator Matthew Nimetz, who had overseen talks for more than two decades celebrated the agreement, saying it was an example of "how neighbors can solve a problem if they really work at it," the agency reported.
What next?
While the preliminary deal has been signed, there is still a long way to go before the accord can be brought into effect.
Macedonia's parliament will still need to approve the deal, with a referendum to follow in September or October.
The country's President, Gjorge Ivanov, has further complicated matters with his refusal to sign the agreement, the BBC has reported.
If Ivanov continues to refuse, the deal will return to parliament for a second vote. If that passes, Ivanov is required to approve the legislation, which would then be ratified.