Up Stream: The Best New Stuff On Demand for the Week of November 20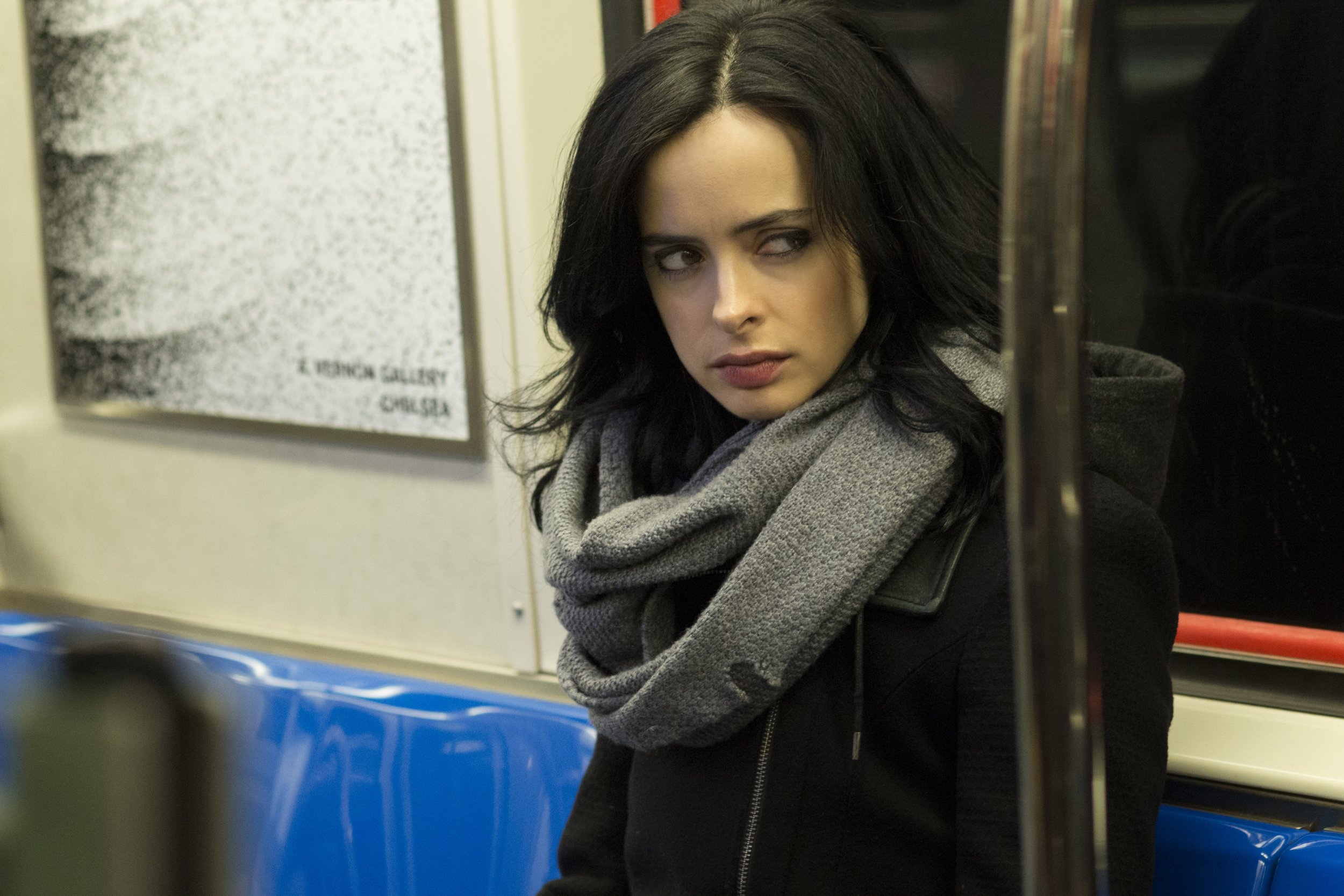 Up Stream is a weekly roundup at Newsweek where, in addition to cataloging all the newest additions to Netflix, Hulu, Amazon Prime, Google Play, HBO Go and beyond, we've handpicked a few highlights for you to enjoy from the comfort of your own bed, couch or toilet.
The Best
For all their relentless box-office domination, the works of Marvel Studios still have yet to conquer some wide tracts of territory. Netflix's latest original series, Jessica Jones, breaks two bold boundaries for the entertainment behemoth, bringing Marvel its first successful female-led production, as well as its official entry into the world of adulthood.
Dependable character actress Krysten Ritter (recognizable from key roles in Breaking Bad and the short-lived but well-loved Don't Trust the B---- in Apartment 23) steps up as the hardscrabble heroine, making use of her tough-as-nails attitude and her superhuman strength to run a detective agency specializing in extraordinary cases. The series suggests a shift to a darker, more mature tone for the Marvel brand; early reports have praised the series's head-on engagement with adult themes such as the post-traumatic ramifications of rape, unshy female sexuality and violence with grit heretofore unmatched in the Marvel cinematic universe. The combination of whip-smart dialogue and rough-edged female empowerment has been earning early comparisons to Alias, but this series develops its own identity in short order. Sporting a chilling performance from Doctor Who alum David Tennant as villain Kilgrave, Jessica Jones is the latest in an ever-lengthening series of home runs for Netflix's library of original programming.
It's always heartening to see a film with as much style and brainpower as Alex Garland's Ex Machina (now available to stream on Amazon Prime) break out as a sleeper hit, as the film did this past spring amid a wash of glowing reviews. The sparse, slow-burn techno-thriller ravished sci-fi fans and made converts out of plenty of viewers who had grown tired with the genre after a string of lackluster entries, ultimately making back double its budget and introducing Garland as a filmmaking talent to watch in the years to come. A coolly clever concept elevated by a trio of expert performances, Ex Machina weaves a futuristic noir storyline around a set of difficult explorations of ontological concerns.
Domhnall Gleeson is an unremarkable programmer selected to administer a human Turing test to a revelatory new computer program. Oscar Isaac exudes charisma and far-off menace that gradually gets closer as the visionary who summoned Gleeson, and Alicia Vikander completes the trio as the robot who might have more humanity than her creator and the man brought to interrogate her. Garland imagines an engrossing vision of our not-too-distant future, constraining his action to a woods hideaway that looks like a product of Eames by way of Apple. Smart, seductive and chilling, Ex Machina is the sci-fi film that restores the genre's good name.
You don't have to be stoned to enjoy Dude, Where's My Car? (available to stream on Netflix), but it probably helps. Still, there's plenty of entertainment to be had just from the rambling, discursive tale of two dudes' fraught odyssey to recover a misplaced vehicle. And while forming such a comparison may qualify as heresy, there's actually not a whole lot separating the idiots' journey undertaken by Ashton Kutcher and Seann William Scott from the follies of Shakespearean fools.
Their own thickheadedness sends them down a long and twisting path to track down the missing vehicle and places the fate of the entire universe in their fumbling hands. They cross paths with aliens, ostrich farmers and one angry giantess on their quixotic journey, with lowest-common-denominator yuks every time the film pauses to breathe. Some bits, like an extended interlude with a transgender stripper, have aged extremely poorly since the film's 2000 release date, but those able to keep an open mind (or one decidedly more cloudy) can find pleasures in this odd bird.
The unlikely success of the Fifty Shades of Grey (available to stream on HBO Go) franchise of sanitized erotica is destined to go down as one of those weird, inexplicable quirks of pop-cultural history. But there's a difference between marginal awareness of the brand's popularity and actually engaging with it, and there's much to be learned from a sit-down with the film starring Dakota Johnson and Jamie Dornan. It's an aggressively sexual film that appears afraid of real sexuality, a romance for grown-ups that feels like it was written by a teenager.
The press tour promoting the film was a marvel in its own right, as audiences were treated to a leading lad and lady who couldn't stand to be in each other's presence. Their seeming enmity translates directly onto the screen, eradicating any semblance of chemistry between the two leads, who are supposed to have addictions to each other on a near-chemical level. The soundtrack is a frequently baffling mishmash of neo-R&B bangers (Beyoncé's "Haunted" is a good pick) and groaningly innuendo-laden novelties ("Beast of Burden" is not). Have a drink (or four) and tackle it with some friends you're extremely comfortable with.
In 2008, two years after picking up the Academy Award for best actor for his wounded Johnny Cash, Joaquin Phoenix announced he was getting out of the game. Apropos of nothing, he up and quit the profession of acting, packed on a few new pounds, grew a wild-man beard and took to speaking in inscrutable koans. With his new aesthetic of perpetual dishevelment, Phoenix decided to pivot into a second act as a rapper.
Casey Affleck's pseudo-documentary—or is it?!—I'm Still Here (available to stream on Netflix) tracks the celebrated thespian's time in his own mental wilderness. It's tantalizingly unclear as to whether he's slipped into madness or found true enlightenment. Affleck and his camera actively probe Phoenix's mind, needling him about topics such as religion and celebrity, subjects on which the actor turned rapper speaks with a Zen-like clarity. Time would ultimately unravel the impact of this experimental project, as the events of the film were revealed to be staged and Phoenix returned to his career as an actor, but I'm Still Here remains a mesmerizing time capsule. The film's secret weapon? Sean "P. Diddy" Combs, who makes a sublime guest appearance as himself when Phoenix is on the hunt for a producer to work some magic on his record. It's undoubtedly Diddy's finest on-screen work.
The Rest
Blue Caprice (Netflix)
Call Me Lucky (Netflix)
Catch Me Daddy (Prime)
Dark Star: H.R. Giger's World (Netflix)
Dawn Patrol (Netflix)
The Dempsey Sisters (Netflix)
Felt (Netflix)
The Haunted Castle (Prime)
The Latin Explosion (HBO Go)
Loft (Prime)
Low and Behold (Prime)
Naomi and Ely's No Kiss List (Netflix)
People, Places, Things (Netflix)
Polaroid Girl (Prime)
The Puppet (Prime)
Saints and Soldiers (Prime)
The Secret of the Nutcracker (Hulu)
Soaked in Bleach (Netflix)
Vacance (Prime)
Vessel (Prime)
Whores' Glory (Netflix)
A Woman in Danger (Prime)