What's Next: After Trump's Impeachment, Questions Linger Over Impeachment Managers and Senate Trial
With the House impeaching President Donald Trump Wednesday night, the Senate now faces a certain impeachment trial after Congress returns in January from Christmas recess.
But work is left to be done by both chambers before a trial can commence, with several points of business unclear as to how—and when—the required to-do list will be completed. Congress will be on Christmas recess at week's end and won't return until the second week of January.
Impeachment managers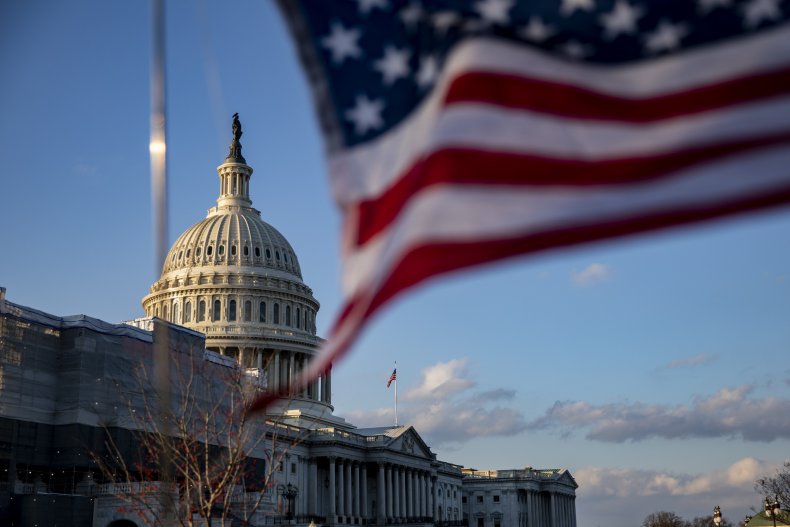 Democratic House leaders need to determine who will go to bat for them in the upper chamber, where they'll argue the case for Trump's removal from office to senators, who will act as jurors in a trial.
Some of the more vulnerable, moderate Democrats who flipped Trump districts in 2018 suggested Rep. Justin Amash (I-Mich.), a Republican turned independent, should be one of their managers.
"I think someone should probably check with him," freshman Rep. Elissa Slotkin (D-Mich.), one of those vulnerable moderates, quipped Tuesday. "I don't know if they've done that. But I think it's an interesting idea, and I'll consider it."
Amash would have the ability to bring an additional voice to the conversation that could be "seen as more objective," Slotkin argued.
Pelosi throws a wrench into the mix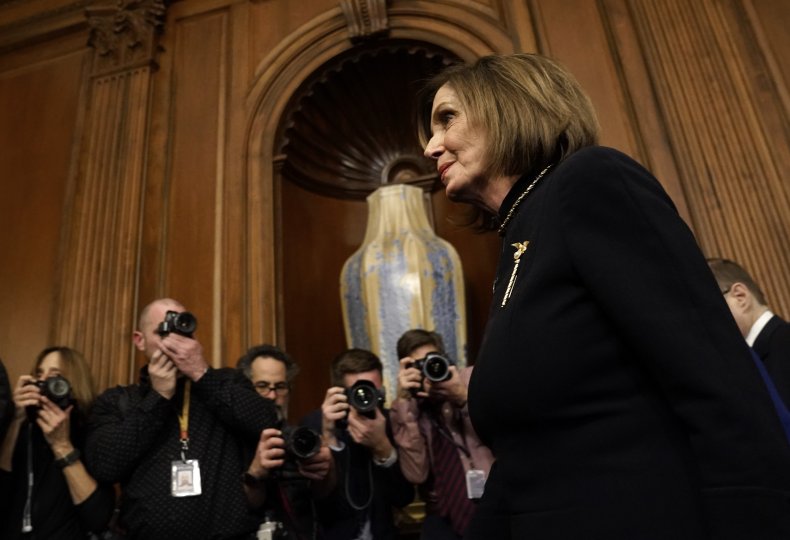 Before a Senate trial can commence, House Speaker Nancy Pelosi (D-Calif.) must name her impeachment managers. But the entire process could be delayed, Pelosi suggested.
"We cannot name managers until we see what the process is on the Senate side, and I would hope that that would be soon," she told reporters following the House impeaching the president. "So far, we haven't seen anything that looks fair to us."
Pelosi refused to guarantee the articles would make it to the Senate, much less a timeline for when she and other top Democrats planned to name the managers and subsequently deliver the articles to the upper chamber. She also refused to provide details about what exactly a "fair trial" would look like.
"Let me tell you what I don't consider a fair trial," she elaborated. "Leader McConnell has stated that he's 'not an impartial juror' and he's 'going to be taking his queues from the White House' and that he's working in 'total coordination' with the White House counsel's office."
Senate trial drama over potential witnesses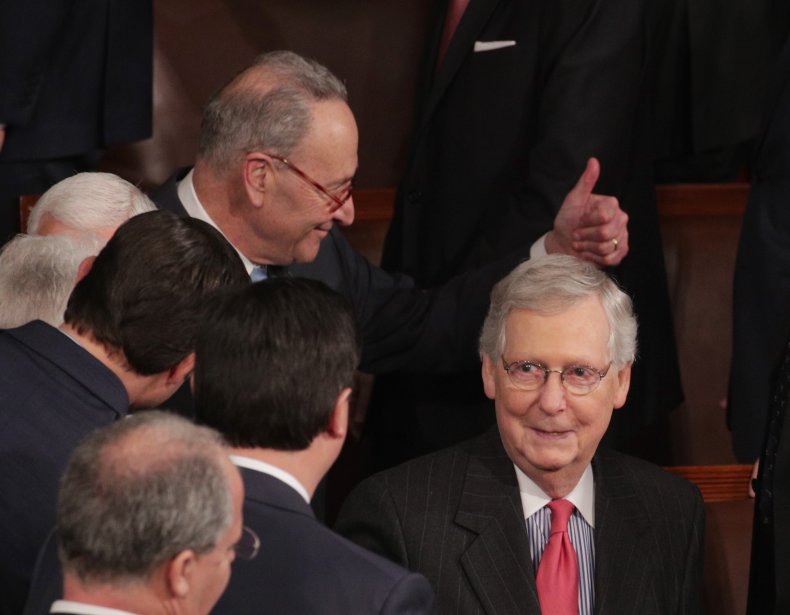 Senate Majority Leader Mitch McConnell (R-Ky.) has made it clear he wants the Republican-led chamber to have a speedy trial that ends with an acquittal of the president, an outcome he plans to procure by working in "total coordination" with White House counsel.
But in rejecting Minority Leader Chuck Schumer's demand to have four witnesses testify during the trial, including acting White House chief of staff Mick Mulvaney and former national security adviser John Bolton, some moderate Republicans could be faced with a tough decision of whether to break party rank.
Schumer has signaled he plans to force a vote on summoning the witnesses. And with just a few Republican defectors, Democrats could have their way.
But the three GOP senators most likely to cross party lines to secure witness testimony—Mitt Romney of Utah, Susan Collins of Maine and Lisa Murkowski of Alaska—are holding their cards close, refusing to reveal which way they would lean.
"That's something I'll give consideration to after I've had discussions with other members and my legal team," Romney told Newsweek. McConnell's position—to consider having witnesses after House impeachment managers make opening arguments—is "a reasonable position," the former presidential candidate said.
"I would have to look at what gets proposed."
The following graph, provided by Statista, shows the breakdown of the votes on each article of impeachment.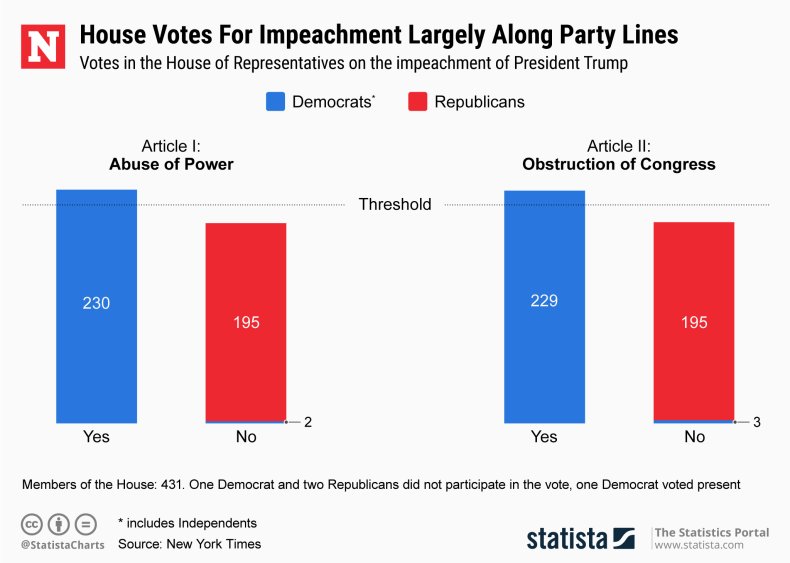 What's Next: After Trump's Impeachment, Questions Linger Over Impeachment Managers and Senate Trial | Politics