What's Next for Andrew Cuomo?
As protestors gathered outside of Andrew Cuomo's office Wednesday morning, the New York governor's time may be running out.
The damning report released by New York Attorney General Letitia James on Tuesday detailed a months-long probe into the sexual harassment allegations against Cuomo. A poll published Wednesday by Marist found that 59 percent of New Yorkers support Cuomo resigning, but the governor is holding his ground.
Support diminished quickly for Cuomo, who became one of the nation's most high-profile leaders during the pandemic. His Emmy award-winning COVID-19 briefings and bromance with his brother, CNN journalist Chris Cuomo, put the third-term governor in good graces with the country, but the tide is quickly changing.
A number of legislators have called for his resignation, including top Democrats and lawmakers who might decide his fate in the coming months. With talks of impeachment and removal already underway, here's what's next for Cuomo.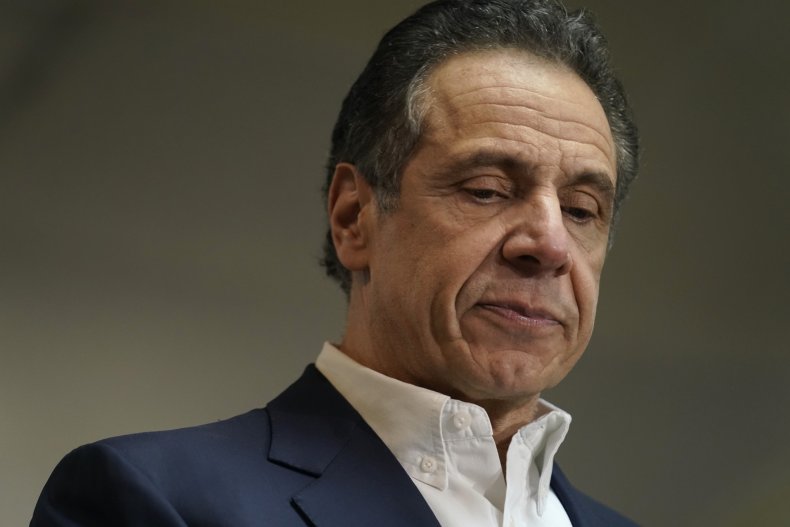 What did the report find?
The investigation, which Cuomo authorized on February 28, analyzed over 74,000 pieces of evidence, including audio recordings, pictures and documents. Interviews were conducted with 179 individuals.
"The independent investigation has concluded that Governor Andrew Cuomo sexually harassed multiple women, and in doing so violated federal and state law," James said at a news conference Tuesday.
The state's attorney general also concluded that Cuomo and some of his senior staff members retaliated against a woman who came forward accusing Cuomo of inappropriate behavior.
The investigation found that the governor engaged in "unwelcome and nonconsensual touching," including kissing, hugging and groping, and made "numerous offensive comments of a suggestive sexual nature." Eleven women, including nine state employees, have filed complaints against Cuomo.
How did Cuomo respond?
Cuomo has denied the allegations since the beginning, and he did not break from that in light of James' report.
The governor addressed the issue in a taped response on Tuesday afternoon.
"I said at the beginning I would let the process unfold. I didn't want anyone to say that I interfered. I said I would hold my tongue and I have, making only limited comments," Cuomo said. "But I cooperated with a review, and I can now finally share the truth."
An 85-page rebuttal was released by his attorney alongside his video response.
Cuomo said he never touched anyone inappropriately and he apologized if he had offended anyone. The video played a slideshow of photos of the governor kissing the cheeks and cupping the faces of a number of people, to show that Cuomo does it out of a gesture of "warmth."
Will he face criminal charges?
While the attorney general reported that Cuomo violated state and federal laws, the investigation was civil in nature, not criminal.
New York City Police Commissioner Dermot Shea confirmed on Wednesday that the NYPD has not launched an investigation into the allegations.
Albany County District Attorney David Soares released a statement Tuesday shortly after the report was released. He stated his office's intentions to investigate the governor.
"We will be formally requesting investigative materials obtained by the AG's Office, and we welcome any victim to contact our office with additional information," the statement read.
Will Cuomo resign?
It's unlikely.
Because of his denial and previous statements, the governor most likely will not resign.
Cuomo's statement claimed the allegations were fueled by "politics and bias," and he offered explanations for the alleged inappropriate behavior, once again denying that there is any merit to the claims or the investigation.
Amid his denials, dozens of lawmakers, including many Democrats, have demanded Cuomo's resignation. President Joe Biden, House Speaker Nancy Pelosi and New York City Mayor Bill de Blasio are among those who have publicly made the call. A number of New York State senators and Assembly members have shown their support for Cuomo's resignation, as well.
If he doesn't resign, will he be impeached?
In New York, the state Assembly has to first bring articles of impeachment against the governor. If a majority of the Assembly members vote to impeach Cuomo, the articles would be brought to the Impeachment Court. The entire state Senate, except Majority Leader Andrea Stewart-Cousins, and seven judges from the state's Court of Appeals would be the jurors for Cuomo's trial.
"He can no longer remain in office," said Carl Heastie, speaker of the State Assembly. "We will move expeditiously and look to conclude our impeachment investigation as quickly as possible."
During an impeachment trial, the governor would temporarily be replaced by Lieutenant Governor Kathy Hochul.
"The AG's investigation has documented repulsive & unlawful behavior by the Governor towards multiple women. I believe these brave women & admire their courage coming forward," Hochul tweeted. "No one is above the law."
If the Impeachment Court finds Cuomo guilty in a two-thirds majority vote, he will be removed from office. Forty-six members of the jury would need to vote yes in order to remove Cuomo.
Hochul would be New York's governor until the November 2022 gubernatorial election, and Stewart-Cousins would assume the position of lieutenant governor.
If Cuomo neither resigns nor is removed from office by impeachment, New York state voters will decide his fate in the general election in 2022 if Cuomo seeks a fourth term.