What's Next For Donald Trump's Impeachment? Stalemate Persists Over Trial Witnesses
With Washington's top leaders in a standoff over the terms of a looming impeachment trial, Senate Majority Leader Mitch McConnell on Monday did not rule out the possibility of having witnesses testify.
"We haven't ruled out witnesses," the Kentucky Republican said on Fox & Friends. "We've said, 'Let's handle this case just like we did with President Clinton.' Fair is fair."
McConnell reiterated the upper chamber remains at an "impasse" as Democrats remain skeptical the majority leader will conduct a fair trial.
What does that impasse mean for the next steps of the impeachment process? Here's what to expect in the coming weeks.
Newsweek subscription offers >
"Everybody enjoy the holidays"
Expect the extraordinary state of impeachment limbo to persist through Christmas recess until lawmakers return in the new year.
McConnell and Minority Leader Chuck Schumer (D-NY) have not spoken since they met Thursday, where they were unsuccessful at striking a deal on rules for a trial, and do not currently have plans to speak in the near future, according to a McConnell spokesperson.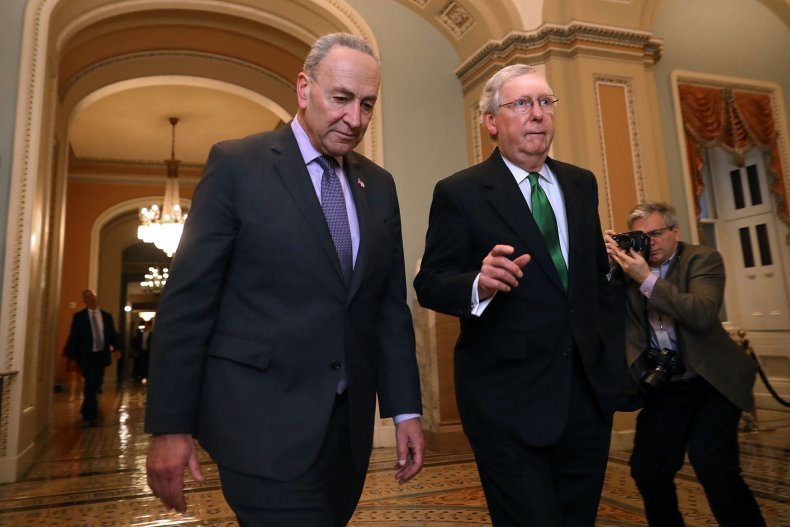 Newsweek subscription offers >
McConnell pitted the blame for the deadlock on Schumer and House Speaker Nancy Pelosi (D-Calif.), suggesting their maneuver to delay the delivery of the articles of impeachment from the House to the Senate is futile because "we all know how this is going to end."
In a letter sent Monday to all 99 of his chamber colleagues, Schumer continued to outline his case for why they need specific documents and testimony from certain witnesses who were directed by the White House not to comply with the House's impeachment inquiry.
What's the holdup?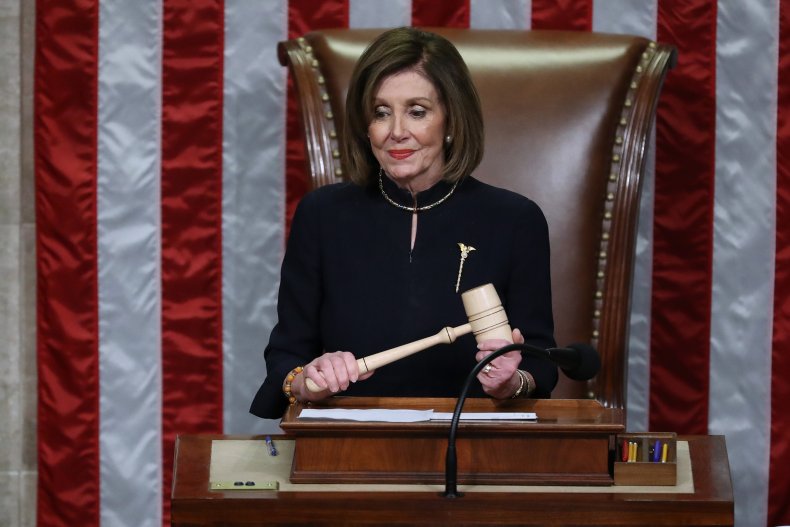 Using what last bit of leverage she has, Pelosi is refusing to name her impeachment managers and transfer the abuse of power and obstruction of Congress impeachment articles passed against Trump to the Senate. It's a move that Democrats—moderates and liberal alike—support and stalls a Senate trial.
Until Pelosi transmits the impeachment articles to the Senate, a trial cannot begin.
She has said she'll transfer the articles once McConnell can assure a "fair trial" will take place by outlining the rules for witnesses before it commences.
"She's apparently trying to tell us how to run this trial," McConnell said in his Fox interview. "I'm not anxious to have this trial. So, if she wants to hold onto the papers, go right ahead."
McConnell has said the appropriate time to determine which—if any—witnesses will testify should come after impeachment managers present their evidence to the senators during the trial, as he said was done for President Bill Clinton. The majority leader also rejected ridicule he's received from Democrats that he is not an impartial juror for working in lockstep with the White House counsel's office on a future trial.
"Do you think Chuck Schumer is impartial? Do you think Elizabeth Warren is impartial? Bernie Sanders is impartial?" McConnell said on Fox. "So, let's quit the charade. This is a political exercise."
"Explosive" emails renew Democrats' demands for witnesses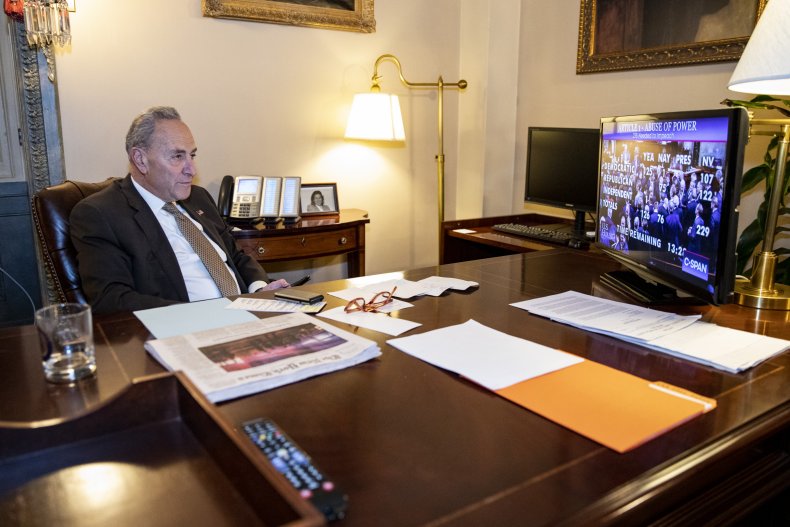 New emails released Friday that were obtained by the Center for Public Integrity showed that the freeze on foreign military aid to Ukraine was ordered by a senior White House budget official 91 minutes after President Donald Trump's infamous July 25 phone call with his Ukrainian counterpart.
Schumer labeled the revelation as "explosive" and that it underscored the need for the official, Michael Duffey, to testify about Trump's dealings with Ukraine. Schumer has also demanded testimony and documents from acting White House chief of staff Mick Mulvaney, former national security adviser John Bolton and senior Mulvaney adviser Robert Blair.
"We don't know what the witnesses will say. We don't know how the documents will read. They might exonerate President Trump," Schumer told reporters Sunday in New York. "Or, they might further incriminate him."
Witness testimony would prolong the duration of a trial and occur after impeachment managers and the defense issue their respective arguments.
What the Constitution and precedent say
The constitution grants the Senate the "sole power" to conduct a trial, just as the historical document grants the House the "sole power" to impeach. It does not provide specifics about how either chamber should conduct its proceedings, leaving lawmakers to look to the minimal precedent that is available regarding the impeachment of a president.
Clinton's trial, for example, had three witnesses who gave closed-door depositions.
The Senate can "compel the attendance of witnesses," but there is no such requirement to do so. The decision remains with the chamber, which takes a simple majority.
What needs to happen
After Pelosi transmits the impeachment articles, the upper chamber can move full steam ahead with proceedings that will likely last a few weeks and undoubtedly result in the GOP-controlled body acquitting the president.
If McConnell continues to refuse Democrats' demand for the four potential witnesses to hand over documents and testify, Schumer has pledged to force a floor vote. The move would place several Republican senators in a politically precarious scenario as they'll be faced with the choice of whether to break rank and vote against the wishes of McConnell.
"All we need is four Republicans. I will ask for votes for each of these witnesses and these documents," Schumer told Newsweek and other outlets last week. "[Impeachment] does affect people in certain ways... The American people are on our side."
A fluid timeline
With Congress on recess until the new year, the earliest a trial could begin is after the first week of January.
The House returns January 7. For the articles to be transmitted, the chamber needs to pass a resolution naming the impeachment managers. As soon as the House does so, the Senate can begin its trial. The official Senate schedule leaves the entire month of January blank in presumption for a trial that McConnell has said would occur six days a week until completion.
That means a decision about whether to acquit Trump could come as soon as the third week in January.
What's Next For Donald Trump's Impeachment? Stalemate Persists Over Trial Witnesses | Politics