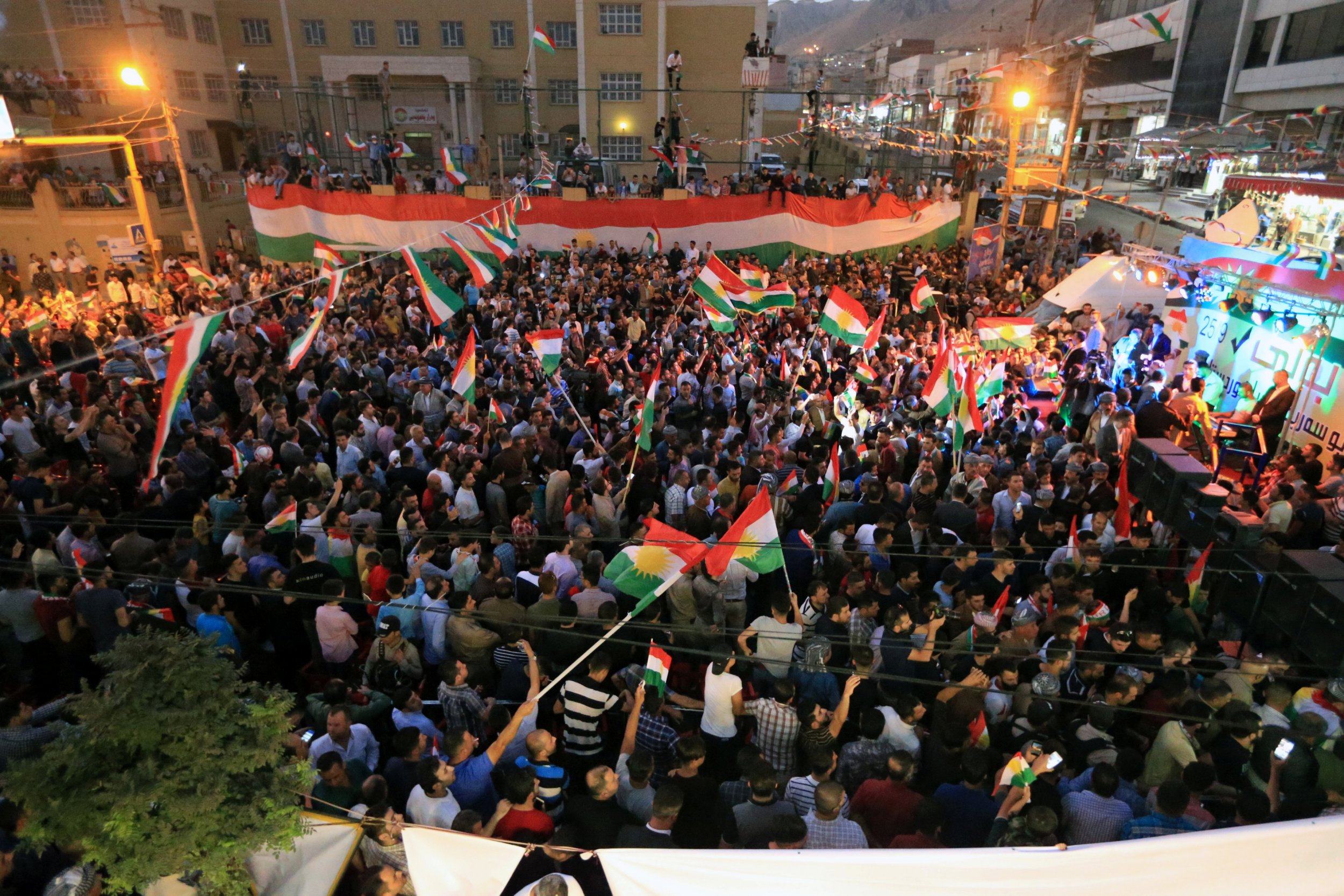 Iraqi Kurds have voted overwhelmingly in favor of independence from the country's central government in Baghdad, but the historic referendum has been widely opposed in the region and threatens instability in a country already at war for 14 years.
Some 92.73 percent of those living under Iraq's northern autonomous Kurdish Regional Government voted in favor of statehood. The referendum, called earlier this year by the Iraqi Kurdish president, Masoud Barzani, promised to grant Kurds self-governance in the Iraqi portion of their ancestral homeland, which also spans parts of Iran, Syria and Turkey, but all three countries and Baghdad have deeply opposed Barzani's initiative and have already begun to take actions against it.
Related: Next Middle East war? Kurdish referendum brings hope and fears of new conflict to Iraq
"The referendum must be annulled and dialogue initiated in the framework of the constitution. We will never hold talks based on the results of the referendum," Iraqi Prime Minister Haider al-Abadi told lawmakers Wednesday, according to Agence France-Presse.
"We will impose Iraqi law in the entire region of Kurdistan under the constitution," he added.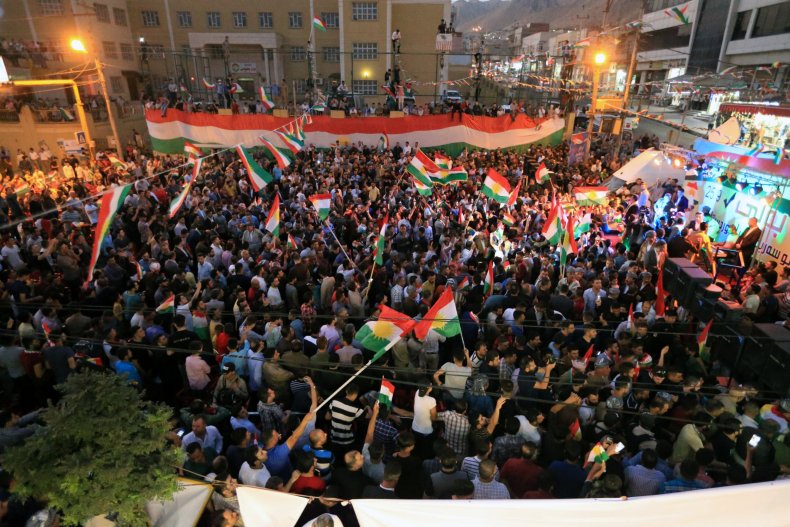 Calling the vote racist, sectarian, nationalist and chauvinist, Abadi said he refused to recognize or negotiate the terms of the referendum with Barzani and has already refused to hand over federal authority of the region's airports, Reuters reported. Airlines in Iran, Lebanon and Turkey have canceled flights to Kurdish-controlled airports in Sulaimaniya and Erbil, and Abadi said he had spoken with Syria as well.
As the majority-Arab nation presses Abadito take greater action against the separatist Kurds, fears of widespread clashes are mounting. Iraq's parliament voted Wednesday to give Abadi the mandate to send Iraqi troops to reassert control over disputed, oil-rich territories such as Kirkuk and to fire all public employees associated with the referendum.
Another powerful voice in the province of Kirkuk is the Popular Mobilization Forces, a majority-Shiite Muslim collective of militias backed by Iran and the Iraqi state. The militias were formed in response to lightning advances in 2014 by the Islamic State militant group (ISIS) across cities in Iraq, including Kirkuk, and fought the jihadists alongside Kurdish forces and Iraqi troops. These militias reject Kurdish statehood, however, and have proved an effective enforcer of Iran's expansive influence across Iraq.
Like Iran, Turkey has faced an insurgency from Kurdish nationalist militant groups at home, but at a much higher intensity, compelling Ankara to become a leading voice against Kurdish nationalism abroad. In response to the Iraqi Kurdish referendum, Turkish President Recep Tayyip Erdogan threatened to cut off oil trade and invade Iraq's majority-Kurd north, as he did last year in northern Syria.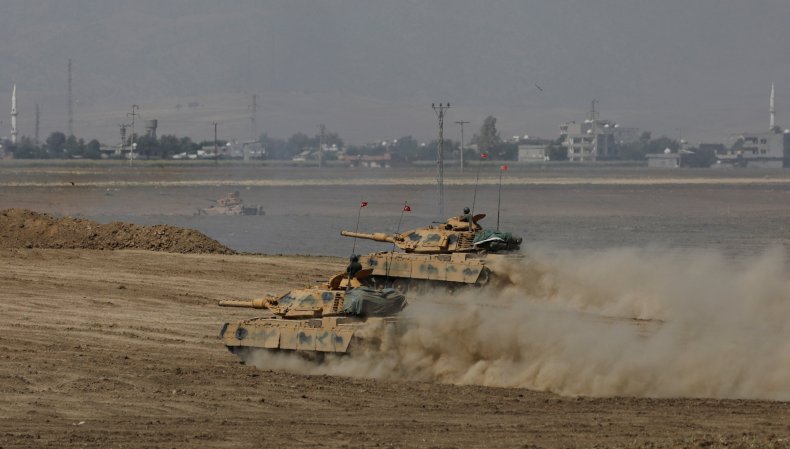 Kurdish hopes for independence were raised after the 2003 U.S. invasion of Iraq and toppling of President Saddam Hussein, a Sunni Muslim strongman accused of perpetrating human rights abuses against the country's Kurdish community. Hussein's downfall, however, also gave Iran an opportunity to drastically increase its foothold in the majority-Shiite Muslim nation. Both sides, along with the U.S., were united by their rejection of ISIS and other jihadists, but the self-styled Kurdish government's insistence on holding the referendum despite calls from even the U.S. not to do so has alienated any significant foreign support.
In Syria, however, a potential sign of victory for Kurds emerged Monday in the form of an interview between Syrian Foreign Minister Walid Muallem and Russia's RT news outlet. Muallem rejected the independence referendum in northern Iraq, but said that if Syrian Kurds "want some form of self-management within the borders of the Syrian Arab Republic, this subject is negotiable and up for dialogue, and when we finish eliminating ISIS, we can sit with our Kurdish community and come to an understanding on a formula for the future," according to the state-run Syrian Arab News Agency.
Both the Syrian government, led by President Bashar al-Assad and supported by Iran and Russia, and Kurdish militias fighting under the banner of the U.S.-backed Syrian Democratic Forces have led separate campaigns against ISIS and largely oppose Syrian rebel groups backed by Turkey as well. Tensions have risen, however, as the two anti-ISIS offensives converge and attempt to reconcile different visions of Syria's political future.