What's Next For Meghan Markle and Prince Harry After the Year of Oprah
Prince Harry and Meghan Markle approach the end of 2021 with a busy to-do list—including some goals left over from 2020.
The Duke and Duchess of Sussex sparked a global debate about racism and the royal family with their Oprah Winfrey bombshell tell-all interview.
And Meghan won her high-profile tabloid privacy lawsuit against The Mail on Sunday, following a series of bruising skirmishes.
However, their Netflix and Spotify deals are both still yet to bear fruit despite a series of new hires during the year.
It means 2022 is set to be another big year for the couple, after 2020 saw them quit the palace and 2021 saw them launch a transatlantic onslaught against the royal family.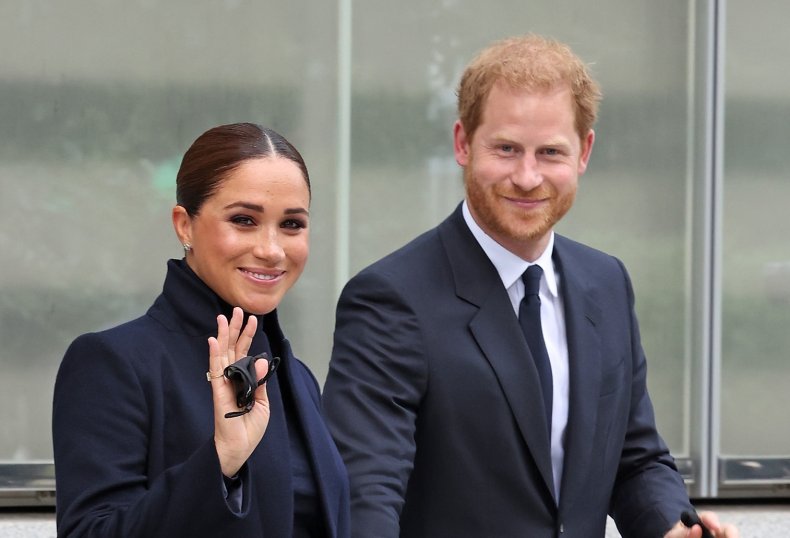 Netflix
Meghan's first outing for Netflix was announced in July and sees her team up with an old friend of Princess Diana's.
David Furnish, husband of Elton John, joined forces with Meghan to create Pearl, an animated series following a 12-year-old girl who goes on adventures and meets inspiring women from history.
Given the partnership, all eyes, of course, will be on whether Pearl encounters Princess Diana during her travels.
Prince Harry's first project is titled Heart of Invictus and will follow competitors in his Invictus Games contest for injured veterans, held in The Hague, Holland, in 2022.
Spotify
The couple are approaching an unexpected milestone—one year since they produced any content for their Spotify podcast, Archewell Audio.
Four days after Christmas 2020 they dropped a festive special in which the star guest was their son Archie, who wished their fans a Happy New Year.
However, 12 months on no podcast has emerged and the press in Britain appears to have noticed too.
The Sun ran a story in November suggesting staff at the streaming giant were "mystified," though a Spotify spokesperson also told the newspaper: "Big things are coming. Stay tuned."
It could be the podcast launches in earnest sooner even than the New Year.
Prince Harry's Memoir
Prince Harry has been writing his own life story, in his own words, after years of having the details of his 37 years on planet earth play out in the media.
Publication by Penguin Random House is due in late 2022 offering a new installation in the ongoing story of his experiences of royal life.
The book, reportedly ghost written with J.R. Moehringer, is widely expected to contain new criticisms of the royals after the duke in May told the Armchair Expert podcast he experienced "genetic pain" from his upbringing.
In a July press release, Prince Harry said: "I'm writing this not as the prince I was born but as the man I have become."
Platinum Jubilee
Though the guest list has not so far been announced, royal commentators are expecting Harry and Meghan to get an invite to Queen Elizabeth II's Platinum Jubilee celebrations next year.
Elizabeth will be 96 when thousands gather in London for a series of events over the first weekend in June, including Trooping the Color, her birthday parade, on June 2.
There will be a live concert at Buckingham Palace on Saturday, June 4, and more than 5,000 people will take part in a special pageant on Sunday, June 5.
If Harry and Meghan both go it will be the first time the duchess has stepped foot on U.K. soil since they quit royal life.
It would also be the first opportunity for family members to meet Lilibet Mountbatten-Windsor, their daughter, who was born in June.
An invite is not a foregone conclusion, however, as tensions remain high between Harry and Meghan and the royal family.
Lawsuits
Meghan has finally wrapped up her privacy and copyright lawsuit against The Mail on Sunday, short of the tabloid launching a second appeal to the U.K. Supreme Court, which is a possibility.
However, a question mark hangs over the fate of two other lawsuits launched by Prince Harry at the same time as that one, in September 2019.
More than two years later, there is little public sign of progress on Prince Harry's phone hacking case against Mirror Group Newspapers, which publishes the Daily Mirror and sister titles.
The duke has exchanged strongly worded court filings with News Group Newspapers, publisher of The Sun, though the High Court recently told Newsweek there are no upcoming hearings listed and the court file appears not to have been updated since the summer.
Harry may look to use 2022 to progress these two seemingly dormant phone hacking lawsuits now Meghan has won hers.