Carmelo Anthony Future: What Next for Wantaway OKC Star?
Carmelo Anthony has not enjoyed his first season in Oklahoma and has made no bones about the fact. The 33-year-old has been extremely open about the difficulties of settling in Billy Donovan's Thunder system, lashing out at the team's lack of a concrete plan.
Anthony swapped New York for Oklahoma shortly before the beginning of training camp last year, but was left frustrated by the role he was given by his new team.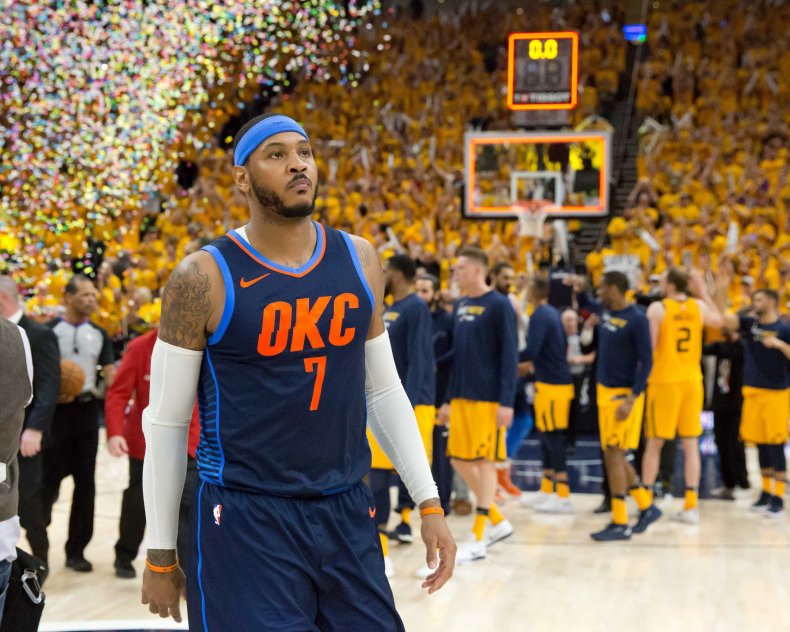 "Everything was just thrown together, and it wasn't anything that was planned out," he said, as reported by The Norman Transcript.
"It wasn't no strategy to me being here, me being a part of the actual system and what type of player and things like that.
"As far as being effective as that type of player, I don't think I can be effective as that type of player. I think I was willing to accept that challenge and that role, but I think I bring a little bit more to the game as far as being more knowledgeable and what I still can do as a basketball player."
Things weren't meant to go this way for Anthony and the Oklahoma City Thunder. The 10-time All Star was supposed to be the third vertex of a stellar attack where he and Paul George complemented Russel Westbrook, finally providing last year's MVP with the supporting cast he's lacked since Kevin Durant left for the Golden State Warriors.
However, that plan never quite worked out. The Thunder crashed out of the playoffs in the first round after losing 4-2 to Utah Jazz and now appear to have a rather large problem on their hands, after Anthony insisted he had no intention to be the sixth man next season.
The former Syracuse forward sat out for the ends of Game Five and Game Six against the Jazz, but has ruled out adopting a similar approach next year.
"I'm not sacrificing no bench role," he added.
"So, that's out the question."
More worryingly for the Thunder, Anthony appears determined to remain in Oklahoma after confirming he would not opt out of his $27.9 million salary. He has never looked particularly happy with his role at the Thunder and has averaged career-lows in both points and assists this season, but knows that leaving Oklahoma would involve a drastic pay cut.
Conversely, the Thunder are desperate to keep George in town but to do so they will in all likelihood have to offer him a deal worth approximately $180 million over the next five years. Keeping George would see Oklahoma play a similar kind of basketball next season, with Anthony unlikely to see more of the ball than he has this season, unless he accepted a role off the bench.
Without George, the New York native would automatically become the main support act to Westbrook, but the Thunder would arguably be worse off as a team. At the same time, Oklahoma knows Anthony is pretty much untradeable after choosing to opt in on his contract for next year, therefore it has limited room for maneuver.
Anthony will turn 34 at the end of the month and hinted that he will consider his options as he continues to chase that ever-elusive NBA title.
"I think for me, my focus would be on kind of figuring out what I want out of the rest of my career, what I want in my future, what am I willing to accept, if I'm willing to accept that at all," he told ESPN.
"I think everybody knows that I've sacrificed kind of damned near everything, family, moving here by myself, sacrificed my game for the sake of the team, and was willing to sacrifice anything and everything in order for this situation to work out."