In less than a week, Israelis will head to the polls for the fourth time in two years. Whether or not Israel's long-reigning prime minister Benjamin Netanyahu wins, Israel will almost certainly remain in the hands of a right-wing government. What kind of relationship is it likely to forge with the new Biden administration? This week, we got a clue.
On Wednesday, not two months after Joe Biden took office and—perhaps not coincidentally—days ahead of the Israeli election, a detailed four-page memo from Biden's new foreign policy team was published in The National.
The memo outlines the administration's first proposals for the troubled region, and liberal-minded observers of the Israeli-Palestinian conflict will be relieved to learn that the document brings back familiar concepts, such as the two-state solution "based on the 1967 lines with mutually agreed land swaps and agreements on security and refugees." It also proposes quality of life improvements for Palestinians, beginning with an initial $15 million investment in COVID-19 humanitarian assistance. And the memo encourages the U.S. to "call out" Israel on settlement expansion and, symmetrically, recommends the U.S. press the Palestinian Authority to root out incitement and prisoner payments.
Written by Deputy Assistant Secretary of State for Israeli and Palestinian affairs Hady Amr, the memo couples a no-nonsense analysis with policy recommendations to revive the U.S.-Palestinian relationship, which had been effectively severed under the previous administration. Moreover, the memo finding its way to the media just ahead of the Israeli election could hint that the new U.S. administration may not stick to the outsized favoritism America has shown to Israel over the decades. No less important than recommitting the U.S. to a two-state solution is its implicit statement, which essentially conveys that there are two sides to this conflict, and the U.S. views both as equal voices and equal partners in the future of this region.
If Netanyahu is re-elected next week, the Biden administration might still choose a timid approach on the Israeli-Palestinian front in hopes that Netanyahu will show more flexibility as the U.S. negotiations with Iran. But improvements to Palestinian civil and social institutions, infrastructure and economic development need not wait, and they carry less political weight and sensitivity, even for Netanyahu.
Furthermore, tepid warnings regarding Israel's policies are balanced in the memo by calls to rein in Palestinian incitement and payments to security prisoners, suggesting caution but also a measure of symmetry in the American perspective.
Don't be lulled by the familiarity of these ideas: This document could provide a salutary path forward. Incrementalism is not inherently bad if it builds towards something bigger.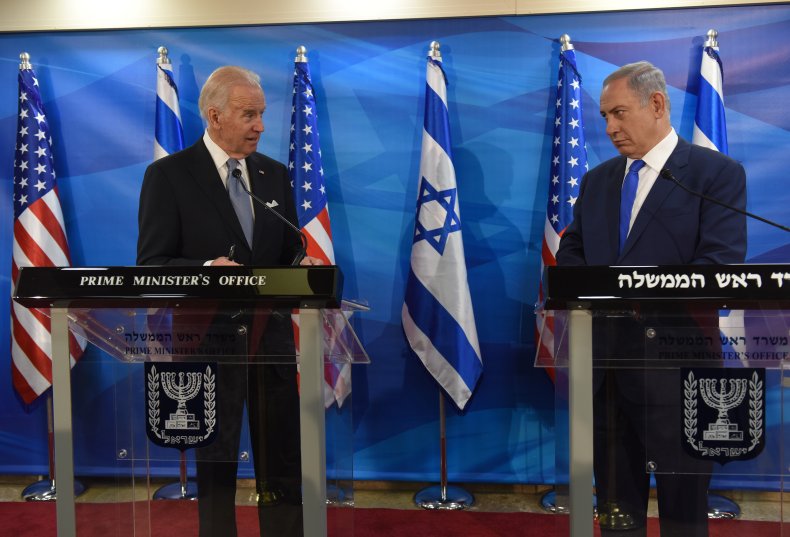 And yet, just rewinding the clock to 2015 would be a mistake. It's easy to forget that even before Trump, America's leadership in the two previous decades didn't work, either. Each U.S. President since George H. W. Bush has invested considerable political capital in a peace process, only to fail. And the task is harder now than ever.
Since the two-state, separation paradigm emerged in the early 1990s, Israel has deepened the occupation to the point where it can no longer reasonably be described in temporary terms. Israel has expanded its settlements, its army presence, and the bureaucratic regime of control over Palestinian civilians living under martial law. It has monopolized land and resources alongside various rounds of U.S.-facilitated peace processes. Long before April 2019, when Benjamin Netanyahu promised to formally annex settlements, Israel was already implementing a "creeping annexation," which continues today.
The reason is clear: Israel does not accept a hard two-state partition. Neither do the Palestinians; on both sides, public support for the old two-state solution has declined steadily over the last decade, to 44% and 43%, respectively, in the latest Israeli-Palestinian joint survey I conducted in 2020, together with Palestinian pollster Khalil Shikaki and Nimrod Rosler of Tel Aviv University.
At present, there is no alternative vision for a political resolution that enjoys majority support among either public or their respective leaderships. That means all the best laid interim policy steps will go for naught when two state partition efforts fail the test once again, and conflict inevitably explodes into violence once more.
But new ideas are percolating; American leadership can facilitate and encourage the two sides to redesign the two-state solution itself. The most promising such attempt is a two-state confederation. This approach recognizes the need for the two national communities to have states of their own, but it is grounded on institutions of cooperation, shared economic and security policies, freedom of movement, and keeping Jerusalem undivided but shared.
Israel's post-election government will be right-wing no matter who becomes Prime Minister, while Palestinian elections are slated for May and July, leaving Palestinian leadership up in the air, too. Neither side will be rushing towards a final status endgame anytime soon. That leaves more time to rebuild the vision.
Getting all the immediate steps right will be a wasted effort if they merely lay the groundwork for the next cycle of failure, all because the final destination was wrong.
Dahlia Scheindlin is a political strategist and a public opinion expert; she is also a policy fellow at The Century Foundation.
The views in this article are the writer's own.