Senate Democrats are forging ahead on voting rights legislation even though the bills are all but certain to hit a dead-end in the chamber.
On Wednesday, lawmakers started debate on the Freedom to Vote Act and the John Lewis Voting Rights Advancement Act. The bills would expand voting access, make Election Day a national holiday, restore key provisions of the Voting Rights Act of 1965 and more.
But Democrats need 60 votes to end debate and move to a vote, and so far zero Republicans have expressed support for advancing the legislation in the evenly-divided chamber. Senate Majority Leader Chuck Schumer has floated the option of changing the filibuster rules to push them through, but there are two key Democratic holdouts: Joe Manchin and Kyrsten Sinema.
"I just don't think that there's any hope of getting these two bills through the Senate," Jessica Huseman, the editorial director of the nonprofit Votebeat, told Newsweek. "So they're going to have to think about their Plan B."
Huseman said one of the Democrats' big problems is that they're holding out for all of their priorities instead of taking more gradual steps toward reform.
"The only reasonable path forward is to limit the bill and to present a narrower version of what is in both of the voting rights bills," Huseman said.
One compromise solution could be updating the Electoral Count Act, which lays out the rules for the counting of electoral college votes in a presidential election. Repairing the 1887 law, which former President Donald Trump sought to use to block the certification of the 2020 election, has recently garnered bipartisan support.
Changes being considered to the act include raising the threshold for objections to a state's presidential election results and removing the vice president as the presiding officer or clarifying their role in the process.
"That's a bill that desperately needs to be updated and reformed for not only contemporary times, but to the contemporary threats that we can see coming for the 2024 election because so many of them were attempted in 2020," David Daley, a senior fellow at FairVote and author of Unrigged: How Americans Are Battling Back to Save Democracy, told Newsweek.
But the White House has said that Electoral Count Act reform is not a substitute for the other voting rights bills.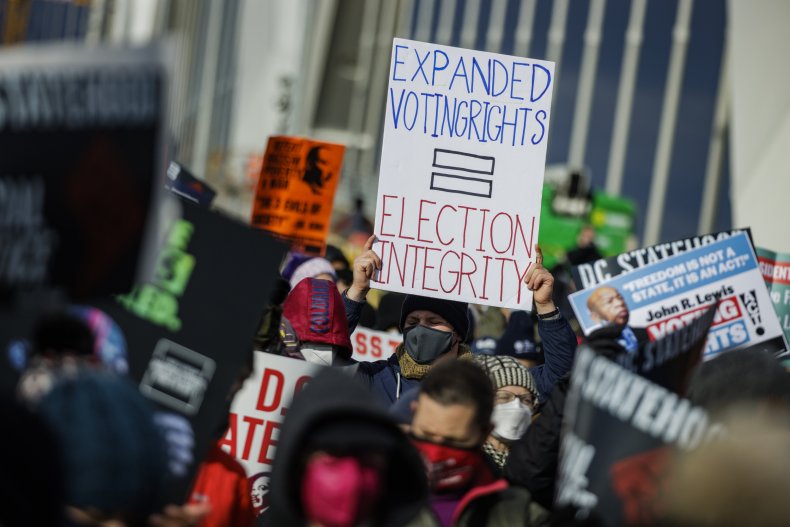 President Joe Biden has gone somewhat all-in on voting rights, doing away with his long-held view that the Senate filibuster should remain intact so that these two pieces of legislation can pass through Congress with simple majority votes.
"I've been having these quiet conversations with the members of Congress for the last two months," Biden said in a speech last week. "I'm tired of being quiet!"
When asked about what will happen next if the bills fail, the White House has said Biden will "until his last breath" continue fighting for voting rights.
"That means conversations and fighting to get legislation at the federal level through is going to continue," White House Press Secretary Jen Psaki told reporters Tuesday.
Psaki also noted that the administration is working with grassroots organizations that are working to register and educate voters. These groups are also working to pass new laws around the country combating the restrictive measures put into place by some GOP statehouses. According to the Brennan Center for Justice, at least 19 states passed 34 laws restricting access to voting last year.
"These organizations have built grassroots leadership at the state level," Psaki said. "They're providing training, policy research, messaging guidance, and directing—organizing to register voters, deploy voter protection teams in states that are rolling back voter protection."
But the executive branch can't do much else to advance voting rights reform on its own, experts say.
"There's really limited options for the White House," Daley said. "If Congress can't figure out a way to move forward here, the president really can't do any of this via executive order."
Biden and Democrats also face a time crunch on voting rights as the 2022 midterms loom. The party is at risk of losing its narrow advantage in Congress to Republicans in the upcoming election cycle.
"Any reform on voting rights that the Democrats want to do needs to get done before the midterms, otherwise it's going to be even harder," Huseman said. "And so that we do not have a defined plan for moving forward in the same year that they're about to be voted out of office is, I think, a really strategic miscalculation."
But activists said that if the current versions of the Freedom to Vote Act and the John Lewis Voting Rights Advancement Act fail, they will simply bring them up again for a vote in the future.
"What are we gonna do? We're gonna chop wood and carry water," Nsé Ufot, CEO of the progressive voting rights organization the New Georgia Project, told Newsweek. "We got these Democrats elected and we'll do what we can to get others elected who will go to Washington, D.C., and will go to their state capitals and do what they can to make sure that we preserve our ability to self-govern."
Ufot said even if the two bills fail, voting on them will give more clarity on where exactly lawmakers stand.
"If the only thing that happens today is that the American people have clarity about who is a patriot and who has aligned themselves with the January 6th Capital insurrectionists, then that has value," Ufot said.