What's Sean Lowe's Net Worth? Former Bachelor Criticized for His 'Checking My Bank Account' Kylie Jenner Tweet
Former Bachelor contestant Sean Lowe may not be a billionaire like Kylie Jenner, but that didn't stop fans from hounding the social media star for implying he was poor. Lowe tweeted a joke about checking his bank account before going to Chick-fil-A, and it didn't sit well with his 999,000 Twitter followers.
The tweet came after it was announced that Jenner sold the majority stake of her Kylie Cosmetics makeup company for a whopping $600 million. Lowe responded to the 22-year-old's success: "Kylie Jenner sold half of her company for $600 million today and I'm over here checking my account before getting in the Chick-fil-A drive-thru."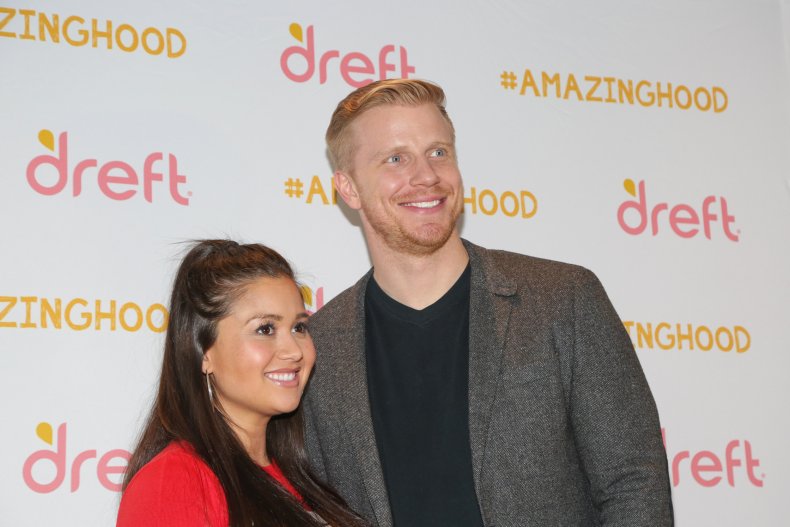 Fans, however, weren't happy. Many responded that not only is Lowe a celebrity himself but his current business ventures should be giving him a significant income. Lowe's net worth is estimated to be around $500,000, according to Celebrity Net Worth.
Famous Instagrammer Claudia Oshry, known for her Twitter account @girlwithnojob, pointed to Lowe's Wayfair furniture line with wife Catherine Giudici. The collection, called Home, is exclusively for sale on their furniture website. It's mainly a collection of sofas, with a handful of other seating options and rugs available. Prices go all the way up to $2,900.
After the tweet, Lowe admitted he isn't too concerned about money. "OK, so I don't really look at my bank account anymore. But I did have my debit card declined at a Taco Bell once," he responded.
It appears Lowe's tweet was picking up on a trend, often seen with college students on social media platforms like TikTok, Instagram and Twitter, where they comment humorously on their lack of income. Some ran with Lowe's humor and left their own stories.
Lowe is most famous for his time as the bachelor on Season 17 of the series. On the show, he met Giudici, whom he proposed to on the final episode. After their marriage in 2014, Lowe and Giudici welcomed two sons. They have announced they're expecting a third child in June. They live in Dallas.