What's at Stake in Afghanistan's Election?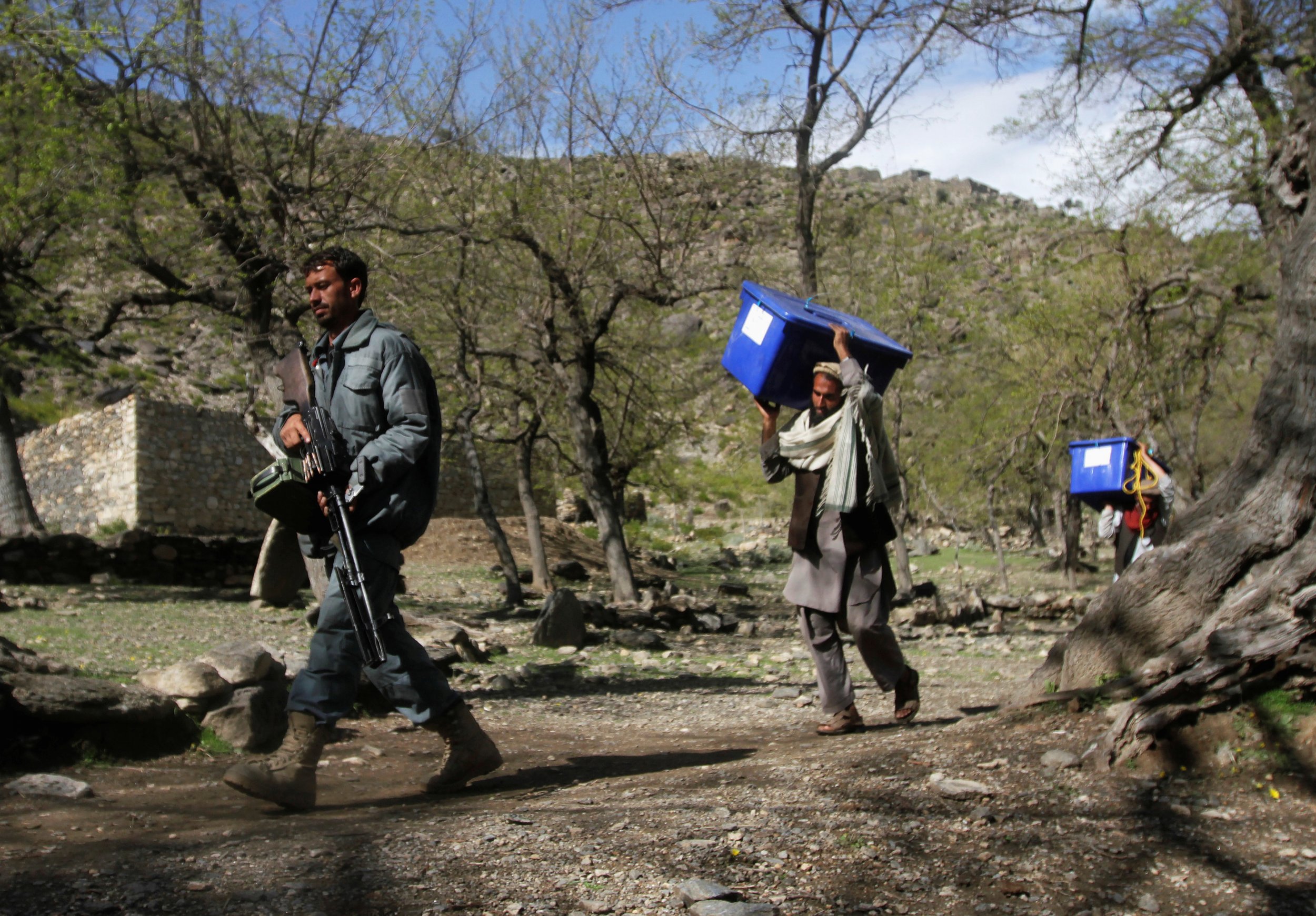 Afghans will vote for a new president on Saturday, but don't expect to find out who's won for weeks or even months.
It will be the first seriously contested presidential election since the Taliban government fell in 2001. The field is crowded with eight candidates. There are some 28,000 polling stations around the country and about 12 million eligible voters.
Some are praising the election and the prospect of a peaceful transfer of power as a decisive moment for a country ripped apart by war and now, they hope, on its way to some kind of stability. Skeptics, on the other hand, say the vote will be another exercise in fraud in a country that Transparency International ranks as the third most corrupt in the world. Results are unlikely until May at the soonest, though it could be as late as September before Afghanistan has a new president.
U.S. foreign policy has been inexorably tied to the fate of Afghanistan since President George W. Bush ordered an invasion of the country in October 2001. American legal experts helped write the constitution under which the next president will serve, and the U.S. helped install the man he will replace.
Now, with the U.S. military presence in Afghanistan drawing down and a weak appetite in the United States for an active foreign policy, Washington is ready to wash its hands of Asia's poorest country. The main hope for U.S. policymakers is that a relatively peaceful presidential election and smooth transfer of power will allow that.
Of the eight candidates running for president of Afghanistan, only three are considered front-runners: Ashraf Ghani, Abdullah Abdullah and Zalmay Rassoul. Each has significant background working with the United States. Ghani, a U.S.-trained anthropologist, leads in the polls. Abdullah and Rassoul are both former foreign ministers who have extensive experience cooperating with American officials. Rassoul is reputed to be the favorite of outgoing President Hamid Karzai, who is expected to cast a long shadow over Afghan politics in the future.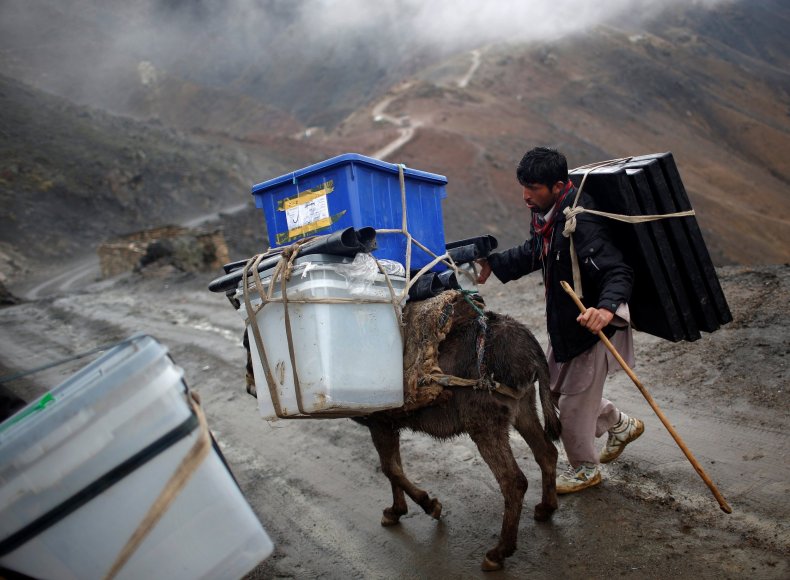 The U.S. government has no preferred candidate, says Ronald Neumann, who was ambassador to Afghanistan from 2005 to 2007. "There's no reason to have a preference. We could work with all of them cooperatively, and they've all got strengths and weaknesses," he says.
On the main issue of U.S. involvement in Afghanistan moving ahead, the leading candidates—and even the marginal ones—are united. For months Karzai has refused to sign a bilateral security agreement (BSA) that would allow U.S. troops to stay in Afghanistan after a December 2014 deadline for the end of NATO's combat mission. The U.S. military fears that a hasty pullout of foreign troops and a complete takeover of security responsibilities by Afghan forces could open the door to a Taliban victory.
"The deterioration of the Afghan forces begins to happen fairly quickly in 2015" if NATO forces are not allowed to stay, Gen. Joseph F. Dunford, the top U.S. commander in Afghanistan, said in a Senate hearing last month.
Karzai's move is widely seen as a power play with the Americans, but it's one that none of the other presidential candidates are interested in trying. All three of the leading candidates have stated publicly that they intend to sign the BSA once elected.
What's at stake then, if not the U.S.-Afghan military relationship, is credibility. U.S. officials hope to be able to point to a clean election, signaling that as American political and military influence in Afghanistan retreats, a functioning democracy will be left behind. Neumann predicts a large turnout, possibly even double that in the last presidential election. "If I'm correct, that's an in-your-face to the Taliban," he says. "But if all those [voters] risk their lives to go vote in an election that's stolen, that's going to be a problem."
U.S. officials appear to be hopeful so far. "We do believe that the Afghan electoral institutions are better prepared to administer elections and detect and prevent fraud today than they were in 2009. So we think that's good progress," a State Department spokeswoman said earlier this week.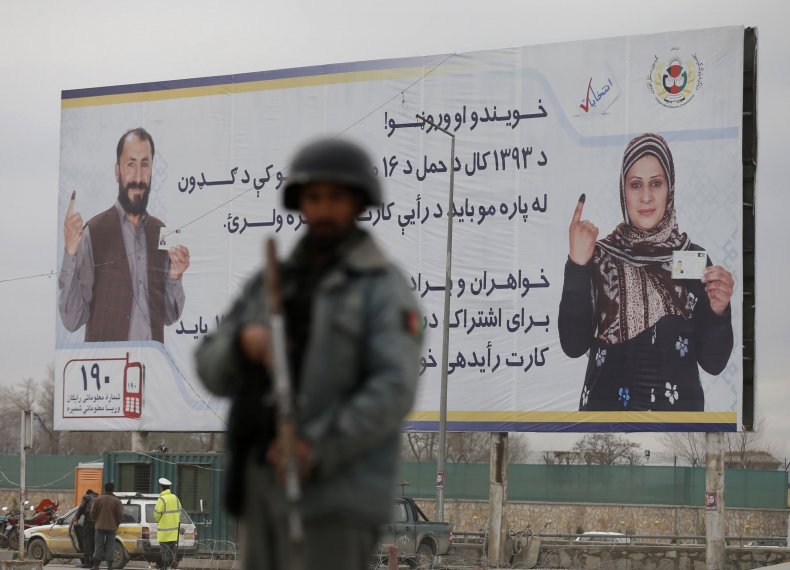 Not everyone is convinced, though. "Voter turnout isn't going to matter, and it doesn't matter who votes," says Javid Ahmad, a former political officer at the Afghan Embassy in Washington. "What matters is who counts the votes. Karzai has those things at his fingertips."
Karzai has refrained from publicly endorsing a candidate, but it is widely reported that he backs Rassoul, a close confidante since 2001. The elections commission and other electoral institutions were appointed by Karzai, who has vast powers under the constitution. If Rassoul makes it to the runoff, it may be a sign of fraud, observers say. And that could threaten Afghanistan's fragile, if not yet failed, state.
"There's a likelihood of political violence if there's a runoff between Rassoul and Ashraf Ghani," Ahmad says. The last thing Washington wants to see is more fighting between new factions.
But even if Karzai doesn't rig the vote for his ally, he will likely have continuing influence in Afghan politics, where patronage networks determine power and political machinations regularly take place behind the scenes.
"I think the biggest problem for U.S. officials is that they presume that they're going to be done with Karzai after this election," says Sarah Chayes, who was a senior adviser to the U.S. military commander in Afghanistan in 2009. "The presumption is, 'No matter how bad it is, at least we'll be done with Karzai, at least it's going to be a transition.' But I believe that the continuity after the election will outweigh the change."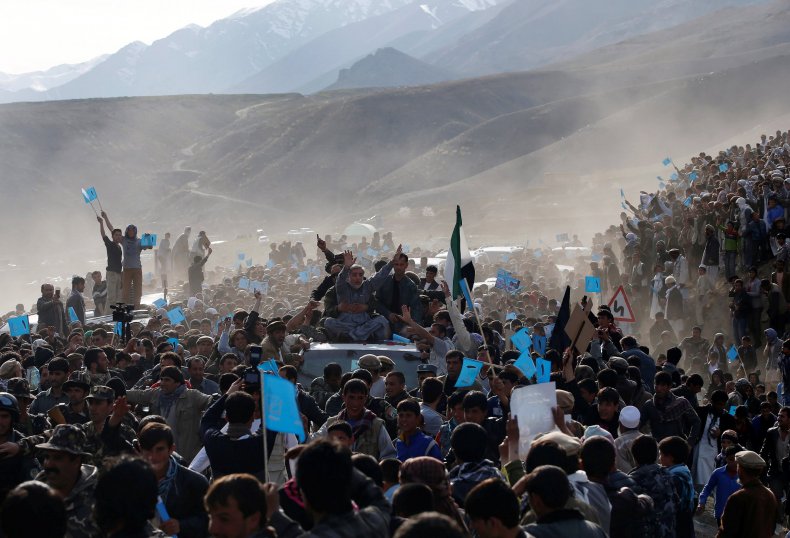 In a telling sign of Karzai's continuing influence, the outgoing president has renovated a mansion for his post-presidential home in the same secure compound as the presidential palace. It looks as if no one is done with Karzai yet.
He began his political career in Afghanistan in good favor with the U.S. After U.S. forces removed the Taliban government in 2001, Karzai was brought in to lead the transitional phase. He has remained in power since, but term limits are finally forcing him to step down. Over his 12 years in power, relations with Washington deteriorated dramatically. Washington has publicly criticized corruption in his government, and Karzai has gone as far as to accuse the United States of being behind suicide bombings in Kabul.
The other specter hanging over the Afghan political process is the ongoing Taliban-led insurgency. Violence has spiked in the lead-up to the vote, and the Taliban have signaled that they intend to disrupt the election. Provincial candidates have been killed, the election commission's headquarters attacked, and the Interior Ministry was hit by a suicide bombing. Voting day will likely see further violence.
Whoever Afghanistan's next president is will have to contend with a roiling insurgency in a deeply divided country. Seeing the government fall, the Taliban return and Afghanistan become a haven for international jihadi groups, as it was before 2001, is the biggest fear of all. It would signal that 13 years of occupation accomplished nothing.
"The main concern for the U.S. administration, frankly, is that there be no terrorist attack on American soil emanating from Afghanistan. That's the critical political liability for an administration that is mostly concerned with its legacy at this point," says Chayes.