What's in Store for 'Bachelor' Hometown? A Mystery Woman, the Final Three and What It Means for Weber's Finale
Hometowns are here on The Bachelor, and the drama won't take long to start. In past seasons, hometown dates have been exciting, nervewracking and sweet, but Peter Weber's season is different and two particular instances of drama could have a lasting effect on the season, according to spoiler blogger Reality Steve.
The main tension in Monday night's episode will surround Victoria Fuller. Fuller is a 26-year-old medical sales rep from Virginia Beach, Virginia, who recently made news for participating in a "white lives matter" apparel photoshoot for a Marlin fishing company, We Love Marlins. Her involvement resulted in Cosmopolitan canceling Fuller's magazine cover, which was awarded to her on a group date earlier this season.
Fan conversations now have begun to question Fuller's relationship with Weber, as they claim she seems emotionally incapable of a relationship with the Bachelor.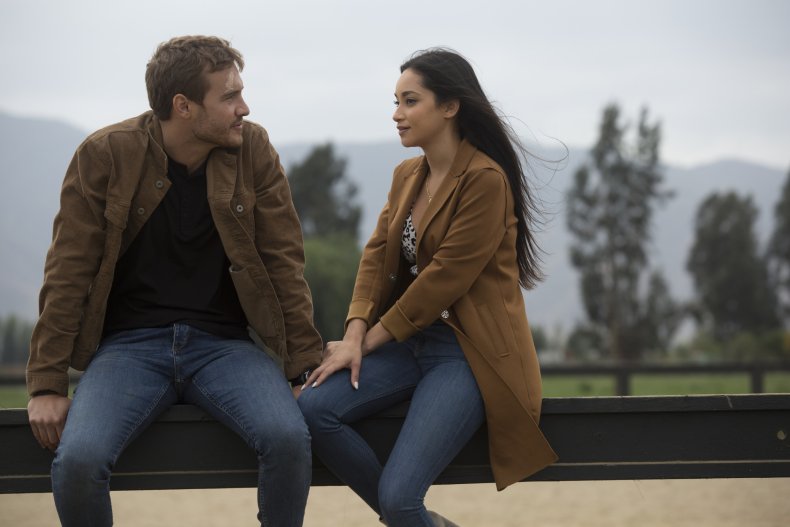 She issued a formal apology Saturday on social media. "I want to say that I unequivocally reject the beliefs of the white lives matter movement or any propaganda that supports racism of any kind," Fuller said. "I would like to specifically apologize to people of color that are affected by racism daily. It was never my intention to add fuel to the racial fire in this country.
Fans may find another reason to dislike Fuller after Monday's episode. Teasers for the hometown date show a mystery woman confronting Weber about one of his contestants. Reality Steve revealed this woman is Merissa Pence, Weber's ex-girlfriend.
Weber already had one ex-girlfriend appear on this season: Hannah Brown. The news Pence has to deliver may be even more dramatic than Brown's memorable, tearful reunion with Weber in the premiere episode. It turns out Pence knows Fuller, and has some inside information about her character.
Pence already revealed her feelings about Fuller to Us Weekly. "We became friends when I moved back from Los Angeles about three years ago," she explained. "Our first encounter was that she told me she was going to slash my tires because I was hanging out with one of her ex-boyfriends."
Weber's ex claimed she kept running into Fuller, and eventually, they became friends. When Fuller was invited to join The Bachelor, though, Pence said it boosted her ego to new heights. "And from then on I told our mutual friend, I was like, 'Look, I'm never going to hang out with her again. She's crazy," Pence said. "She literally has no respect for anybody around her and I just don't want to be associated with that."
Reality Steve claims Pence will have a conversation with Weber about Fuller's true personality. It seems to have an effect, given other spoilers from the episode. Weber won't even meet Fuller's family before he sends her home.
That doesn't mean Fuller's time on The Bachelor is over, though. Spoilers show Fuller asking for another conversation with Weber, in which he decides to welcome her back to the competition. Instead, Kelsey Weier will be sent home after Weber meets her family.
Weber's final three will be Fuller, Madison Prewett and Hannah Ann Sluss. There's one hometown conversation that could play into Weber's finale.
Although there aren't formal spoilers for this season's Bachelor finale, some think Prewett may end up with Weber. Reality Steve claims Prewett's father won't give Weber his blessing to marry Prewett, though. This could cause a problem if Weber does plan to propose to Prewett.
Another theory suggests Prewett will self-eliminate before the finale, and leave Weber heartbroken.