'Bad Times at the El Royale' Tape Spoilers: Director Spills Contents of the Mysterious Tape
Moviegoers who fled to their local theater this weekend to see Bad Times at the El Royale likely experienced a rollercoaster ride from start to finish. While the film seemingly wraps up its multiple twists and turns by the film's end, not all mysteries were solved. The content of the mysterious tape, for one, was never shown directly to audiences in the crime thriller.
Written and directed by Drew Goddard, Bad Times follows a group of seven strangers during one crazy night at the El Royale—a motel that's split between California and Nevada. The film stars Jeff Bridges, Dakota Johnson, Chris Hemsworth, Cailee Spaeny, Nick Offerman, Cynthia Erivo, Lewis Pullman and Jon Hamm.
Goddard explained to Newsweek that the tape's contents were technically mentioned in Bad Times by Erivo, who played soul singer Darlene Sweet. Despite this, the filmmaker wanted to keep this reference as "ambiguous" as possible.
"Cynthia, who plays Darlene Sweet, she has a line [where] she says what's on that tape. It's some man who talks a lot, and that's what's important," Goddard, 43, told Newsweek. "It's not so much what's on there, it's her reaction to this toxic masculinity that she's had to deal with her whole life."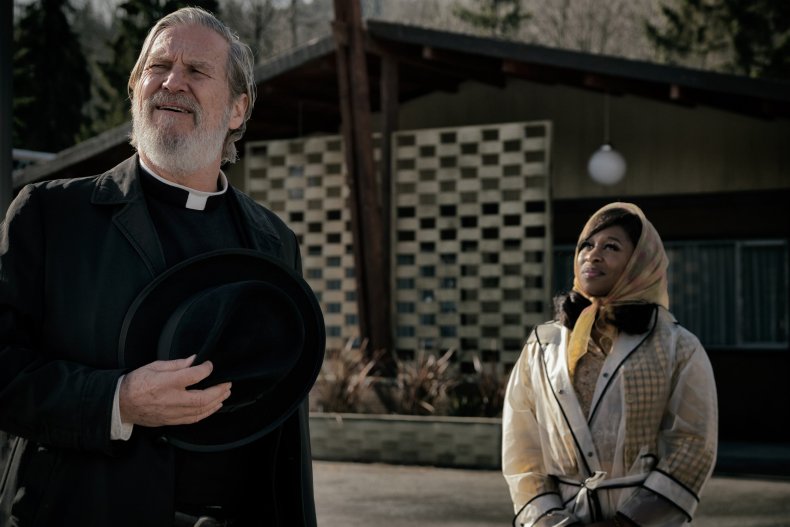 The scene Goddard is referring to comes toward the film's end, a moment where Billy Lee (Hemsworth) holds the fellow motel guests—Darlene, Emily (Johnson), Miles (Pullman) and Father Daniel Flynn (Bridges)—hostage after he received a call from Rose (Spaeny) regarding her whereabouts. Darlene explained to Billy that she had no interest in seeing the tape's contents, despite the fact it featured a notable man. Instead, she explained how she knew it was a man with power "who talks a lot."
The true contents of the tape are never revealed to audiences, but Goddard said he went through "great pains" to mask the truth because it'd take away from Darlene's moment.
"It was very important to me to not answer it. If you answer it, it becomes about [the tape]. If you don't answer it, it becomes about Cynthia. It becomes about the character Darlene Sweet," Goddard explained. "We intentionally left it ambiguous because I want the focus to be on her."
While viewers will never truly see what went down on Bad Times' mysterious tapes, audiences will leave their respective theaters knowing what's next for each character's journey.
"The movie sort of tells you what's going to happen to most of the characters, even the characters who walk out the door," said Goddard. "We tell you what the future holds for these people. And in some cases, the future holds many positive things in many ways...This movie is very much about celebrating the artist and saying that the act of creating art is a blessing and something to be thankful for. I think that that sort of guided the movie as well."
Bad Times at the El Royale debuted in theaters Friday.