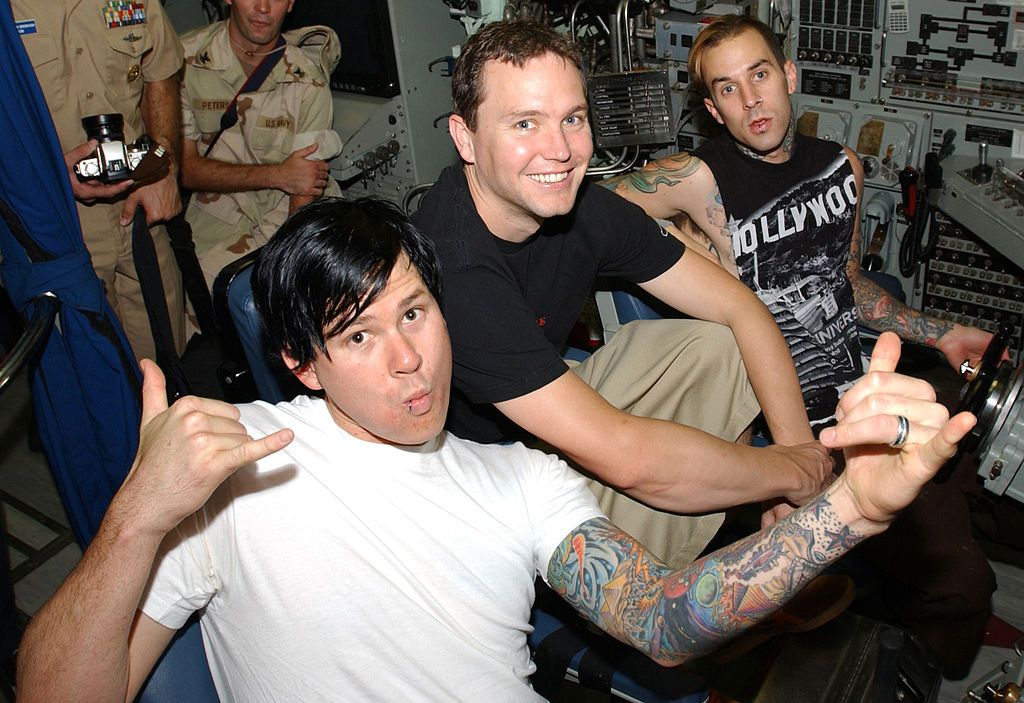 Drama is afoot in Blink-182.
The confusion began Monday afternoon, when reports began circulating that founding vocalist and guitarist Tom DeLonge had quit the band.
This was followed by DeLonge denying that Tom DeLonge had quit the band and mass confusion all across the Pop-Punk Industrial Complex.
What's going on? Here, let us explain.
What's going on? Has Tom DeLonge left Blink-182?
He has, it seems, though perhaps not of his own choosing. Here's the timeline. Around midday Monday, Blink-182 issued a press release announcing that DeLonge had left Blink-182 "indefinitely." "We were all set to play this festival and record a new album and Tom kept putting it off without reason," remaining members Mark Hoppus and Travis Barker wrote. "A week before we were scheduled to go into the studio we got an email from his manager explaining that he didn't want to participate in any Blink-182 projects indefinitely, but would rather work on his other non-musical endeavors."
DeLonge then denied on social media that he had ever quit the band, though Hoppus and Barker don't seem to be backing down from their narrative. In a subsequent interview with Rolling Stone, Hoppus said, "Every single thing that we've heard from his camp—from emails from his manager to our production team—was, 'Tom is out indefinitely.'" Hoppus added that this disinterest and stalling on DeLonge's part is what ended Blink-182 a decade ago, while drummer Barker said, "It's hard to cover for someone who's disrespectful and ungrateful.… Why Blink even got back together in the first place is questionable."
What's DeLonge's response to all this?
Judging by this tweet, it seems the guitarist is hoping to "stay together for the kids":
DeLonge's publicist also issued a statement saying that "contrary to reports, Tom DeLonge has not left Blink-182." DeLonge added, "The only truth here is that I have commitments that limit my availability this year. I love Blink-182, and I'm not leaving." But that might not be his call at this point.
Wait, wait. Blink-182 is still a thing?
Yes! The seminal pop-punk trio reunited in 2009 after a lengthy hiatus, then released a sixth album, Neighborhoods, two years later. The band is planning to record a seventh album in 2015, hence this current spate of drama.
Who is going to replace Tom DeLonge?
According to Monday's press release, Matt Skiba of the punk band Alkaline Trio will be filling in for DeLonge at the upcoming eighth annual Musink Festival, though it's not clear if that's a permanent arrangement.
Any other replacement ideas?
Err… Is Taylor Swift available?
Which one is Tom DeLonge again? And Mark who?
This can be tricky for non-fans, since both Tom DeLonge and Mark Hoppus are (or, um, were) founding members and songwriters of Blink-182, both shared lead vocalist duties, and both have faintly similar appearances (Hoppus has spikier hair and fewer tattoos). But DeLonge is the guitarist and has a higher, whinier voice (he tends to drag out syllables in emotive fashion: "Don't waaste! / Your tiiime! / On meee! / You're already the voooice inside my head"), while Hoppus plays bass and has a lower, older-sounding vocal delivery.
A trick is to remember that DeLonge primarily wrote and sung 1999 mega-hit "All the Small Things," while Hoppus primarily wrote and sung other 1999 mega-hit "What's My Age Again?" DeLonge is the one who is now, evidently, out of the band. He's been splitting his time between Blink-182 and his other band, Angels & Airwaves, which emerged in the midst of Blink's 2005 hiatus.
What's their age again?
Not so young anymore! Mark Hoppus is 42, while Tom DeLonge and drummer Travis Barker are both 39. The band—sans Barker—was formed back in 1992.
I cannot sleep, I cannot dream tonight. What's a good moody song to help me absorb the loss?
This should help:
Work sucks!