What's in U.K. Spending Review for the Next Year of COVID Crisis?
Britain's chancellor has the unenviable job of planning how to spend the country's money against a backdrop of an economy devastated by the COVID crisis and huge job losses.
Rishi Sunak today unveils his Spending Review, setting out how much of taxpayers' money will be allocated to different government departments and the devolved administrations in Scotland, Wales, and Northern Ireland. He originally hoped to set out budgets through to 2023/24 but the economic uncertainty caused by a resurgence in COVID-19 cases and the need for longer, harsher restrictions, means the majority of his decisions will only apply for one year.
Ahead of his spending announcement, the chancellor insisted his "number one priority is to protect jobs and livelihoods" while promising to fund the National Health Service (NHS) as it continues to fight the pandemic's second wave.
So what exactly can the U.K. expect to see?
Sunak is set to promise a £4.6 billion ($6.1bn) package to help hundreds of thousands of unemployed people back to work, with £2.9 billion ($3.8bn) going towards a "Restart Scheme" for those who have been out of work for more than 12 months and £1.4 billion ($1.85bn) for the government-funded employment agency Jobcentre Plus.
Latest official figures showed the U.K.'s unemployment rate rose to 4.8 percent in the three months to September, up from 4.5 percent, with a big rise in the number of 16 to 24-year-olds out of work. The Bank of England has forecast that the jobless rate could rise to nearly 8 percent by the middle of next year.
Ahead of the review, Sunak said: "This Spending Review will ensure hundreds of thousands of jobs are supported and protected in the acute phase of this crisis and beyond with a multi-billion package of investment to ensure that no-one is left without hope or opportunity."
Who is getting funding?
Despite the mounting costs of COVID, Sunak has already indicated that huge sums will be spent on health, with a predicted £3bn ($4bn) more to support the National Health Service (NHS), including £1 billion ($1.3bn) to address treatment backlogs built up while attention was focused on fighting the virus.
The criminal justice system will get £275 million ($367 million) to help courts cope with cases that have built up during lockdown.
There will also be funding to support Boris Johnson's "leveling-up" agenda, aimed at investing in poorer regions outside of London and the south-east of England.
Who is missing out?
Public sector workers appear to be in line to bear the brunt of that effort with a pay freeze, causing outrage that hospital staff on the frontline of the pandemic will be hardest hit. Mr. Sunak told Cabinet ministers they would have to "think about public pay settlements" in the context of the "wider economic climate".
Dr. Ellen Welch, who sits on a committee of the Doctors' Association U.K. (DAUK), tells Newsweek that if a potential pay freeze does hit those working within the NHS it "will come as a huge kick in the teeth for staff morale". It has been speculated that NHS staff may be exempt.
The Centre for Policy Studies – a center-right think tank – has calculated that a three-year total pay freeze would save £23 billion ($30.3bn), or £15.3 billion ($20.4bn) if the NHS is excluded.
The Chancellor is also expected to announce that he is suspending the U.K.'s commitment to spend 0.7 percent of national income on overseas aid, to make a saving of around £4bn ($5.3bn). This is seen as another controversial move, as the commitment is enshrined in law and was reaffirmed in last year's Conservative general election manifesto.
Aid agencies have accused the Government of trying to balance the books on the backs of the world's poor. The World Bank estimates that the COVID pandemic will push between 88 and 115 million people into extreme poverty this year alone. Former Scottish Tory leader Ruth Davidson said it would look "appalling", particularly coming just a week after the British government announced a £4bn-a-year rise in defense spending.
What happens next?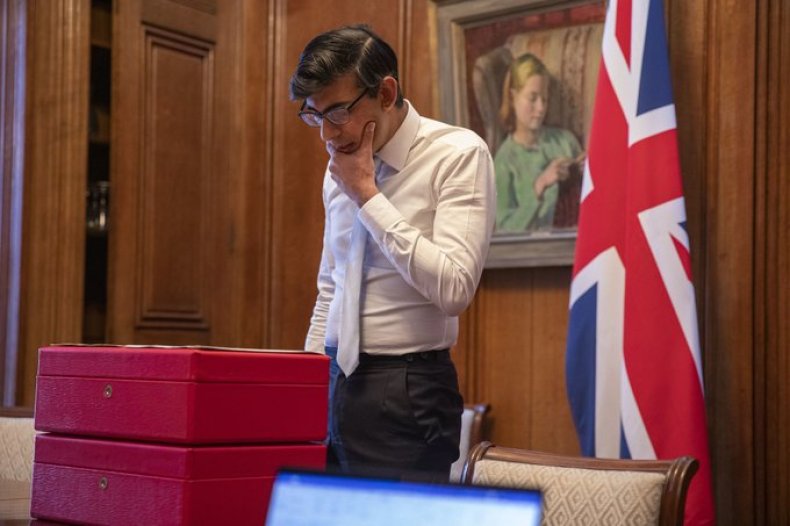 Amid his own spending plans, the chancellor will also present new economic forecasts from the Office for Budget Responsibility (OBR) for the state of the economy and public finances, revealing the financial impact of England's second national lockdown for the first time. It is expected to make for grim reading.
In August, the OBR said the U.K.'s national debt had hit more than £2 trillion ($2.7 trillion) for the first time, with the government expected to borrow £372.2 billion ($497.2bn) in 2020/21 to fund measures such as the furlough scheme, which paid a portion of workers wages and kept the economy on life support during the pandemic.
Despite the fact debt has soared, Sunak has repeatedly stated he will not be returning to the "austerity" rhetoric of Britain's former chancellor George Osborne a decade ago. Because this is just a Spending Review and not a full Budget, Sunak won't yet have to set out how he intends to balance the books and is unlikely to announce any tax rises at this point.