What's Wrong With the NFL's Social Justice Charity? Player Calls it 'Charade' to End Protests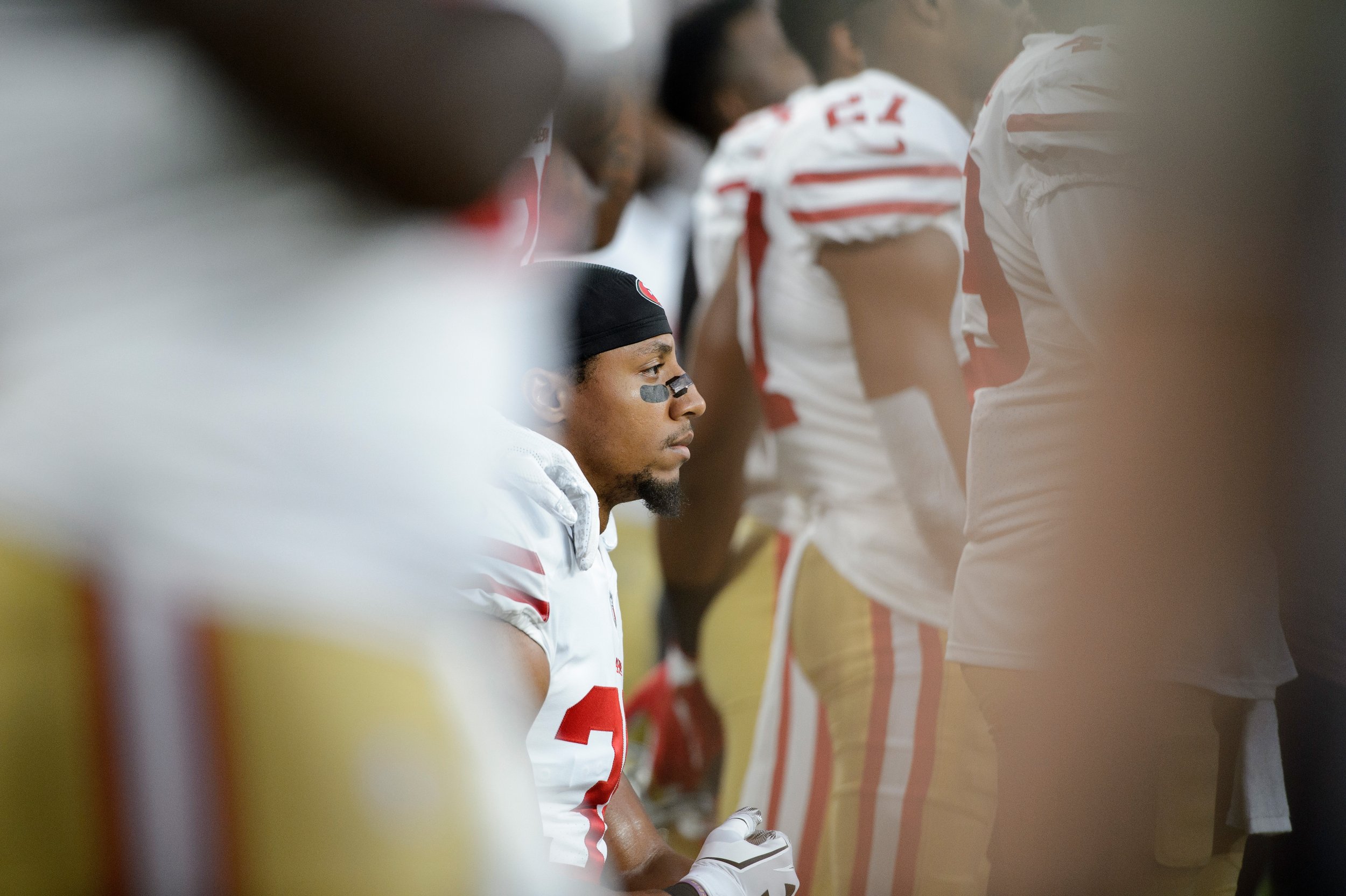 It seemed like a positive step when it was revealed this week the NFL planned to give tens of millions of dollars to charities focused on social justice. But as more information has surfaced about the plan, some players—notably San Francisco 49er Eric Reid—were not pleased.
Amid players' ongoing protests aimed at raising awareness of the oppression of black people in America, the league began working with a coalition of current and former players about addressing cultural issues. Late Wednesday, ESPN reported that the players group—led by Philadelphia Eagle Malcolm Jenkins and retired wide receiver Anquan Boldin—reached an agreement that would see the NFL give $89 million over seven years to charities focused on criminal justice reform, education and improving law enforcement's relationship with communities.
ESPN reported there was no stated agreement that players would stop kneeling during the national anthem. But the NFL hoped the donation plan would "effectively end" the demonstrations that have drawn the attention of the nation, including President Donald Trump.
But not all players were in agreement with the NFL's proposal. A number broke away from the coalition—including Reid, Miami Dolphin Michael Thomas and Los Angeles Charger Russell Okung—because of questions over how the $89 million would be spent. In an interview with Slate published Thursday, Reid questioned whether the money would actually end up going toward fixing the problems he cared about and called the deal a "charade."
But the bigger issue might be what the NFL's pledge would require of the players—namely, ending their protests.
Reid had previously claimed the Eagles' Jenkins said players would stop demonstrating during the anthem in exchange for the charitable donations. He added that he believed those would not be new charitable funds forked over by owners; instead it would be money reallocated from other NFL giving causes.
"[NFL Commissioner] Roger Goodell is trying to make this as easy for the owners to agree to as possible so that—again, their goal is to end the protests," Reid told Slate. "He's trying to make it as easy possible to do that for the owners. He's going to present them with a proposal saying, 'Look you really don't have to do anything. We're just going to shift this money from this area and just move it here.'"
It's unclear if that's actually the case. Moving forward, owners and players will make annual contributions to a pool for local donations, while $73 million has already been approved for national charities, according to ESPN. Twenty-five percent of national donations will reportedly go to the United Negro College Fund, 25 percent to Dream Corps and 50 percent to the Players Coalition, which has filed paperwork to become a nonprofit.
It's not yet clear how the NFL's plan to make donations will affect player protests—although Jenkins has stated he plans to stop demonstrating—but it will certainly be interesting to see what leaders like Reid have to say in the coming weeks as more details come to light.