WhatsApp has confirmed it will now offer group video calls for up to four people at a time.
In a blog post on the social networking app's website, WhatsApp confirmed the video calls would also be end-to-end encrypted. Group conversations can also be done on WhatsApp voice calls. According to WhatsApp, users make a combined 2 billion minutes worth of calls each day.
"You can make a group call with up to four people total—anytime and anywhere. Just start a one-on-one voice or video call and tap the new "add participant" button in the top right corner to add more contacts to the call," the post read.
The feature is being rolled out across both iOS and Android apps.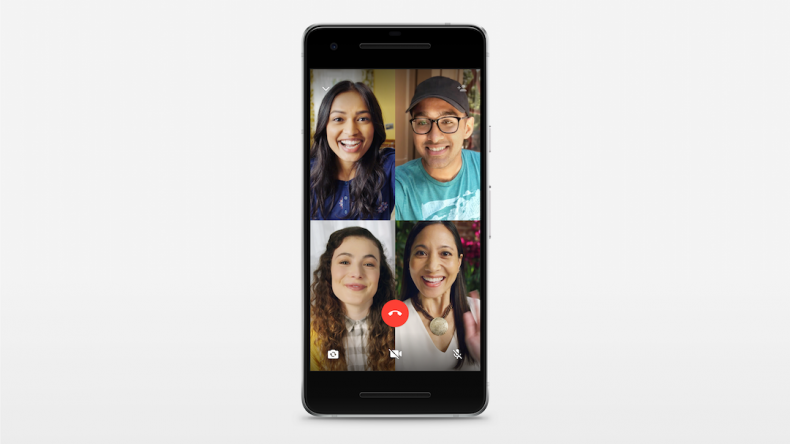 Apple recently announced group video calls would be coming to FaceTime, roughly eight years after the service was unveiled for the iPhone 4. Up to 32 people will be able to chat at once, with a bubble-picture system enlarging the person speaking in bigger calls.
Earlier this year, Facebook CEO Mark Zuckerberg announced WhatsApp had 1.5 billion active monthly users. In comparison, Facebook Messenger has 1.3 billion users and Instagram 800 million. Facebook itself has some 2.1 billion.
Messenger has allowed group video calls since the beginning of 2016. It lets up to 50 people to be in a group call at once, but only shows six videos on screen at a time.
Facebook bought WhatsApp for $19 billion in 2014—$4 billion in cash, $12 billion in stock and a further $3 billion restricted stock for WhatsApp founders Jan Koum and Brian Acton.
Koum and Acton have both since left the company. Acton told people to delete Facebook following the data mining scandal. Koum himself left in May 2017. According to Tech Crunch, he left to "do things I enjoy outside of technology, such as collecting rare air-cooled Porsches, working on my cars and playing ultimate frisbee."
Earlier this month, WhatsApp had to limit its message forwarding option from 250 people to 20 after links were drawn to mob beatings.
Speculation spread via WhatsApp—often involving reports of child kidnapping—has been tied to a spate of killings in recent months across India. Fake videos of abductions have been going viral in the region, and police appear to be struggling to contain social media-led outbursts of violence. In some cases, local internet has been shut down.
WhatsApp has said that it is "horrified" by the ongoing situation. A spokesperson told Recode: "We've announced a number of different product changes to help address these issues, it's a challenge which requires an action by civil society, government and tech companies."