'Wheel of Fortune' Contestant Risks Losing Prize Puzzle to Send Message
A Wheel of Fortune contestant only had 10 seconds to solve a puzzle to win a major prize, but decided to risk it all for a special reason.
English teacher Bradley Rose, from Kansas, made it to the bonus round on Wednesday's show, where host Pat Sajak, 76, warned him he only had "10 seconds, not 11," to solve the puzzle.
"Well I feel real good about this, and I don't want to jinx anything, but—please, audience, he has to say it on his own. Even if you know it, even if you think there's a chance you know it," Sajak started, as his co-host Vanna White flipped the letters on the board.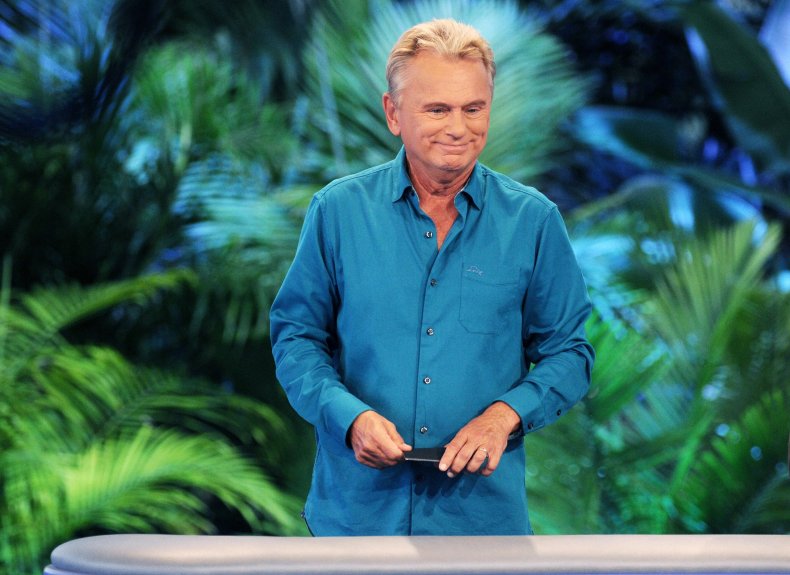 "Now, don't tense up," he told Bradley. "You have only ten seconds—not 11, ten. Good luck!"
The puzzle was phrase and appeared on the board as "HAPP_ T_ HEAR THAT."
Rather than immediately say it, Bradley quickly threw in a very special message.
"Sino, Kalani, Shiloh, Daddy loves you," he started before solving the puzzle, "Happy to hear that."
He of course, got it right with Sajak labeling him "sneaky" for his stunt.
"Yeah, that's it," Sajak told him through laughter, and added, "Pretty sneaky."
He asked Bradley: "What if during your greeting the buzzer went off?"
Sajak opened the envelope to reveal Bradley had won the Chevy in the bonus round and the elated teacher ran over to check out his new wheels.
Along with winning the SUV, Bradley also $9,600 in cash, a $7,000 Bahamas vacation which brought his total winnings to a value of $58,569.
Fans watching at home were shocked at Bradley's gutsy move and congratulated him.
"Gutsy move. 10 seconds isn't all that long. I am very happy he won $58,569 I love last night's show. You had teachers & an RN on as players & they all won a lot of cash. Those two occupations are hard & serve this country very well for a long time. They all won $. Well deserved!" wrote one person on Twitter.
A commenter on YouTube added: "I do admit I thought he was going to get carried away and get buzzed out. Fortunately, he didn't."
But another did not like the stunt at all writing: "Personally I think he should have lost it all. What he said wasn't on the board. He included words that should have cost him his win. I've seen other players add words and get buzzed off. Why was he any different?"
A second agreed: "I would say that is an incorrect answer."