Wheel of Fortune fans were left outraged after a contestant was denied a bonus prize despite correctly solving the puzzle.
During an installment of the show earlier this week, Charlene Rubush appeared to be on a smooth road to game-show success, making it all the way to the Bonus Round with $16,500 in winnings.
Having defeated her competitors, Rush was given the customary letters R, S, T, L, N, and E, plus three additional consonants and a vowel of her choosing.
After being informed that the category was "What are you doing?," the letters that applied were added to the puzzle on the board famously overseen by Vanna White, before the 10-second countdown to provide the correct answer began.
With most letters of each of the words filled in, Rubush initially guessed: "Choosing the right card," before being informed that her attempt was incorrect.
She then attempted the sentence again, adding "word" as the final word, after a brief pause—and just before the buzzer rang.
As White turned the letters to reveal that Rubush had solved the clue correctly, there was no celebration to be had. Instead, the contestant would learn that she had missed out on the prize because of a technicality.
Veteran show host Pat Sajak explained: "You know, this one's tough because you said all the right words, including the word 'word,' but as you know it's got to be more or less continuous.
"We'll allow for a little pause, but not four or five seconds. I'm sorry, you did a good job in getting it, but we can't give you the prize and it was an Audi."
Specifically, the vehicle she had missed out on was an Audi Q3, which retails at a starting price of $39,500.
The withholding of the prize sparked outrage across social media, with a number of the show's fans calling on Wheel of Fortune bosses to reverse their decision.
Sharing a video of the crushing moment on Twitter, former Jeopardy! champ Alex Jacob wrote: "Come on @WheelofFortune, the woman literally chose the right word. Give her the car."
Jacob also posted a screenshot of a direct message he had sent to the official Wheel of Fortune Twitter account, in which he shared his tweet with them and enquired how many retweets it would take for Rubush to get the Audi vehicle.
"That lady on @WheelofFortune should have gotten the car," said journalist Micheline Maynard. "I know the rule is that is supposed to be contiguous but she had the right answer. And it was an @Audi to boot."
"This is the worst ruling in Wheel of Fortune history. I have seen MUCH longer pauses," commented podcaster Eric Nathan. "This needs to be fixed @patsajak."
One disgruntled viewer went as far as to suggest a boycott of the show, stating: "Wheel of Fortune, you just lost a viewer. 'I am choosing the right word' to never watch this show again. #WheelofFortune #choosingtherightword I'm done!
"I'm with that lady. She deserves that Audi! That rule is the most dumbest thing ever! She had it right before the time was up!"
However, all may not be lost, as the luxury vehicle manufacturer waded into the conversation on Wednesday, offering to get one of its cars to Rubush.
Responding to Jacob's tweet, a message from the official Audi USA account read: "You're a winner in our eyes, Charlene. Now, let's get you a prize. Time to #GiveHerTheQ3."
Hours later, it appeared that Rubush was a step closer to landing her fresh set of wheels, as another message from Audi USA read: "There's no community like the Audi community. With your help, we tracked down Charlene! More to come as we help #GiveHerTheQ3."
A spokesperson for Audi of America confirmed to Newsweek that Rubush would be receiving a brand new vehicle from the company.
The representative said via email: "[We] saw Charlene's Wheel of Fortune episode on Monday and were collectively disappointed that she missed out on the opportunity to take home an Audi Q3 due to a technicality. So in the spirit of the holidays, Audi of America will be gifting her with an all-new Audi Q3."
Newsweek has contacted representatives of Wheel of Fortune for comment.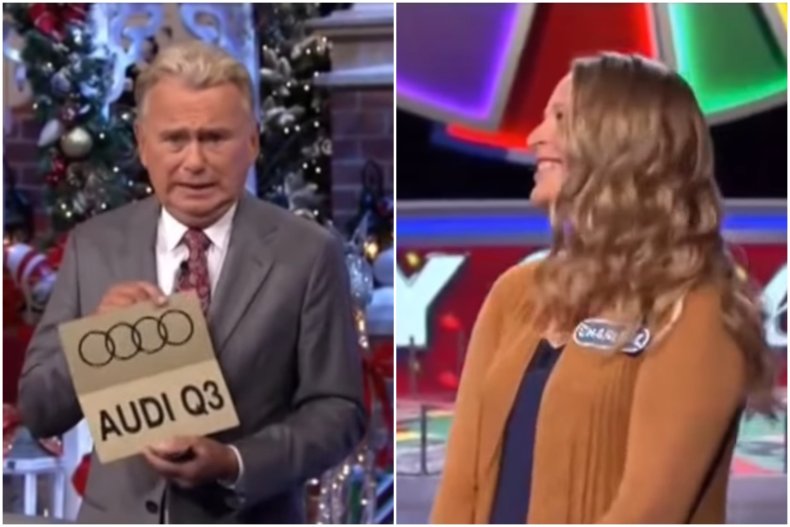 Update 12-23-21 at 5:07 a.m. ET: This article was updated to add a new photograph and a tweet from Audi USA.
Update 12-23-21 at 8:30 a.m. ET: This article was updated to add a statement from Audi of America.