Pat Sajak's Daughter Says She Practiced With Vanna White Before Filling in on 'Wheel of Fortune'
Pat Sajak's daughter has made her debut on Wheel of Fortune.
Twenty-five-year-old Maggie Sajak filled Vanna White's position as letter-turner during Monday night's game show while White took over hosting duties for Pat Sajak, who is currently recovering from surgery.
Maggie Sajak's appearance marked her second time on the show—although the first time she arrived on the Wheel of Fortune set in 1996 she was just a 1-year-old. This time around, an all-grown-up Maggie Sajak was dressed in a red party dress and strappy black heels.
The father-daughter duo appeared in an interview with ABC News' Paula Farris on Good Morning America on Tuesday, during which Maggie Sajak opened up on her first experience filling in on the show. "It's bittersweet because obviously, the circumstances, you know, was that my dad couldn't be there," Maggie Sajak said.
While Maggie Sajak's no stranger to the camera—at 16, she launched a career as a country music singer with the release of her first single, "First Kiss," and its accompanying video—she did have to practice for her big gig as the Wheel of Fortune letter-turner. Luckily, she had White, her family's longtime friend and her dad's co-star, to lend her a hand.
"It is more complicated, you know, like I said, with his job, they make it look easy, after all these years, and they're so great at their jobs," she said. "But, you know, it is more complicated than you think."
Maggie Sajak said White visited the Sajak residence the night before the show taped to give her a letter-turning lesson. They used the refrigerator to practice.
Pat Sajak is expected to return to his post as Wheel of Fortune host next week, and White will resume her letter-turning duties.
The 62-year-old game show host underwent emergency surgery back in November after experiencing serve pain in his stomach, which turned out to be the effects of a blocked intestine. His blood pressure was also very low, prompting doctors to operate on him immediately after he arrived at the hospital.
Pat Sajak said he could have died if doctors had not treated him when they did. "You couldn't do anything. I was in [a] fetal position, lying on the bed," he told Good Morning America in his first interview after the surgery in December.
"They try to give you various drugs for the pain. And none of it—none—was working. And then they gave me something, I couldn't even tell you the name of it, but suddenly, I wasn't thinking about the pain. I just had these beautiful pastels and lovely faces coming out of it," he continued. "In the background, I could hear my wife and daughter talking. It sounded like they were a mile off, but they were right next to me. They were talking to each other. And I remember thinking, not in a morbid way, 'I think this must be death. This must be what death is like.'"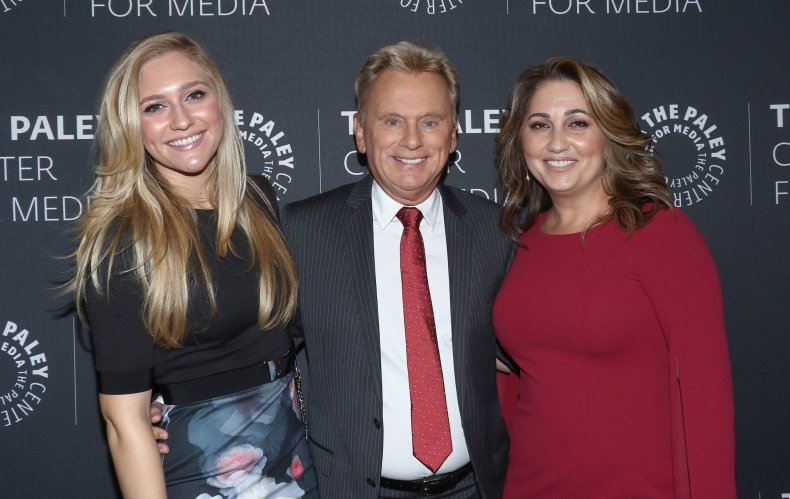 Speaking with Faris on Tuesday, Pat Sajak credited his daughter for helping him recover. "To this day, I don't think I'm allowed to pick up anything heavier than a pillow," he teased.
Maggie Sajak said she is thrilled to see her father fully recovered and back taping new episodes of the game show, but she noted his sudden health battle was "definitely really scary" at first.
"I'd like to say I was a trooper at the beginning. I wasn't," she said. "But I pulled myself together, and I'm just so happy he's back in action and doing what he does."