'I Was in a Wheelchair, Now I'm Walking and Coaching a Disability Soccer Team'
Back in May 2014, I had recently turned 29-years-old. It had been a reflective week as I was beginning to think of all the things that I would like to do before I hit 30.
The previous 18 months had been a whirlwind. My son, Myles, was born at the end of 2012, and in 2013 my wife and I bought our first house together.
During the same period, we had also married, cruised around the Caribbean for our honeymoon, and my wife had fallen pregnant with our daughter. I can appreciate that to those looking in, we had a comfortable life.
Then, on May 30, 2014, I found that over the course of the day my left wrist had started to swell, and by evening it was locked in place.
Since it was a Friday, I thought I had overused the computer, and decided I would rest my wrist over the weekend. Except, when returning home from a family meal two days later on Sunday, my right knee proceeded to swell in a similar way, leaving me struggling to walk.
Despite receiving medication from my doctor, by the following Wednesday my right shoulder and other knee had both swollen and rendered me immobile. Admitted to hospital, I went from fully mobile and independent to being unable to look after myself in less than a week.
Initially, I was in shock. I was in significant pain and was being tested for a range of conditions. The doctors said my immune system was attacking the connective tissue in my joints, as if it was an infection. I was told I had suspected seronegative rheumatoid arthritis, although it has not been formally diagnosed as the treatment is the same regardless.
Soon after, the shock started to morph into frustration. I had looked after my health and I was young—it didn't seem fair. I was then struck with grief. A big part of my personality was based on my physicality and my independence—characteristics I feared I may never regain.
My wife was amazing, heavily pregnant and spending time in hospital showering and feeding me after finishing a day of work herself. But mentally, I was in a bad place. You get a lot of time to reflect when you can't walk around.
Then, during my second week of being immobile, I had a breakthrough. A simple thought popped into my head. Have you ever once been grateful for being able to walk? I realised that I hadn't.
I then wondered how grateful I had been for the people who were now here in my time of need, and I realized I had not been grateful enough. And finally, it occurred to me that I hadn't been grateful enough for the opportunities, education, freedom and healthcare I had received thanks to being born and raised in the U.K. Suddenly, my whole worldview changed.
After four weeks, I was discharged from hospital, and began walking rehabilitation. I had to use a wheelchair and was forced to adapt many day-to-day activities that I had previously taken for granted; I adapted the shower so I could bear weight with one hand, while washing with the other. I also converted our spare room and had the bed raised. I got used to carrying out everyday tasks sitting down, or holding my weight on a surface.
I started intensive physiotherapy. Then my daughter, Annabel was born, and I felt my heart soar. I decided that I would join her on her journey of development—by the time she was walking, I would be walking with her.
Those thoughts kept me strong on those mornings when I was stiff, in pain, and struggling to do my recovery exercises. I still had dark days, and had some vertebrae issues which set my recovery back, but I steadily made progress and had so much support from my wife's family.
In May 2015, more than 11 months later, I walked one mile unaided. Just a few weeks later, my daughter took her first steps.
I decided that recovering my mobility would not be the end of this journey. I was still on medication, and had a burning desire to help other people be proactive in their recovery and through life's challenges.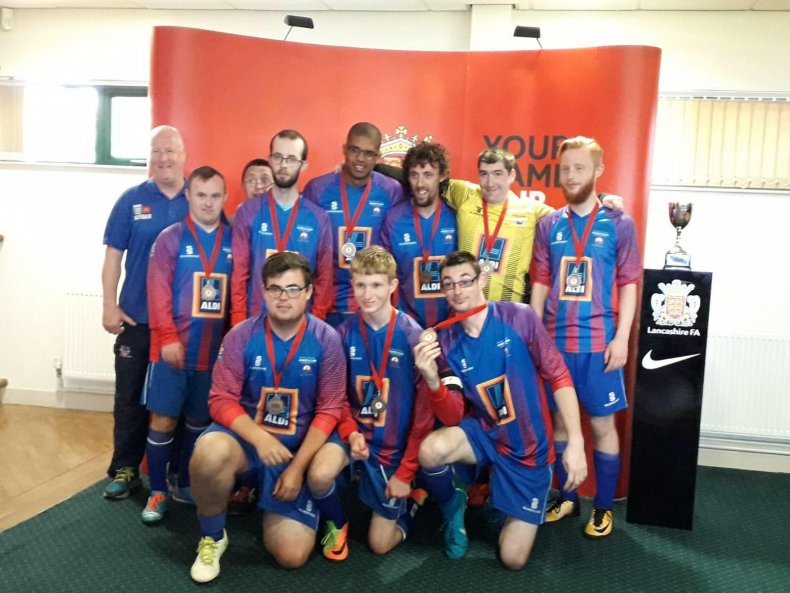 I still yearned to play sports and fulfil my competitive streak. I started playing for a local adult disability soccer team, AFC Lammack, and found a place to enjoy sports again. I was so engaged that I decided to become a coach so I could try and have even more of an impact on the lives of our players.
Last year we came third in the Lancashire Ability Counts Cup competition. Jerry, a player who faces huge challenges in his everyday life, came over to me as we celebrated, and told me, "Lee, I'm going to hang this medal on the end of my bed so when I wake up I remember how well we did."
For many, training is the highlight of the week. There is no price tag you can put on their smiles when we win medals at tournaments. And I am grateful to all the volunteers who make this possible.
My journey is far from over. In 2019, I founded Essentialise Workplace Wellbeing with the aim to positively impact the health outcomes of thousands of people across the globe.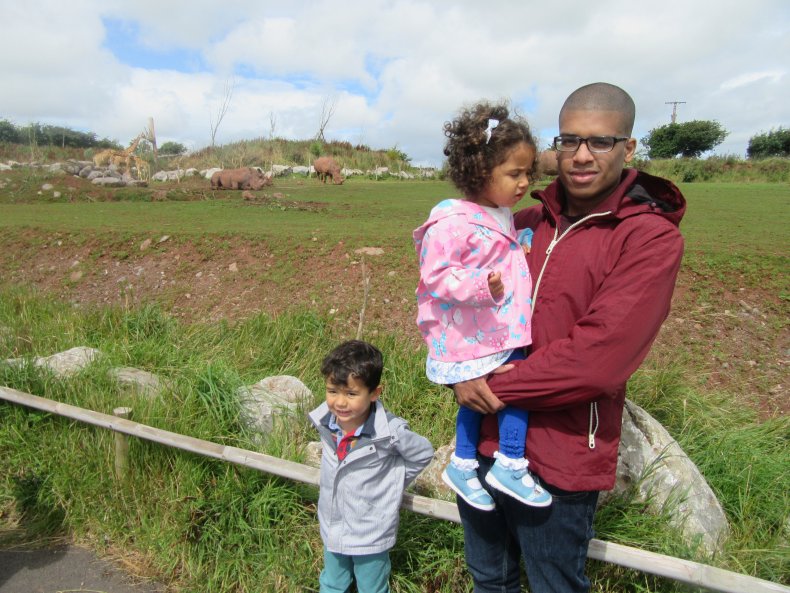 Utilizing my journey and my professional qualifications, I run courses, events and assessments to help employees to become more health aware, and aid leadership in creating mindful businesses that empower and encourage employees to flourish and prosper.
Through my personal suffering and struggle, I have grown as a man, a father, a husband and a son. I am much more appreciative of others people's perspectives, and I try to be less judgmental. I am more patient and thoughtful with my children, and I now have clarity of vision on who I am, and the impact I want to make on the world.
Every morning I wake up hoping that my journey will help others through their own challenges.
Lee Chambers MSc MBPsS is an environmental psychologist, wellbeing consultant and founder of Essentialise Workplace Wellbeing. He is also a certified ICF life coach, and a board member of Wellbeing Lancashire. He regularly speaks in education about his journey, the future of work, and the importance of building emotional resilience and a proactive mindset.
All views expressed in this article are the writer's own.