Manhattanhenge 2017: When and Where to Watch the Sunset Line Up With The City's Grid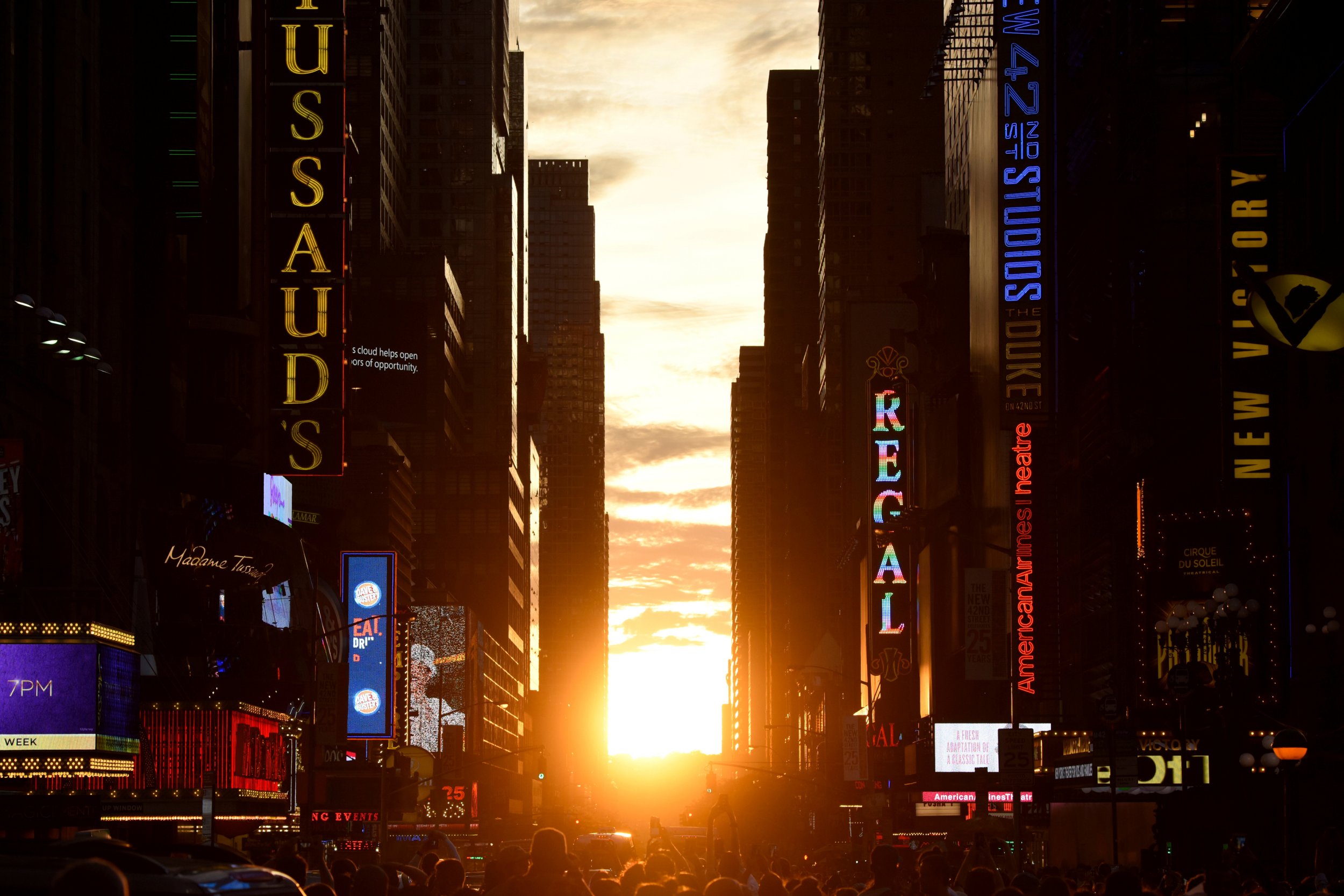 New York City is not known so much for the beauty of nature as for its imposing, man-made cityscape. But every year, the two conspire to produce a striking effect when the setting sun lines up perfectly with the streets of Manhattan. The phenomenon, known as "Mahattanhenge," sends stunning orange rays down the horizontal streets of the grid, with the surrounding skyscrapers forming a series of tunnels to intensify the moment.
The sinking sun creates "a radiant glow of light across Manhattan's brick and steel canyons, simultaneously illuminating both the north and south sides of every cross street of the borough's grid. A rare and beautiful sight," writes Neil deGrasse Tyson, the Frederick P. Rose director of the Hayden Planetarium at the American Museum of Natural History. Tyson, an astrophysicist who is known for making science accessible to the public, is said to have coined and popularized the term "Manhattanhenge."
Here are the basics for Manhattanhenge 2017:
When it's happening
There are four days to put on the calendar. On Monday, May 29 at 8:13 P.M. EDT, half the sun will be visible above the horizon while the other half is hidden below. The next day, on Tuesday, May 30, at 8:12 P.M. EDT, the full sphere of the sun will be visible above the horizon. The pattern repeats in reverse in July. On Wednesday, July 12 8:20 P.M. EDT, the full sun will be visible, and on Thursday, July 13 at 8:21 P.M. EDT, the half sun will be visible.
Where to watch
Tyson recommends watching from as far east as possible, but cautions Manhattanhenge enthusiasts to pick a street where the view is clear all the way across to the Hudson River and New Jersey. Some streets with a good view include 14th, 23rd, 34th, 42nd and 57th .
Why it happens
"In spite of what pop-culture tells you, the sun rises due east and sets due west only twice per year. On the equinoxes: the first day of spring and of autumn," Tyson writes. The rest of the time it rises and sets at other points on the horizon. Specifically, "the sunset point actually creeps day to day along the horizon: northward until the first day of summer, then returning southward until the first day of winter." Since Manhattan's grid is skewed—the streets don't actually run exactly north-to-south and east-to-west, but are "rotated 30 degrees east from geographic north"—Manhattanhenge days do not coincide with the equinoxes.
What it might look like
"Manhattanhenge" is nothing if not an opportunity to snap some gorgeous photos. Here are some examples from previous years.