When are March Madness and the Final Four 2020, Who Are the Top Teams? A Guide for NCAA Men's College Basketball
Regular season for men's basketball is wrapping up, and conference tournaments will soon get revved up to determine the field in this year's big dance.
Men's college basketball this season has been nothing short of bizarre. With an opening night of the top four preseason teams playing each other, there were five different No. 1 teams that lost in the first seven weeks, including two of them—Kentucky and Duke—at home to non-ranked teams from lower-tiered conferences.
Here are those games, dates and results:
Nov. 6, 2019 — No. 2 Kentucky 69, No. 1 Michigan State 62
Nov. 12, 2019 — Evansville 67, No. 1 Kentucky 64
Nov. 27, 2019 — Stephen F. Austin 85, No. 1 Duke 83 (OT)
Dec. 10, 2019 — No. 24 Texas Tech 70, No. 1 Louisville 57
Dec. 21, 2019 — No. 18 Villanova 56, No. 1 Kansas 55
For just how bizarre this season has been, here are some quick facts:
Gonzaga and Baylor have both been No. 1, and both lost, moving Kansas back to the top spot.
There were nine ranked teams that lost on February 15, including eight who were beaten by unranked teams in that week's most-recent Associated Press poll.
San Diego State won 26-consecutive games befoe losing, making them the last team in Division I to lose this season.
Virginia, who won last season's championship just one year after becoming the first No. 1 seed to ever lose to a No. 16 seed, has been on the cusp of missing the tournament this season.
North Carolina sits in dead last in the ACC standings, and the Tar Heels need a conference tournament title in order to make the NCAA tournament.
Top teams this year
These teams have been ranked No. 1 this year: Michigan State, Kentucky, Duke, Louisville, Kansas, Gonzaga, Baylor and Kansas again.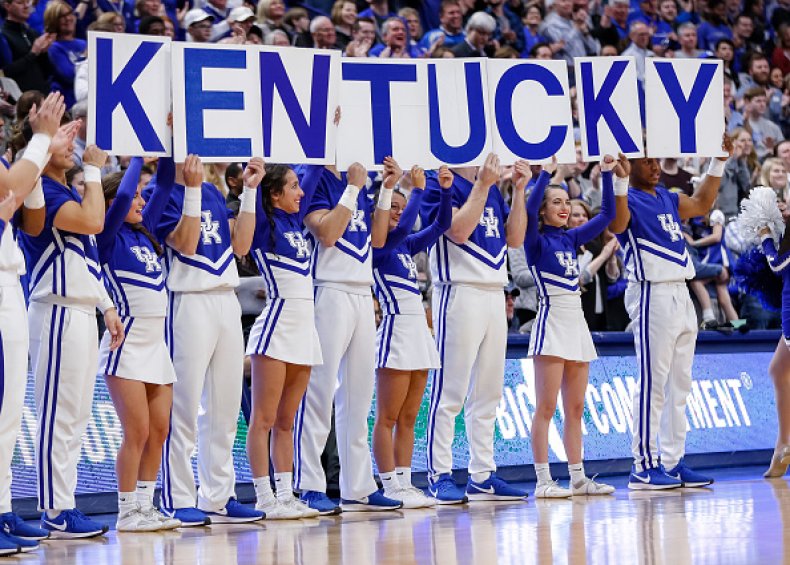 Kentucky
The Wildcats have been ranked No. 1 and in the top 5, and they were No. 8 on Sunday when they beat Auburn to clinch the SEC regular-season title, and top seed in the upcoming SEC tournament. Even though the Cats have beaten LSU and Auburn in conference, but non-conference losses to Evansville and Utah have them at a No. 4 seed in the latest projections. UK could easily reach a No. 2 seed, with an outside shot at a No. 1 seed. Then again, they could slip to a No. 3 seed, or back to 4, depending on how they play in the SEC tourney.
When is Selection Sunday?
The selection show for the NCAA men's basketball tournament will be Sunday, March 15, 2020, at the conclusion of all conference tournaments. The first two games will begin on March 17, and the next two will be March 18. The subregional play will begin on Thursday, March 19 with 16 games, followed by 16 games the next day.
March 17-18 First Four games in Dayton, Ohio
March 19-20 First Round games at the eight sub-regional sites
March 21-22 Second Round games at sub-regional
March 26-27 Sweet 16 round
March 28-29 Elite 8 round
April 4 Final Four (national semifinal games)
April 6 National Championship
Tournament Sites
First/Second Round Sites
Regional Sites
Final Four/National Championship