When Are States Reopening? Governors in Tennessee, Iowa, West Virginia Start Releasing Plans
Governors in Tennessee, Iowa and West Virginia released plans Friday to begin reopening their states, and each state will look different.
The new coronavirus largely halted life for millions of Americans as governors shut down restaurants and some businesses to try to curb the outbreak. The mitigation measures put millions of people out of work. Now, weeks after their implementation, governors are examining the state of the outbreak and looking at easing restrictions to help reboot the economy.
Tennessee Governor Bill Lee released guidelines for reopening 89 of the 95 counties in the state. Beginning on Monday, restaurants will be able to reopen at 50 percent occupancy. Then, on Wednesday, retailers will be able to reopen, also at 50 percent occupancy.
Since the start of the outbreak, Tennessee has had 8,726 cases, according to the state Health Department. Nine percent of the cases required hospitalization, and 168 people died after testing positive for the virus.
"Tennesseans pulled together to flatten the curve, and it is time for people to begin to get back to work and back to their businesses," Lee said in a statement on Friday. "We are pursuing a careful, measured approach to reopening our economy that does not depend on heavy-handed mandates but instead provides practical tools for businesses of all sizes."
Lee issued a stay-at-home order on March 30, which shuttered nonessential businesses. He acknowledged in his statement that small businesses have felt the most pain. Staying open, however, is dependent on everyone in the state continuing to practice social distancing and adhering to the guidelines set forth by the governor.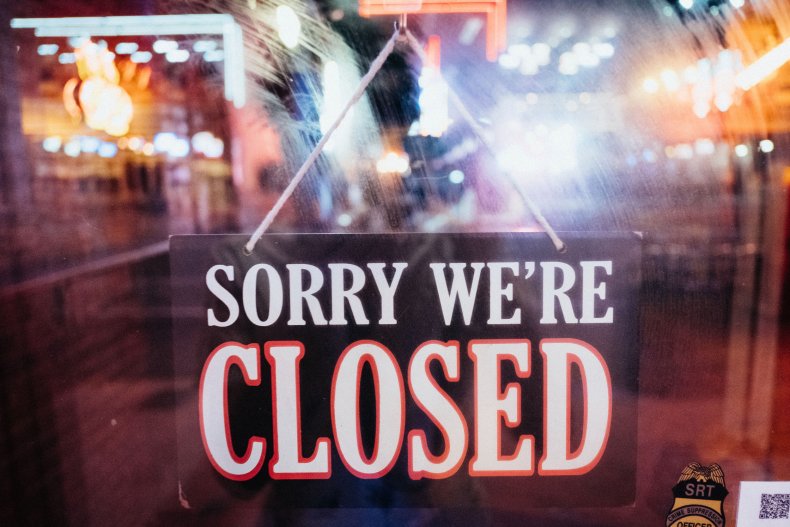 Shelby, Madison, Hamilton, Knox, Sullivan and Davidson counties were excluded from the reopening guidelines, but Lee said the state was working with them on a plan to get them back up and running.
Northwest of Tennessee, Iowa has had about half the number of cases, and 4,445 people tested positive as of Friday. Of those, 107 people died, including the 11 fatalities that were reported on Friday, the largest single-day increase.
On Friday, Governor Kim Reynolds signed a new proclamation continuing the state's Public Health Emergency Declaration, but it came with some eased restrictions. Beginning on Monday at 5 p.m., local time, health care providers can resume some elective surgeries and procedures, and farmers markets can begin limited operations.
To continue the medical procedures, the facility must have adequate personal protective equipment without relying on state or local stockpiles, plus a plan to conserve PPE. It also must be able to care for COVID-19 patients. At least 30 percent of the beds in the intensive care unit and 30 percent of medical/surgical beds must be reserved for COVID-19 patients. If the facility can no longer satisfy the requirements in the declaration, it must cease nonessential or elective surgeries.
Farmers markets also face restrictions in their ability to reopen. Vendors can sell only farm products or food. Those vendors must be spaced 6 feet apart, and common sitting areas can not be open to the public.
West Virginia, a state that's among the five with the lowest number of cases, has reported only 988 positive cases and 32 deaths. Although nonessential businesses have been forced to close, Governor Jim Justice said Friday that many West Virginians were able to continue working, including 95 percent of those in the manufacturing sector.
The governor didn't provide firm dates for reopening but said that the recovery phase will begin next week. It will start with allowing health care providers and hospitals to resume elective surgeries.
With elective surgeries resuming, people are going to need someone to watch their children, so the second part of reopening is going to focus on day care facilities. The state plans to make ongoing testing of day care staff mandatory so people know their children will be safe when they're with the people who are caring for them. Justice also floated the idea of doing temperature testing on children and their parents, although he added that the state is looking into what measures it can take legally.
"As we go forward, we're not going to run and cannon ball in the middle of the pool and then awaken to the fact that you've got heavy water in it," Justice said. "We're dealing with a pandemic that no one in all of our lifetimes has ever dealt with before."
He compared reopening the economy to doing a 35- piece puzzle, and at this point there are still at least three pieces he doesn't know. To reopen businesses and restaurants, Justice said, the state will need more masks and equipment.
To help governors with reopening, the White House Coronavirus Task Force issued guidelines that laid out a phased approach. To reduce the risk of a rebound, states will satisfy "gating" criteria before moving on to any one of the three phases, according to Dr. Anthony Fauci, director of the National Institute of Allergy and Infectious Diseases.
If America reopens too quickly, the progress that's been made with the outbreak could be lost and another outbreak could cripple the economy again. It's been a balancing act that President Donald Trump has left up to the governors to handle, although he's offered his opinion about Georgia, a state he said reopened too quickly.
"It's very exciting, but it does not mean that we are letting down our guard at all, in any way," Trump said of the phased reopening strategy. "On the contrary, continued diligence is an essential part of our strategy to get our country back to work, to take our country back."