When Is 'The Bachelorette' Finale? Tayshia Adams' Final Pick Is Coming Soon
Prepare yourselves, Bachelor Nation. Before you open your gifts from Santa on Christmas morning, you'll know who Tayshia Adams ended up with on The Bachelorette. This accelerated season of the dating show will come to a close next week, with a two-night finale.
There are four episodes of The Bachelorette left this season. That includes the "Men Tell All" special that's airing Monday night. It will all conclude with the finale on Tuesday, December 22, just a few days before Christmas.
Here's a breakdown of what the rest of the season is expected to look like.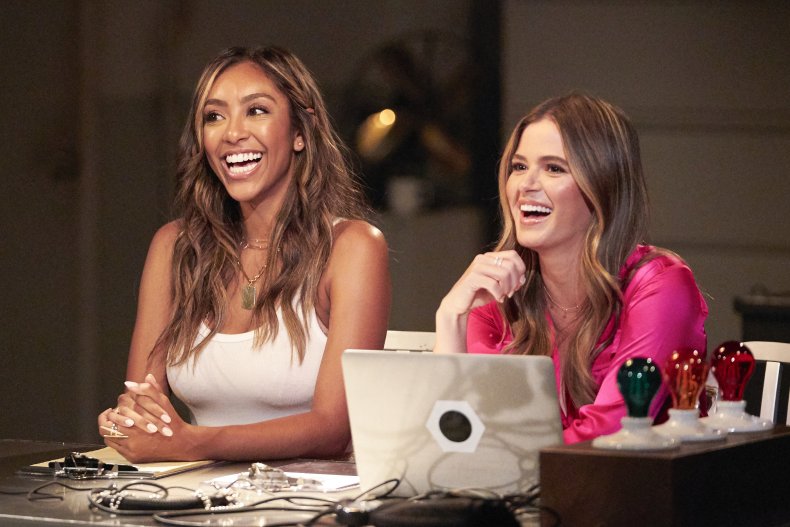 Monday - "Men Tell All"
On Monday night, 10 of the men from this season of The Bachelorette will face Adams in a studio environment. There, they'll be encouraged to ask her questions about why she decided to let them go. There won't be any reveal about Adams' own happiness, though she will likely be shown choosing her final four men. That almost has to be the case, as last week still featured some of the "Men Tell All" stars as possible rose recipients.
Tuesday - "Hometown" Dates
Things will get very real on Tuesday when Adams meets the families of her final four men. Heartbreak is undeniably on the horizon as feelings grow and families get involved, and Adams will be asked to let one man go after the family time. At this point, the remaining men are widely beloved by viewers, which means that every dismissal moving forward will be controversial.
Monday, December 21 - Fantasy Suites
When Adams is down to three men, then it's time for fantasy suites. Adams will get a one-on-one date with each of the remaining men, and then be allowed overnight time free of cameras. This is usually the week when feelings get serious. We're expecting lots of love confessions, mostly from the men. Though, we wouldn't be surprised to hear an "I love you" from Adams, too. Crazier things have happened!
Tuesday, December 22 - Finale
The finale will likely show Adams' own family meeting her final two men as she tries to decide which one to give her heart to. The season's final episode will also reveal who Adams picked and whether they got engaged. Typically, there's an "After the Final Rose" segment that's filmed live, which updates viewers on where the Bachelorette and her chosen man are now. This hasn't been announced for Adams, and with COVID, it's unclear if the live format would even work. We still expect there to be some sort of update on Adams and her final rose recipient, but we wouldn't be shocked if it's under different circumstances, considering the 2020 of it all.