When Baseball and Psychoanalysis Mix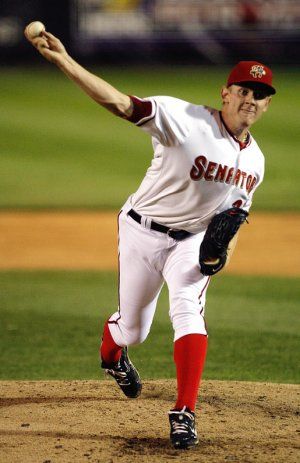 The shrinks are in Washington, D.C., this week for the annual meeting of the American Psychoanalytic Association and they've spent a lot of time talking up their usual esoteric topics: Freud, dreams, and the superego. Not the stuff of mainstream America. So it was bizarre, if not entirely incongruous, to see the president of the Washington Nationals, Stan Kasten, listed as a panel speaker. But there he was—two days after pitching phenom Stephen Strasburg lit up the nation's capital—talking, of all things, about baseball. "This is not my typical audience," Kasten joked to the few dozen therapists attending the session called "Baseball and Psychoanalysis." "But when I heard there was a gathering of psychoanalysts in town, I knew I had to be here."
What a week to analyze baseball. Strasburg's 14-K debut Tuesday night awed fans and left many wondering: how did this kid hold up so well under pressure? Baseball is, of course, a dual test of physical skill and mental prowess. Nobody knows this better than Kasten, who has watched the best of his players battle their inner demons, including future Hall of Famer John Smoltz. It was 1991, early on in his pitching career with the Atlanta Braves, and Smoltz was having trouble focusing, said Kasten, who served as Braves president for 17 years. "He couldn't find the plate." Wild pitches and walks ensued until sports psychologist Jack Llewellyn was brought in to help. Llewellyn sat behind home plate at every game wearing a red checkered shirt—all the better for Smoltz to see him by. And Smoltz learned to step off the mound when he needed to gather himself. Something clicked. Smoltz started the '91 season with a 2-11 record; he closed it out by going 12-2 the rest of the way.
Strasburg, 21, is a different breed. He has a unique arsenal of physical skills and a strong ability to focus, plan, and execute, Kasten told his audience. "He's extraordinarily talented on both sides of that equation." The day of the game? "I never was concerned" about his nerves, Kasten said. He didn't need to be. Despite the media frenzy and standing-room-only crowd at Nationals Park, Strasburg pitched a phenomenal game. Kasten attributes this in part to a management strategy that limited reporters' access, allowing the player to preserve some of his life before the game. At a press conference after it was over, Strasburg talked about enjoying himself on the mound. "At one point I lost track of how many innings I threw. I was like, you know what? I'm just going to go out there and have fun. It's amazing."
It wouldn't have been a psychoanalysts' gathering without some amount of couch therapy, and the analysts didn't disappoint. Many of them shared their "inner baseball child," in the words of one, by regaling each other with stories of their youth—playing baseball barefoot, creating bases out of sewer caps and trash cans, being late for bar mitzvah study in 1969 to listen to the Mets on the radio. And then, yes, there were analytic conversations. About a "positive transference" that might occur between player and coach (with coach representing Dad). About the fact that players must return home; not fourth base, but home—a place we all, ultimately, want to be. About a possible relationship between the space dividing athletes and fans at a game and the distance between the patient on the couch and the analyst in the office. Hmmm. One psychoanalyst even uttered something about the "Oedipalization of baseball." Kasten's response: "I'm not touching it."
Strasburg's next start is scheduled for Sunday in Cleveland. Whether or not the stress will get to him on that day, or on any other, is anyone's guess. But one thing is for sure: a bunch of baseball-loving analysts will be rooting for him. And analyzing his every move.
When Baseball and Psychoanalysis Mix | Culture