City Worker Stung by Swarm of Bees Hundreds of Times
A city worker in Manchester, New Hampshire, was hospitalized on Thursday after being stung hundreds of times by a swarm of bees.
The Parks and Recreation Department worker was cutting down trees after a storm earlier in the week when he struck a beehive, WMUR reported. The worker was strapped into a bucket when he was stung more than 200 times.
Officials said that the worker could not get out of the bucket until a neighbor helped pull him free.
"He immediately got stung by hundreds of bees, and he was stuck in the bucket," District Fire Chief Al Poulin told WMUR. "A neighbor came over and assisted the gentleman out of the bucket. He was strapped in at the time, so he wasn't able to get himself out of the bucket."
Other neighbors also came to help the worker and were stung in the process, officials said. The resident who first helped was stung about 20 times. In total six people were treated for stings, WBZ reported.
The city worker, who was reportedly barely recognizable due to the stings, was transported to Elliot Hospital in Manchester where he remained in stable condition, the New Hampshire Union Leader reported. The 62-year-old neighbor who helped him was taken to the hospital by a relative and was also in stable condition.
Another worker and a neighbor were treated for stings but were released from the hospital, while two others declined treatment.
The damaged tree was removed, while a pest control company was called to spray poison, WMUR reported. A beekeeper who was called to the scene said the beehive contained a few thousand bees.
On Monday, a California woman was stung more than 200 times by a swarm of bees believed to number between 30,000 and 80,000. The woman was attacked while retrieving cleaning supplies from her car parked near a beehive.
"She probably had a few hundred if not a thousand bees just embedded into her hair and crawling all over her face," Orange County Fire Authority Firefighter Ryan Wilson told KPIX.
Four firefighters were injured while rescuing the woman, with two of them requiring medical treatment. The two firefighters were treated and released from the hospital.
"They both chose to return to work immediately," the Orange County Fire Authority said in a statement.
The victim was taken to Saddleback Medical Center in critical condition but was expected to make a full recovery.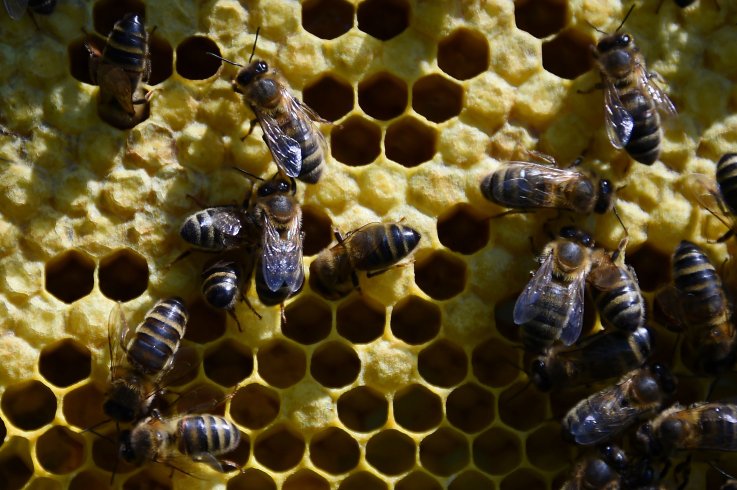 City Worker Stung by Swarm of Bees Hundreds of Times | U.S.