When Is Biden Speaking Today? How to Watch Student Loan Cancellation Speech
President Joe Biden will deliver remarks Wednesday on his proposal to cancel student loans for millions of borrowers, as well as his plan to pause student loan payments for what may be the final time.
Biden promised to cancel student debt when he ran for office and has been under increasing pressure to deliver on that promise. But to some, including the NAACP, the president's proposal falls short of what they believe is acceptable.
If the plan survives the legal challenges it will likely face, many borrowers could have at least $10,000 worth of their student loans forgiven, according to the White House.
After giving a basic outline of information about his plan to forgive student debt, Biden posted on Twitter that he would provide more details on Wednesday afternoon.
According to the White House, the president is expected to speak at 2:15 p.m. ET and his remarks can be watched live here. It's also likely that C-SPAN and other networks will carry the president's announcement.
Biden's outline of his cancellation plan explained that $10,000 in debt would be forgiven for those who did not receive Pell Grants, but those who went to college on Pell Grants could have $20,000 forgiven.
According to the Federal Student Aid website, Pell Grants are usually awarded to undergraduate students who show "exceptional financial need" and have not obtained a bachelor's, graduate or professional degree. Unlike loans, Federal Pell Grants do not have to be repaid except under certain circumstances, it said.
Biden's plan also specifies that the debt forgiveness will only apply to borrowers earning less than $125,000 a year, and that the current pause on student loan payments will be extended one final time through December 31. The loan repayment freeze was put in place in March 2020 during the early days of the COVID-19 pandemic, and has been repeatedly extended since.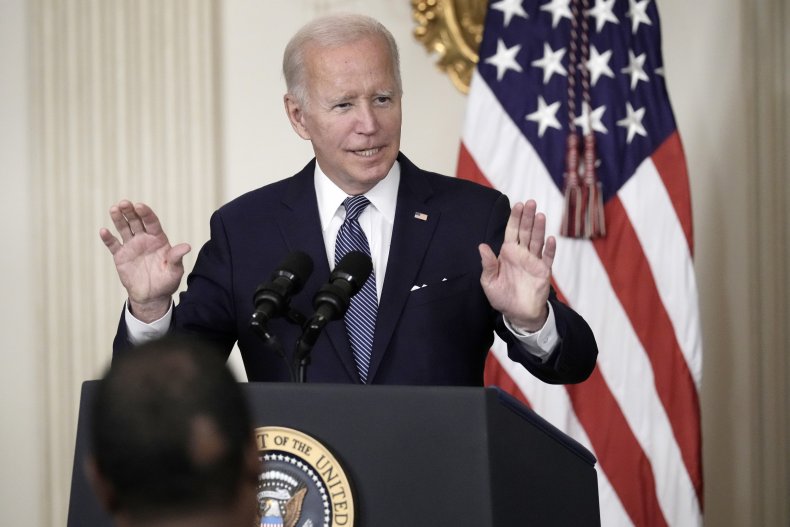 Ahead of Biden's remarks, the NAACP criticized the proposal for falling short of what Black voters—a critical voting bloc for Biden—need.
"If the rumors are true, we've got a problem," Derrick Johnson, the president of the NAACP, said in a statement on Tuesday. "President Biden's decision on student debt cannot become the latest example of a policy that has left Black people — especially Black women — behind."
Johnson added that the president's $10,000 worth of forgiveness via the proposal is "not how you treat Black voters who turned out in record numbers and provided 90 percent of their vote to once again save democracy in 2020."
In April, Senator Elizabeth Warren, a Democrat who has lobbied Biden to cancel $50,000 in student loans, penned an op-ed suggesting the cancellation could help save Democrats in the midterms. She noted the majority of Americans support canceling student debt and Biden needs to take action to avoid "big losses in the midterms."
"With the stroke of a pen, the president could make massive strides to close gender and racial wealth gaps," Warren wrote in April.
Update 8/24/22, 12:30 p.m. ET: This story has been updated with additional information.