When Is Brexit? U.K. Is Lurching Toward a No-Deal Nightmare
The cupboards of Jo Elgarf's London home are bursting with provisions. Dried foods, canned goods, tinned meat, coffee, powdered milk, detergent. "Anything that has a long shelf life," she says.
The hoarding began a few months ago, as British negotiators struggled to settle on the terms of the country's impending divorce from the European Union. Tabloids blared the prospect of a "no-deal Brexit"—and doomsday scenarios quickly followed: gridlocked border crossings, strangled supply lines and grounded flights. The pound, analysts predicted, would likely tumble, food and medicine stocks would thin and Brits would face a host of new immigration restrictions if leaving the isles.
Elgarf, a 42-year-old mother of two, found herself stockpiling nonperishable goods and imported products—staples of modern-day living that could be harder to come by as Britain goes its own way.
And she's far from alone. Elgarf moderates a Facebook group called 48% Preppers—a reference to the proportion of voters who opted to remain in the EU in the 2016 referendum. It now has more than 1,900 members, a third of whom joined within the last month. "I am just an average woman, with an average family, with a little understanding of Brexit. I am not one to panic," says Elgarf. "But I do not trust our government to prepare."
More than two years ago, pro-Leave campaigners made grand promises of a liberated Britain, free to establish lucrative trade agreements all over the world without European hindrance, while reinvesting in the much-loved National Health Service.
A draft divorce agreement has now been agreed between Prime Minister Theresa May and the EU, but this is far from guaranteed to pass muster with May's Cabinet, Parliament or the leaders of the other 27 EU member states. If the proposed deal collapses, Britain will find itself with few remaining options.
As such, Britons are bracing for what political insiders call a "cliff edge" departure: crashing out of the bloc with no transition period and no measures to ease the shift from decades of EU law. In this scenario, Britain would—at least in the short term—be withdrawing from Europe and the world. A "no-deal" Brexit could leave the island nation alone under a blockade of its own making.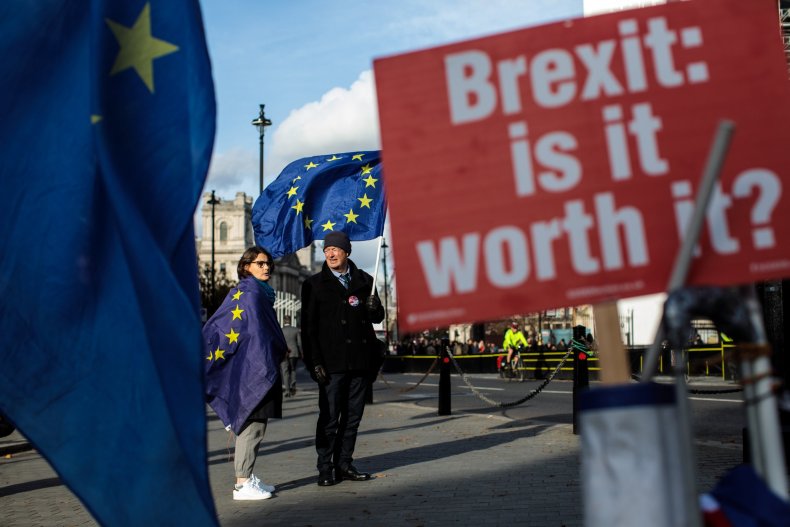 The rights and futures of Europeans in the U.K. and Brits on the continent would immediately be thrown into doubt, and a range of financial hurdes—from increased credit card fees for shoppers to a freeze on cross-border operations for multinational banks—would rear up. The government is considering canceling all leave for police officers in case of civil disturbances, while the army has been put on standby to help distribute food, medical and fuel supplies if required. The official line is that while their assistance will likely not be needed, it is better to be prepared for the unthinkable.
To be sure, the formal exit is four months away, March 29, and May has until the end of the year to reach an agreement with the EU. But analysts say that's not much time to satisfy competing political pressures at home and abroad.
May is trying to hold together a Conservative Party and a Cabinet fractured into multiple camps—extreme proponents of no-deal Brexit, those in favor of a closer alignment with the EU and those in support of a second national referendum. From the outside, she is harried by opposition parties keen to avoid a no-deal departure and faced with a frustrated and divided public. May has insisted a no-deal scenario would not be "the end of the world," though if her proposed blueprint is rejected, it would be one of the few remaining paths out of the bloc.
Meanwhile, government no-deal guidance papers—designed to soothe fears—have largely done the opposite, painting a picture of upheaval, shortages and chaos. Officials are warning that the 1.3 million Britons living elsewhere in Europe could suddenly lose access to British banking and pensions services. British businesses, they say, will have to grapple with additional customs checks. Pharmaceutical companies have been told to stockpile vital medicines.
The November 2017 budget promised an extra £3 billion ($3.9 billion) to help prepare for Brexit departure, no-deal or otherwise. This has to cover costs from extra staff for government departments to setting up large parking lots to ease congestion at the ports.
Though a spokesperson from the Department for Exiting the European Union tells Newsweek that its "comprehensive" preparation will minimize "any risk of short-term disruption to individuals and businesses," the National Audit Office—the government's efficiency watchdog—has suggested the emergency measures will not be ready by March, when the divorce will be complete.
Among the most pressing concerns of a hard Brexit is the impact on supplies of day-to-day goods. EU membership has allowed people and goods to flow freely across Britain's frontiers for decades, but this convenience would end. Borders could be choked as comprehensive customs and immigration checks become necessary. Britain would be forced to fall back on World Trade Organization (WTO) rules—the basis on which countries trade if they have no free trade agreement between them. Under WTO terms, each nation has a list of goods for which they apply tariffs and quotas when dealing with trading partners, meaning in this case the U.K. would face more restrictions and added costs.
Disruption to air travel could be especially acute. The EU currently governs U.K. air access to 44 other countries—including non-European nations like the U.S. and Canada—representing around 85% of all the U.K.'s air traffic. WTO rules do not cover aviation, meaning a deal must be done to keep planes flying. The British government and a group of major U.K. airports have both warned that a sudden Brexit could paralyze British airports.
But Rob Griggs, the policy and public affairs director at Airlines UK, a major trade group representing U.K.-registered airlines, says the organization is not expecting planes to be grounded. At the very least, he explained, a "bare-bones" agreement could be put in place "quite quickly" with the EU or individual member states to keep aircraft flying in the event of no deal, with a more detailed settlement arranged later.
"We're confident but not complacent," Griggs says.
There is no such confidence around the seaports, where trucks are expected to be lined up for dozens of miles. The British government is planning to create mammoth overfill parking lots by repurposing highways near key ports, conjuring up images more at home in a disaster movie than on the local news.
The M26 highway to the southeast of London, for example, is being closed periodically as the government considers its suitability for emergency use. May's cabinet has also reportedly discussed chartering a flotilla of ferries to ship in vital supplies if the major ports are choked, drawing from Brexit critics unfavorable comparisons with the World War II-era evacuation of Dunkirk.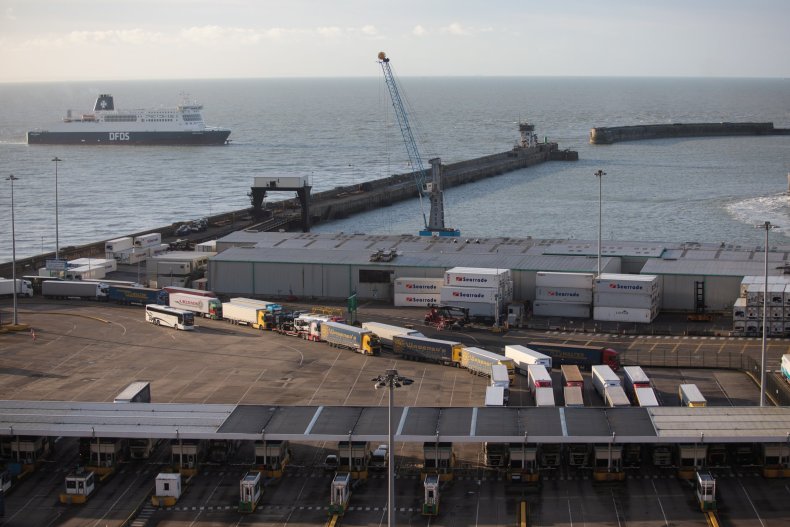 At the Port of Dover, through which 2.5 million heavy goods vehicles pass each year, authorities have warned that a mere two-minute delay in operation would create a 17-mile traffic jam on the M20 highway leading into London. Ian Wright, the chief executive of the Food and Drink Federation, says additional checks could take as long as seven or eight minutes.
For the drivers in the midst of the jam, the queues are just one element of concern. In no-deal guidance papers issued to the British public, the government noted that U.K. driving licences may no longer be valid on their own in Europe after a no-deal Brexit, which could force any motorists heading across the English Channel to apply for an International Driving Permit before setting off—and deal with the associated fees and waiting period.
At a gas station 2 miles north of Dover, truck driver Jamie—who declined to give his full name—tells Newsweek that the uncertainty over Brexit was "pretty concerning," noting "no one knows what's going to happen." Jamie, who is originally from the west coast of Scotland, continued, "There's not much we can do about it unfortunately, we just have to get on with it and see what happens—it's a waiting game now."
Stranded trucks mean stranded food. Around 30 percent of all the U.K.'s food is imported from EU member nations. The government has created a new ministerial post to oversee the protection of food supplies at the Department for Environment, Food and Rural Affairs, but officials are downplaying fears over food shortages. Industry representatives, however, are sounding the alarm.
A recent estimate by Barclays Corporate Banking suggested food retailers could face up to £9.3 billion ($12.2 billion) in additional costs in a no-deal situation, meaning higher prices for consumers. Wright says the prospect is "very grisly," and that the industry is concerned. "We've been accused of scaremongering in the past," Wright notes, "but it is scary." For small producers especially, Brexit could be a mortal blow.
While he suggested supermarket shelves would not suddenly empty, he did warn that Brits may have to get used to less variety in their day-to-day shopping. A serious disruption in supply would mean "the range of choice and the range of products available would be very different—fairly quickly—from the ones that British shoppers have come to expect over the past 40 years," he explained.
As industry frets, many Britons are preparing for the worst. Jennifer McEnhill, 36, a Glasgow native now living in London, never saw herself putting together an emergency "Brexit box" after voting to remain in the EU.
A few months ago, though, she began buying slightly more than she would need and putting it to one side of her pantry, building up a solid emergency supply. Stocked items range from pasta and canned goods to "toiletries, stuff like painkillers, shower gels and toothpaste," she tells Newsweek—"the kind of things you see on lists for food banks."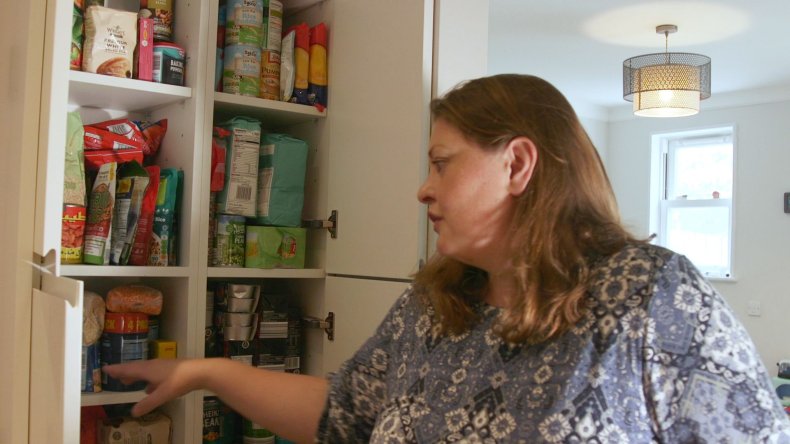 She says that a few years ago she might have found the idea of preparing "a bit mental." But the uncertainty wracking the country was enough to change her mind. "There doesn't seem to be a plan and the government shows very little understanding of actually how the logistics and supply chain for these markets work," says McEnhill, who works in advertising. "Best case scenario, I won't have to use it and this is stuff I can use over the next year anyway."
Britons with chronic medical conditions and their families have even more reason to be nervous. According to the Association of the British Pharmaceutical Industry, the U.K. imports around 37 million packets of medicines from the EU each month, with another 45 million going the other way.
Currently, all medicine approved by the European Medicines Agency (EMA) can be sold in the U.K. But in a no-deal scenario, suddenly only those okayed by Britain's smaller regulatory agency would be covered. Britons could thus lose access to a whole host of medications, which is why the government has asked pharmaceutical firms to stockpile a minimum six-week supply of drugs.
But stockpiling is difficult with medicines that require refrigeration such as vaccines and insulin—of which the vast majority of the U.K. supply is imported, much of it from the EU. These will also be at risk from any delays at airports and seaports in the early days of Brexit. Storing up products with short shelf lives like some cancer drugs faces the same challenges.
Elgarf, whose four-year-old daughter has epilepsy, needs medication to treat her seizures, but she can't stockpile it because each prescription only includes enough medication for one month at a time.
"My daughter needs these meds or it could have unspeakable consequences, even from a couple of days missed," Elgarf says, including sudden death. "I can buy tinned beans but not [epilepsy medication] epilim or keppra."