When is Diwali 2018? Hindu festival of lights celebrations peak today (Wednesday November 7)
The biggest day of Diwali, the Hindu festival of lights, falls on Wednesday November 7 this year for many celebrants.
Also known as Dīvali, Dīpāwali, Deepavali and Dipabali, the festival begins on the 13th day of the dark half of the lunar month Ashvina, often peaking on the night of the new moon.
But some followers celebrate the festival on different dates according to local interpretations of traditional lunar calendars, according to the Time and Date website.
Diwali celebrations last up to five days, typically involving fairs, fireworks and rows and rows of clay lamps, Encyclopaedia Britannica says. The festival broadly commemorates the symbolic victory of light over darkness but many individual celebrations are observed over its duration. Many people will clean and decorate their homes in advance of Diwali, before putting on their best clothes, lighting up their homes and feasting for its climax.
Candles and lamps will be lit at temples, houses and rivers Wednesday night to welcome Lakshmi, the goddess of wealth. Known as Amavasya, the third day of Diwali is particularly important in north and west India, according to Quora.
Although often falls on the same day as Amavasya, Kali Puja—which celebrates the goddess Kali, took place Tuesday this year. Particularly significant in Bengal and other eastern Indian states, this event worships Kali, Hindu goddess of time, doomsday and death. "Puja" is a Sanskrit word that indicates prayer rituals and ceremonies.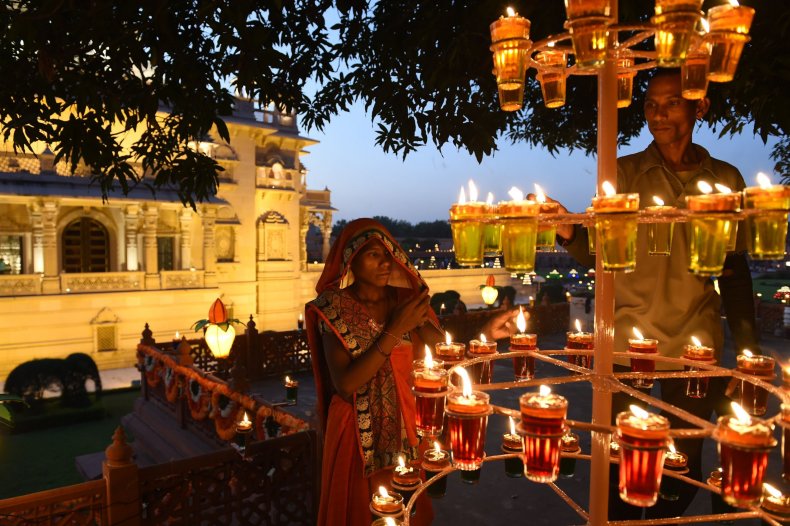 The festival of lights is considered a good time to gamble, with card games like blackjack and Teen Pratti (three-card brag) ever popular, CNN reported. "People don't mind losing—it's part of the ambiance and people are having fun," Vikram Mehta, founder of Red Om Entertainment in Mumbai, told the outlet. "Everyone dresses up, everyone is on holiday, everyone is inviting each other to their homes, there is a lot of warmth."
Diwali—named for the Sanskrit word deepavali meaning "row of lights"—holds significance not just for Hindus, but for some Buddhists, Jains and Sikhs. Some followers celebrate the ancient Emperor Ashoka's conversion to Buddhism around this time of year, while Jains hold their own festival of light in honor of Mahavira, who is believed to have achieved Nirvana on October 15, 527 B.C.E, Time and Date reported.
Many Sikhs celebrate Bandi Chhorh Divas during Diwali. This event observes the return of Guru Har Gobind from a spell at the Gwalior Fort in Madhya Pradesh, central India.
Outside of India, Diwali is a national holiday in countries including Malaysia, Nepal, Singapore and Trinidad in Tobago.