When Do Student Loan Payments, Interest Resume? Trump Executive Order Set to Expire This Month
Many borrowers have had a break from paying their student loans since March, but if Congress is unable to pass another relief package by the end of the month, payments may have to be made come January.
Congress hit the pause button on student loan payments and interest in March when they passed the Coronavirus Aid, Relief and Economic Security (CARES) Act. Without another relief bill, the provision was set to expire at the end of September but was extended until December 31 by way of an executive order from President Donald Trump.
Legislators on Capitol Hill have been working for months to put together another relief package and experts have issued dire warnings about the consequences of delayed aid. Despite continued conversations about another package, Democrats and Republicans remain divided on what relief should look like and have yet to put forth a bipartisan package.
Hope that legislators can come together and pass a bipartisan relief package is dwindling as the partisan divide appears to be growing. Even if Congress fails to act on more relief before the December 31 deadline, it's still possible borrowers could still see continued relief.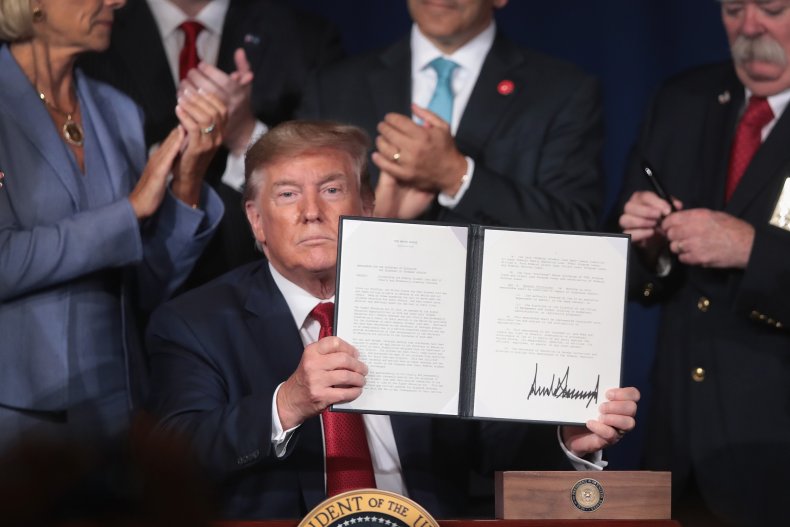 In announcing the extension in August, Trump said his administration would likely extend the forbearance past the December 31 expiration date. He expected the extension to come "right after December 1st."
Newsweek reached out to the Trump administration for comment but did not receive a response in time for publication.
The fate of federal student loans is up in the air as President-elect Joe Biden prepares to take office in January. After winning the election, Biden reaffirmed his support for forgiving $10,000 in student loan debt and some Democrats are pushing him to forgive even more. In September, Senators Chuck Schumer and Elizabeth Warren called for whoever won the election to forgive up to $50,000 in student loans per borrower through an executive order.
Even if Biden were to forgive student loans, he won't assume office until January 20, creating potentially a three-week gap from when payments are set to resume.
In mid-November, the Education Department began text messaging and emailing borrowers to remind them that monthly payments will resume in January, according to Politico. In a letter to Secretary Betsy DeVos, 77 organizations urged her to extend relief until at least September 30, 2021.
"If student loan payments resume on January 1, repayment will compound the difficulty created by unprecedented labor shocks and ongoing economic hardship," the organizations wrote. "As the pandemic continues to wreak havoc, borrowers need to know they won't be pushed over this cliff."