When Does Black Friday Start and End This Year? How COVID Is Affecting Sales
Black Friday shopping in 2020 looks much different from years past because due to the global pandemic. While it's not unusual for big retailers to start their Black Friday deals a bit early, even days before Thanksgiving, some giant names like Target, Walmart, Best Buy and Home Depot advertised huge sales as early as November 20.
While the early sales are convenient, they may have a wild impact on Black Friday's revenue statistics in comparison to past years.
According to BlackFriday.com, the usual day-after-Thanksgiving extravaganza debuted early with individual sale days ahead of the giant, American shopping holiday.
In recent years, Black Friday's gross revenue has been steadily increasing, though in-person shopping is slowly being replaced by online shopping. COVID may make this even more prominent. It's expected in-person will see a 22 to 25 percent decrease throughout the holiday shopping season, starting with Black Friday and ending with the Sunday before Christmas (December 20), according to data firm Sensormatic Solutions.
For Black Friday, this comes after early sale prices may have already caught the attention of usual Black Friday shoppers, leaving them less inclined to venture to busy stores Friday, during the pandemic.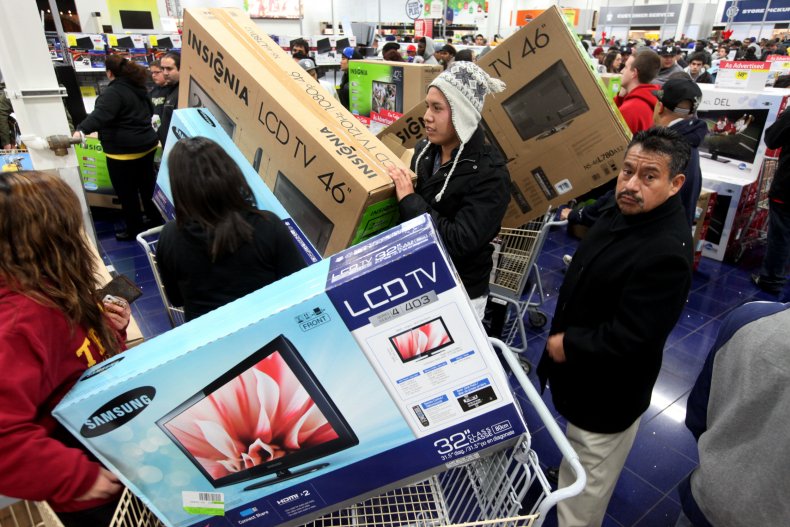 Still, some stories, like Costco, won't start any sales until Friday anyway. In store shopping is still happening. That said, it's expected to be a bit thinner, population-wise, than other years.
A full guide of when stores will start their 2020 Black Friday deals is available to view on the Black Friday website. In a normal year, Black Friday sees some retail locations beginning their wild sales on Thursday night, after traditional Thanksgiving festivities die down. Then, Friday continues with giant sales as well.
Typically, Black Friday deals end on Friday, but individual retailers may have additional sales throughout the weekend. Hot ticket items, though, such as electronics on sale, are likely to be sold out quickly Friday. That means, if you're looking for a great steal, online shopping or getting to the store as early as possible is your best bet for securing the item.
But let's be honest. Shopping in a store on the most crowded shopping day of the year during a global pandemic may not be the smartest idea. Stores are extending their Black Friday deals to start on Thursday online, or Friday morning at the latest. That means you can grab the items you want from the safety of your own home. Consider that option before rushing to get in line at Costco or Best Buy this year.
COVID has affected the way American holidays look already. Airline travel is down for holiday travels, according to a press release by ForwardKeys, but not by too much. Thanksgiving and Christmas are already looking to be some of the busiest travel occasions of 2020, despite COVID, with time remaining for lats minute ticket purchases. If this trend will roll into retail locations on Black Friday is anyone's guess two days before the sale doors open.
In 2019, Black Friday brought in $7.2 billion dollars in online profit alone, according to Forbes. It was a 19 percent increase from that of 2018, showing consumers were already naturally inclined to try online shopping a bit more before Coronavirus made its way to America.
Former Nordstrom executive Kathy Gersh explained Black Friday will look much different for retail workers in an article for Fox Business. She compared the retail worker's job to that of a "security guard" in 2020, manning lines, assuring customers have masks and more. This and other retail changes, including the possible upswing in COVID after the holidays, led Gersh to suggest another "wave" of retail changes is coming post-Black Friday.
Sensormatic Solutions also advised shoppers and retail businesses to be optimistic about the percentages of holiday shoppers, compared to the rest of the year. "The outlook for this year's holiday season remains positive, considering traffic was down as low as -82 percent in April and has since improved to -25.7 percent for week ending September 19," said Sensormatic Solutions President Bjoern Petersen.
His statement continued. "Now is the time for retailers to strengthen their buy online pickup in-store (BOPIS) and curbside pickup services, which are expected to grow in popularity this year. It's also crucial to provide a safe in-store environment where shoppers feel comfortable through offerings such as contactless checkout and real-time occupancy monitoring to adhere with social distancing guidelines."