When Does Colin Kaepernick's Muhammad Ali Award Speech Air in Full? How to Watch on TV and Live Stream
The longer 2017 goes on, the more it seems—whether through slightly wonky perception or reality—that the NFL may need Colin Kaepernick back more than Kaepernick needs the NFL.
The former San Francisco 49ers quarterback picked up another accolade for his social activism on Tuesday night, when Beyoncé presented him with Sports Illustrated's Muhammad Ali Legacy Award. "Colin took action with no fear of consequence or repercussion, only hope to change the world for the better," Beyoncé said on presenting Kaepernick with the award on Tuesday in quotes reported by ESPN. "To change perception, to change the way we treat each other, especially people of color."
Kaepernick's decision to sit—and subsequently to kneel—during the 2016-17 season in an attempt to bring awareness to the perceived police brutality toward black youths in the United States started a movement that eventually transcended the NFL, where it remains a source of controversy, debate and chagrin for U.S. President Donald Trump, among many.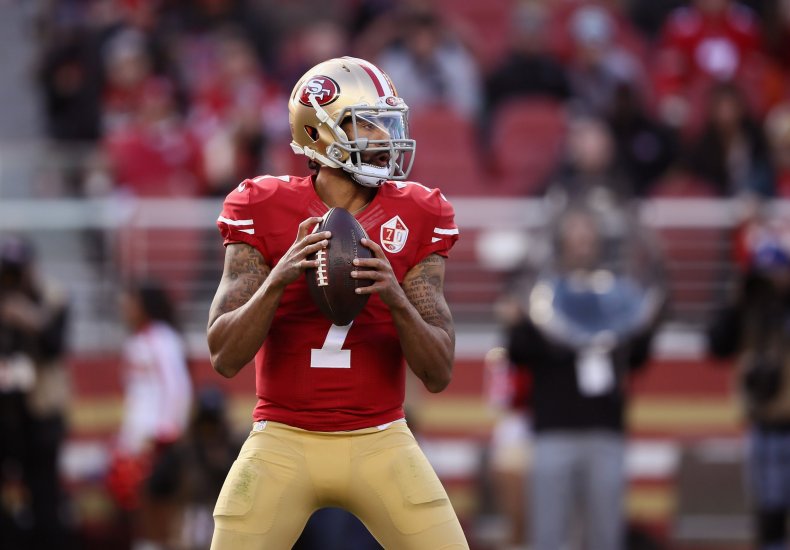 Sports Illustrated released a short excerpt of Kaepernick's speech late Tuesday. "I accept this award not for myself, but on behalf of the people. Because if it were not for my love of the people, I would not have protested. And if it was not for the support from the people, I would not be on this stage today," Kaepernick, who is currently suing the NFL and several team owners for alleged collusion, said.
"With or without the NFL's platform, I will continue to work for the people because my platform is the people."
Kaepernick, who missed out on also being named Time magazine's Person of the Year on Wednesday—he was on the shortlist—gave a speech that will air in full on Friday at 8 p.m. E.T. on the NBC Sports Network. The NBC Sports App will have a live stream that will also be available here at Stream.nbcsports.com.