When Does 'The Eric Andre Show' Return? Grimes and More Celebrities Confirmed Guests
A list of celebrities who will appear on Season 5 of The Eric Andre Show was released on Wednesday. The sketch comedy show, which is led by host Eric Andre, will air on Adult Swim beginning October 25, and some of your favorite celebrities may be on the guest lineup.
After a summer with Andre's name in the new, celebrities like musicians Grimes, Machine Gun Kelly, Toro Y Moi, Lil Yachty, Joey Bada$$ and Anderson .Paak according to NME. The celebrities likely know what they're in for at this point: Andre makes a point of putting his guests in painfully awkward situations, from interviews to pranks. He's known for outrageous comedy, which sometimes even shocks passersby on the street with vulgar public displays and more.
In the past, some of Andre's most notable guests included Jimmy Kimmel, Lauren Conrad, Abby Lee Miller, Amber Rose and more.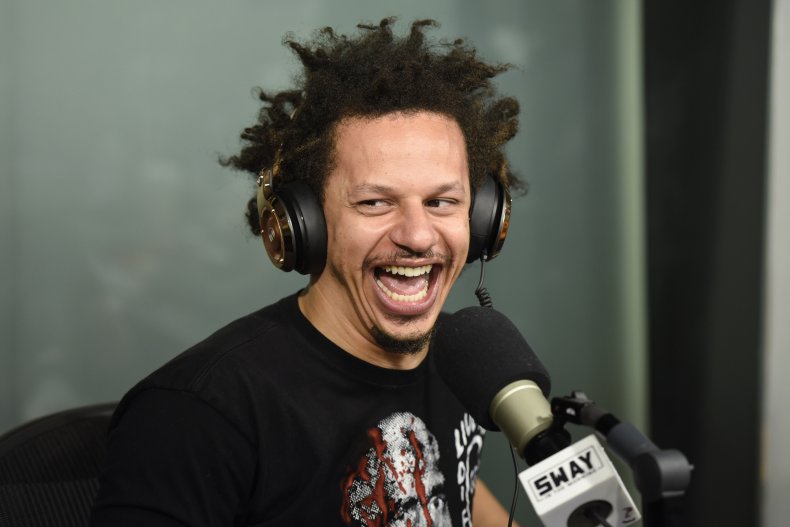 Andre's sketch show also features musical guests, so it's very possible some of the new celebrity list will appear as musicians rather than interview subjects. There's already confirmation that Grimes will participate in a stunt called "Grimes and Punishment," Adult Swim revealed on Twitter, though there's no telling what that will include.
The Eric Andre Show last premiered in 2016. Since, Andre has stayed relevant, though, especially in 2020.
The comedian released a Netflix comedy special called Legalize Everything, which was released on June 23. Andre told Newsweek, at the time, that he dove deeper into global issues in his comedy due to the platform. "It's exciting to get to share a deeper point of view that I can't share on my Adult Swim show [The Eric Andre Show]. It's a different medium, but I'm glad that I'm giving people a broader view," he said.
A joke from the special that continues to make headlines featured Andre commenting on police brutality. The joke, which mocked the show Cops came just after the police reality series was canceled on the basis of police brutality, too. Apparently, Netflix prompted Andre to remove the joke from his comedy special, which he declined after the very public murder of George Floyd.
Andre's Adult Swim series is always unpredictable, but he's already shared a few snapshots of the show on Twitter.
In addition, Andre made news when another comedian was thrown into the spotlight. After talk show host Ellen DeGeneres was slammed in the media for allegedly promoting a toxic work environment, Andre jokingly campaigned to take her place as the new DeGeneres for the return of Season 18 of The Ellen DeGeneres Show. Bad news for Andre, though, as DeGeneres returned as herself for the premiere, and public apology, on Monday.