When Does Flu Season End? More Than 110 Children Have Died Of Influenza So Far
The number of people visiting the doctor with what looks like the flu has declined sharply for the second week in a row, according to the Centers for Disease Control and Prevention. This trend marks a first for this flu season, which has been particularly rough. Epidemiologists from several states, including Texas, Minnesota, and Vermont have also told the agency that the flu is no longer widespread in their jurisdiction for the first time since 2018 began.
But flu season isn't over. It may be a few more weeks before the numbers return to normal. And people are still going to the hospital, too. More than 23,000 people were hospitalized in 10 states due to the flu since October. (The CDC doesn't get data from every hospital in the country; about 70 counties participate.)
The number of children who have died from the flu is also still rising. More than 110 children have died so far this year—including 17 reported last week alone.
A Bad Flu Season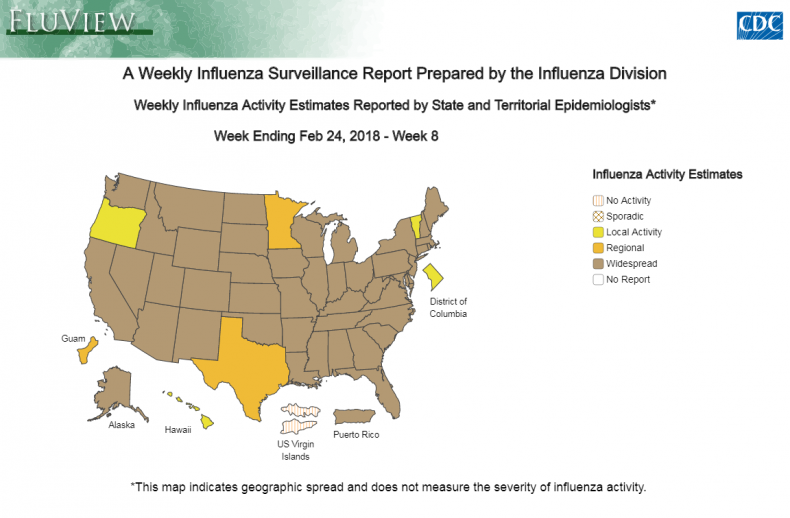 This year's flu season has been particularly bad, due in part to the strain that's been infecting Americans. That strain, H3N2, is often associated with higher rates of hospitalization and more severe illnesses. It can also be more challenging to vaccinate against, even when the strain of the virus chosen for the vaccine matches the strain that infects people.
Speaking of vaccines: The FDA met on Thursday to start working on next year's flu shot. One of the agency's advisory committees decided to accept the World Health Organization's recommendations about which strains should be included in next year's shot. Those strains will include an H3N2 virus, but, as Medscape reported, it will be a slightly different one than what you got this year.
You did get your flu shot, right? If not, there's always next year.
When Does Flu Season End? More Than 110 Children Have Died Of Influenza So Far | Tech & Science