When Does NFL Preseason 2019 Begin? It's Sooner Than You Think
July has been hot with scorching temperatures across the United States, but football is so close that fans can almost smell the tailgating and feel the impending cooler weather.
Most high schools and colleges will soon begin practice as August 1 is typically the start date — or a benchmark on when to start. The first day of August is also the first day of the first NFL Preseason Game.
On Thursday, August 1, the Denver Broncos will battle the Atlanta Falcons in the annual Hall of of Fame Game, scheduled to air on NBC at 8 p.m. ET.
The Hall of Fame Game officially kicks off the NFL Preseason schedule, and it is the only game that week or weekend. The rest of the league will start the following weekend with a slew of games on Aug. 8, then more games following on Friday and Saturday.
The Hall of Fame Game usually involves two teams that have a significant presence in that year's Hall of Fame class. The Denver Broncos have cornerback Champ Bailey and owner Pat Bowlen. They also have defensive back Ty Law, who played for three other NFL teams before ending his career with the Broncos in the 2009 season.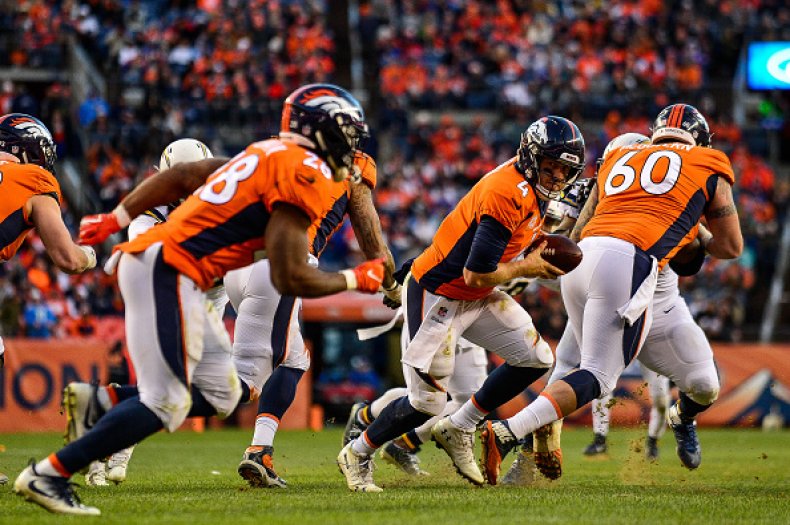 The Atlanta Falcons will see former tight end Tony Gonzalez get enshrined into the Hall of Fame in Canton, Ohio, which is where the Hall of Fame Game will be played at Tom Benson Stadium.
The NFL regular season starts on Thursday, Sept. 5 when the Green Bay Packers visit the Chicago Bears, followed by a full slate of weekend games. College football starts with two FBS games on Saturday, Aug. 24, and the season kicks off in full the following Thursday (Aug. 29) and the first full Saturday schedule will be Aug. 31.
The NFL Preseason kicks off in full fashion the following week with a slew of games on Thursday, followed by a handful of exhibitions on Friday and Saturday.
Thursday, August 8
New York Jets at New York Giants
Tennessee Titans at Philadelphia Eagles
Carolina Panthers at Chicago Bears
New England Patriots at Detroit Lions
Houston Texans at Green Bay Packers
Los Angeles Chargers at Arizona Cardinals
Denver Broncos at Seattle Seahawks
Indianapolis Colts at Buffalo Bills
Atlanta Falcons at Miami Dolphins
Jacksonville Jaguars at Baltimore Ravens
Washington Redskins at Cleveland Browns
Friday, August 9
Minnesota Vikings at New Orleans Saints
Tampa Bay Buccaneers at Pittsburgh Steelers
Saturday, August 10
Cincinnati Bengals at Kansas City Chiefs
Los Angeles Rams at Oakland Raiders
Dallas Cowboys at San Francisco 49ers