When Does NFL Preseason Start? Cowboys, Steelers Set For Game This Thursday
It might be kind of hard to believe, but NFL preseason football kicks off this week. And it's a rivalry from the 1970s. The Dallas Cowboys and Pittsburgh Steelers will meet on Thursday night in the annual Hall of Fame game.
The game in Canton, Ohio, is scheduled to start at 8 p.m. ET at Tom Benson Hall of Fame Stadium this Thursday, August 5. The Fox network will broadcast the game.
The game annually is the beginning to a full weekend of activities in which a new Hall of Fame class gets enshrined. Last year's weekend was postponed because of the COVID-19 global pandemic, and all preseason NFL games were completely canceled in 2020, including the Hall of Fame game.
The Cowboys and Steelers developed an AFC-NFC crossover rivalry in the 1970s after twice meeting in Super Bowls 10 and 13 for epic battles, the Steelers winning both times. The Steelers won Super Bowl X, 21-17, and then won Super Bowl XIII, 35-31. They met again in Super Bowl XXX following the 1995 season, with the Cowboys taking a 27-17 victory.
Pittsburgh in 2020 took its unbeaten record to Dallas and sweated out a victory over the Cowboys, 24-19. The Cowboys were down to their third-string quarterback that game.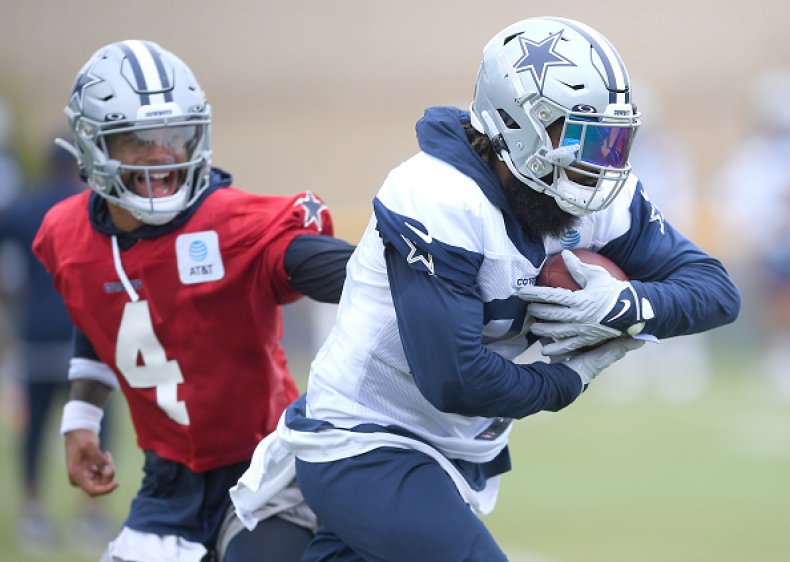 Dak Prescott, the Dallas starting quarterback who suffered a gruesome, season-ending ankle injury early in 2020, is back in full health for the Cowboys.
The Hall of Fame inductees this weekend will include: Alan Faneca, Tom Flores, Calvin Johnson, John Lynch, Peyton Manning, Bill Nunn, Drew Pearson and Charles Woodson.
The Hall of Fame game is the only preseason game this week. The remainder of NFL teams, which have all reported to their camps already, will begin preseason the next weekend. There will only be three preseason games for the other 30 teams besides Dallas and Pittsburgh. That's because the NFL cut the preseason back one game so they could add a 17th game to the regular-season schedules for every team.
Here's the full schedule for NFL Preseason Week 1 (All times Eastern):
Thursday, August 12
Washington Football Team at New England Patriots, 7:30 p.m. (NFL Network)
Pittsburgh Steelers at Philadelphia Eagles, 7:30 p.m.
Friday, August 13
Tennessee Titans at Atlanta Falcons, 7 p.m.
Buffalo Bills at Detroit Lions, 7 p.m. (NFL Network)
Dallas Cowboys at Arizona Cardinals, 10 p.m. (NFL Network)
Saturday, August 14
Miami Dolphins at Chicago Bears, 1 p.m. (NFL Network)
Denver Broncos at Minnesota Vikings, 4 p.m. (NFL Network)
Cleveland Browns at Jacksonville Jaguars, 7 p.m. (NFL Network)
New Orleans Saints at Baltimore Ravens, 7 p.m.
New York Jets at New York Giants, 7:30 p.m.
Cincinnati Bengals at Tampa Bay Buccaneers, 7:30 p.m.
Houston Texans at Green Bay Packers, 8 p.m.
Kansas City Chiefs at San Francisco 49ers, 8:30 p.m.
Seattle Seahawks at Las Vegas Raiders, 9 p.m.
Los Angeles Chargers at Los Angeles Rams, 10 p.m. (NFL Network)
Sunday, August 15
Carolina Panthers at Indianapolis Colts, 1 p.m. (NFL Network)
The regular season officially kicks off on Thursday, September 9, when the defending Super Bowl champion Tampa Bay Buccaneers host the Dallas Cowboys. The first full Sunday will be September 12.