When Does Obama Hit the Barber's Chair in 'The Shop: Uninterrupted' Special With LeBron James?
Former President Barack Obama is taking it all to the chair—the barber's chair, that is. The 44th president of the United States is set to appear in conversation with LeBron James and Maverick Carter for a special episode of the duo's show, The Shop: Uninterrupted.
The episode is set to air on The Shop's home network, HBO, on Friday at 9 p.m. ET and it will also be available for streaming on HBO Max. Those without HBO subscriptions, meanwhile, will be able to stream the conversation for free on HBO's website, YouTube channel and HBO Max platforms beginning on Saturday at 10 a.m. ET, through November 28.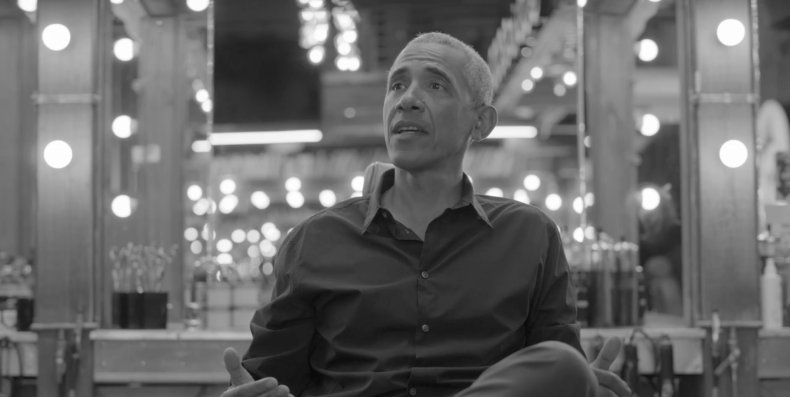 Obama announced the special in a tweet on Tuesday and said viewers can expect to hear the trio discuss timely topics like the recent NBA bubble and championship—which James and his Los Angeles Lakers teammates won on October 11—the racial justice movement and the importance of voting in the fast-approaching November 3 election.
The episode was filmed under COVID-19 guidelines, HBO confirmed. In the trailer, Obama appears sitting in a barbershop chair reminiscent of the series' usual set, while James appears virtually, filming from his home in California.
The special edition of The Shop: Uninterrupted was filmed in partnership with James and Carter's More Than a Vote organization, which they launched in June following the killings of George Floyd and Breonna Taylor by white police officers in Minnesota and Kentucky, respectively. Comprised of a number of athletes and artists including Kevin Hart, Odell Beckham Jr., Patrick Mahomes, Sloane Stephens, Toni Braxton and Offset among others, the coalition aims to educate the masses on the racial injustice of voter suppression while spreading awareness on voters' rights, in addition to various other social justice issues.
James has been particularly passionate in encouraging people to vote in the 2020 political race between sitting President Donald Trump and his Democratic opponent, former Vice President Joe Biden, who served under the Obama administration.
The basketball star shared a Twitter video informing fans and followers not to delay in sending out their mail-in ballots on Monday.
"What's up my people. Checking in with y'all. Listen, we're right around the corner. Make sure y'all get your ballots. Fill them out. Get them cast in, get them sent in. Do not wait around, man. Get it done," James wrote. "Voting is very important and we know how important this moment is. So make sure y'all get those ballots filled out, man. And you know take care of that, because it will make a difference. We want to see change and this is our opportunity to do so. So let's get it done, man. More Than a Vote!"